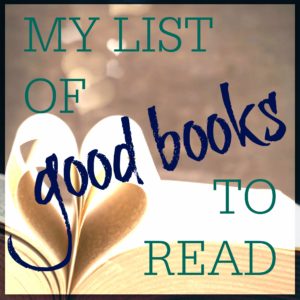 I'm the gal that many of my friends go to when they need a good book to read. So if you are looking for a good read, you've come to the right place! I read a little bit of everything, and I post brief book reviews here about every other month.
Search alphabetically from this list of all the books I've reviewed, categorized by genre. Click on a book to read the review. Or search chronologically by clicking on the date of a book review post.
Any book I review is one I would recommend. If I don't care for a book, I don't write about it.
By Date
January 2013 (Top Ten of 2012)
March 2013
May 2013
July 2013
September 2013
November 2013
December 2013 (Top Ten of 2013)
February 2014
April 2014
May 2014
July 2014
September 2014
November 2014
December 2014 (Top Ten of 2014)
February 2015
April 2015
June 2015
September 2015
November 2015
December 2015 (Top Ten of 2015)
February 2016
March 2016
May 2016 (Oldies but Goodies)
June 2016
September 2016
December 2016
December 2016 (Top Seven of 2016)
February 2017
April 2017
July 2017
September 2017
November 2017
Contemporary Fiction
11/22/63: A Novel by Stephen King
Above by Isla Morley
After You by Jojo Moyes
All the Ugly and Wonderful Things by Bryn Greenwood
And the Mountains Echoed by Khaled Hosseini
Approaching the Speed of Light by Victoria Lustbader
The Art Forger by Barbara Shapiro
The Art of Racing in the Rain by Garth Stein
As Close to Us as Breathing by Elizabeth Poliner
Beartown: A Novel by Fredrik Backman
Beasts of Extraordinary Circumstance by Ruth Emmie Lang
Bittersweet by Miranda Beverly-Whittemore
The Book of Joe by Jonathan Tropper
The Book of Speculation by Erika Swyler
The Bookseller by Cynthia Swanson
The Children's Crusade by Ann Packer
The Collector of Dying Breaths by M.J. Rose
Commonwealth by Ann Patchett
Dear Stephanie by Mandi Castle
Don't Let Me Go by Catherine Ryan Hyde
Eligible by Curtis Sittenfeld
Everything I Never Told You by Celeste Ng
Faithful by Alice Hoffman
Fates and Furies by Lauren Groff (audio)
The First Fifteen Lives of Harry August by Claire North (audio)
The Forgotten Garden by Kate Morton
The Forgotten Room by Karen White, Beatriz Williams, and Lauren Willig
The Girl on the Train by Paula Hawkins
The Girl You Left Behind by JoJo Moyes
Goodbye for Now by Laurie Frankel
The Guest Room by Chris Bohjalian
The Help by Kathryn Stockett
The Homecoming of Samuel Lake by Jenny Wingfield
The Husband's Secret by Liane Moriarty
I Know This Much is True by Wally Lamb
I Liked My Life by Abby Fabiaschi
If I Never Get Back by Darryl Brock
Inside the O'Briens by Lisa Genova
The Light in the Ruins by Chris Bohjalian
Little Fires Everywhere by Celeste Ng
A Little Life by Hanya Yanagihara (audio)
Lone Wolf by Jodi Piccoult
A Man Called Ove by Fredrick Backman (audio)
Me Before You by JoJo Moyes
Miller's Valley by Anna Quindlen
The Nix by Nathan Hill (audio_
On the Island by Tracey Garcia Graves
One Plus One by JoJo Moyes
The One Hundred Year Old Man Who Climbed Out of the Window and Disappeared by Jonas Jonasson (audio)
A Prayer for Owen Meaney by John Irving (audio)
The Ramblers by Aiden Donnelly Rowley
Rooms by Lauren Oliver
The Rooms Are Filled by Jessica Null Vealitzek
The Rosie Effect by Grame Simsion
The Rosie Project by Graeme Simsion
Safe with Me by Amy Hatvany
The Same Sky: A Novel by Amanda Eyre Ward
Save Yourself by Kelly Braffert
The Secret Keeper by Kate Morton
Silver Sparrow by Tayari Jones
The Silver Star by Jeannette Walls
Sisterland by Curtis Sittenfeld
Small Great Things by Jodi Picoult
The Spinning Heart by Donal Ryan
The Storied Life of A.J. Fikry by Gabrielle Zevin (audio)
The Storyteller by Jodi Piccoult
This is How It Always Is by Laurie Frankel
A Sudden Light by Garth Stein
Swimming Lessons by Claire Fuller
The Talk Funny Girl by Roland Merullo
Tell the Wolves I'm Home by Carol Rifka Brunt
Today Will Be Different by Maria Semple
Twelve Lives of Samuel Hawley by Hannah Tinti
What Alice Forgot by Liane Moriarty
Where'd You Go Bernadette? by Maria Semple
You by Caroline Kepnes (audio)
Young Jane Young by Gabrielle Zevin
Historical Fiction
All the Light We Cannot See by Anthony Doerr
America's First Daughter: A Novel by Stephanie Dray and Laura Kamoie (audio)
As Bright As Heaven by Susan Meissner
At the Water's Edge by Sara Gruen
The Chaperone by Laura Moriarty
The Expected One by Kathleen McGowan (audio)
Homegoing by Yaa Gyasi
The House Girl by Tara Conklin
I Shall Be Near to You by Erin Lindsay McCabe
The Invention of Wings by Sue Monk Kidd
March by Geraldine Brooks
The Marriage of Opposites by Alice Hoffman
The Mothers by Brit Bennett
The Nightingale by Kristin Hannah (audio)
The Other Boleyn Girl by Philippa Gregory
Orphan Train by Christina Baker Kline
The Pearl That Broke Its Shell by Nadia Hashimi (audio)
A Place We Knew Well by Susan McCarthy
The Red Tent by Anita Diamant
The Shoemaker's Wife by Adriana Trigiani
Snow in August by Pete Hamill
The Swans of Fifth Avenue by Melanie Benjamin
Twain's End by Lynn Cullen
The Underground Railroad by Colson Whitehead
The Vengeance of Mothers by Jim Fergus
Yellow Crocus by Laila Ibrihim (audio)
Mystery/Thriller
Behind Closed Doors by B.A. Paris (audio)
Behind Her Eyes by Sarah Pinborough
Bird Box: A Novel by Josh Malerman
Case Histories by Kate Atkinson
Dark Matter by Blake Crouch
Finders Keepers by Stephen King
Gone Girl by Gillian Flynn
I Let You Go by Clare MacKintosh
The Martian by Andy Weir (audio)
Mr. Mercedes by Stephen King
Night Film by Marisha Pessl
One Kick by Chelsea Cain
The Girl Before by J.P. Delaney
The Shining Girls by Lauren Beukes
The Sleepwalker by Chris Bohjalian
Try Not to Breathe by Holly Seddon
What She Knew by Gilly MacMillan
Where They Found Her by Kimbery McCreight (audio)
Wilde Lake by Laura Lippman
Young Adult
All American Boys by Jason Reynolds and Brendan Kiely
Another Day by David Levithan
Belzhar by Meg Wolitzer
Delirium by Lauren Oliver
Eleanor and Park by Rainbow Rowell
Elsewhere by Gabrielle Zevin (audio)
Every Day by David Levithan
The Here and Now by Ann Brashares
The Hired Girl by Laura Amy Schlitz
Into the Dim by Janet B. Taylor
Mosquitoland by David Arnold
Order of Seven by Beth Tehilo
Passenger by Alexandra Bracken
Tell Me Three Things by Julie Buxbaum
What to Say Next by Julie Buxbaum
Middle School and up
Wonder by R.J. Palacio
Fantasy/Science Fiction
Atlantia by Ally Condie
The Bone Season by Samantha Shannon
The Book of Life by Deborah Harkness
City of Bones by Cassandra Clare
The Coincidence Makers by Yoav Blum
Dreams of Gods and Monsters by Laini Taylor
Fifty Shades Freed by E.L. James
The Handmaid's Tale by Margaret Atwood
The Power by Naomi Alderman
The Scorpion Rules by Erin Bow
Shadow of Night by Deborah Harkness
Unbreakable and Unmarked by Kami Garcia
Non-Fiction
Alexander Hamilton by Ron Chernow (audio)
And Then I Became a Mother by Robin Kramer
Beautiful Boy: A Father's Journey Through His Son's Addiction by David Sheff
Beneath a Scarlet Sky by Mark Sullivan
Born a Crime: Stories from a South African Childhood by Trevor Noah (audio)
The Color of Water: A Black Man's Tribute to His White Mother by James McBride
Coming Clean by Kimberly Rae Miller
The Fact of a Body: A Murder and a Memoir by Alexandria Marzano-Lesnevich
Half Broke Horses by Jeannette Walls
The Immortal Life of Henrietta Lacks by Rebecca Skloot (audio)
Killers of the Flower Moon by David Grann (audio)
My Other Ex edited by Jessica Smock and Stephanie Sprenger
Neil Patrick Harris: Choose Your Own Autobiography by Neil Patrick Harris (audio)
The Stranger in the Woods: The Extraordinary Story of the Last True Hermit by Michael Finkel
Suburban Haiku by Peyton Price
The Other Wes Moore: One Name, Two Fates by Wes Moore
Unbroken by Laura Hillenbrand
The Unspeakable: And Other Subjects of Discussion by Meghan Daum (audio)
The Warmth of Other Suns: The Epic Story of America's Great Migration by Isabel Wilkerson (audio)
You'll Grow Out of It by Jessi Klein (audio)