There is an inverse relationship between my reading and television watching. Perhaps that's why I read more in the summer, when non-Netflix series are in reruns and my DVR is empty. And while I look forward to my favorites shows starting up again (Outlander and This is Us, anyone?), I miss the evenings when I fall asleep upright, in the middle of a page.
I've read a dozen books and listened to three since my last round of book reviews, and here are seven great reads I recommend.
Disclosure: There are affiliate links in this post. If you buy a book through a title link, I will get enough dough to buy on average one Kindle book a year. On sale.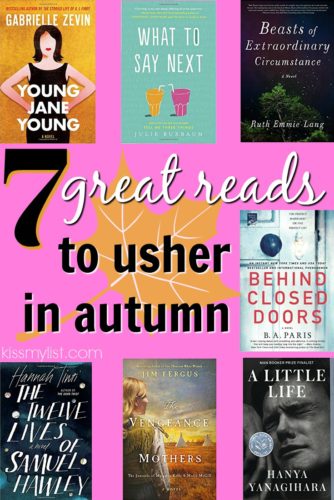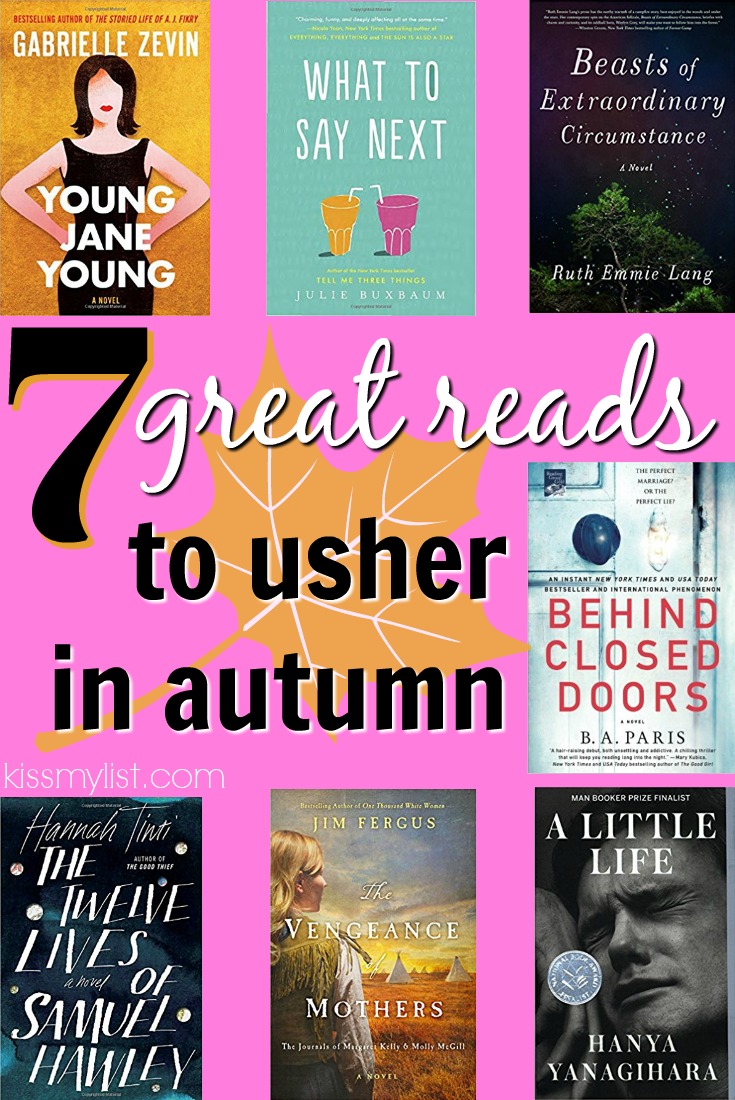 If you like a lyrical, enchanting read, try…
I received an ARC of this novel from NetGalley. Expected publication date is November 7. 2017.
Goodreads describes this novel as "magical realism," and I liken it to books like A Prayer for Owen Meany, The Book of Speculation, and The Night Circus. They aren't fantasy, yet there are whiffs of magic woven between the ordinary. 
I was dubious after reading the first few chapters of this book. A boy who lives with wolves? He grows up to be the strange guy living in a house filled with spider webs? Yet I soon got lost in the story of Weylen Grey, which is told through his interactions with the people he meets and loves. He reminded me so much of John Irving's Owen Meany – an extraordinary person trying to live an ordinary life. I found myself enchanted by Weylen and the quirky cast of characters he touches, and I was slightly sad to get to the last page.
If you like a current, witty read, try…
I received an ARC from NetGalley.
What a delightful book! As she did with The Storied Life of A.J. Fikry, Zevin creates a cast of quirky characters, then adds witty dialogue to create a novel that was a joy to read. 
Aviva Grossman runs to Maine and changes her name after the fall-out from a publicized affair with the congressman for whom she was interning. Years later, she decides to return to politics and run for mayor. Told in four different voices (Aviva, her mother, her daughter, and the congressman's wife), the tale spans fifteen years, yet it is a quick and satisfying read.
If you like historical fiction (or just loved One Thousand White Women), try…
I received an ARC of this novel from Net Galley.
I seem to be the only person I know who didn't love One Thousand White Women, the novel preceding this one. The concept of the U.S. government sending less than desirable white women to the plains to marry and "civilize" Native Americans is an intriguing albeit disturbing one, and I was curious to see how Fergus was going to continue his fictional tale. It picks up right where the first book leaves off, and it was a decent read. Many of the characters we meet in One Thousand are present, as are a new group of brides and a new heroine. Novels about the fate of Native Americans and the concept of Manifest Destiny are tough to read, and despite the small triumphs, we know that the story does not have a happy ending. Fergus tries, but I felt the leap back to present day felt forced and a little hokey. Still, if you loved his first novel, you will likely enjoy The Vengeance of Mothers.
If you like a read that reveals the past one layer at a time, try…
Novels centered around the father/daughter relationship are rare, and this is a great one. Widower Samuel Hawley and his teenager daughter Loo spend years moving from town to town, until they settle in Olympus Massachusetts. The reader learns of Samuel's less than pristine past through the author's recounting of how he got the twelve scars on his body – each scar from a bullet. 
The story goes back and forth until the past becomes the present; throw in a family secret and some small town drama, and you have an intriguing tale. Samuel isn't a good guy, but he isn't a bad guy either, and I love when characters aren't cookie cutters. What would you do to protect your child, especially when your choices aren't easy? I cared about these flawed characters and their lives, and I really enjoyed this book.
If you want a fast-paced thriller that's tough to put down, try…
Jack and Grace are the perfect couple – wealthy, attractive, hopelessly in love. The reader immediately discovers that it's all a cover, but for what? Whatever you think it is, it's worse.
I listened to this novel in three days, and I'm fairly certain that if I had been reading it, I would have just stayed up late and read until I finished. While it's not the most brilliant psychological thriller I've ever read, it's a good one.
If you like YA that isn't overblown romance and drama…
I loved Buxbaum's Tell Me Three Things, so I had high hopes for this novel. I was not disappointed; I liked this one even more. Kit is popular-ish, but her father's recent death in a car accident has left her feeling alone. David always feels alone, until Kit decides to sit with him at lunch. Their friendship is unexpected, but they just seem to fit. When Kit asks David for help figuring out her Dad's accident, he jumps at the chance to help his new friend. 
I adored Kit and David from the moment I met them; they are real teenagers dealing with real problems. This novel made me smile, it made me cry, and when I closed the book at the end, I actually sighed out loud. From contentment.
If you want an epic, 800 page novel that will leave you battered and worn down, but with no regrets that you read it, try…
A Little Life by Hanya Yanagihara (audio)
On the surface, this is the story of four friends, spanning their college days through middle age. The novel starts relatively slowly, as the reader is introduced to each man. But one friend, Jude, is truly the center of the book. A foundling raised in a monastery, Jude never speaks of his past or how he received the back and leg injuries that plague him. As the novel unfolds, the reader learns of Jude's suffering and abuse, and how he struggles to defeat his demons and find peace.
It's so difficult to describe this book. It is heartbreaking and raw; it is redeeming and hopeful. I wanted to weep for Jude and the people who loved him, and I wanted to rage against the horrible people in this world who do atrocious things. Yet at its core, A Little Life is a story about friendship, acceptance, and connection. It is beautifully written, and it is tough to read sometimes. But I never once wanted to put it down, and I was sad when I finished and had to say goodbye to characters who I had grown to care about deeply.
It's an investment to read this novel – of time, of energy, of all the emotions. But if you're willing to make that investment, it is well worth it.
Happy reading!