The frenzy of the holiday season is upon us. Who has time to read in between the baking, shopping, cooking, gift wrapping, decorating, card writing, and eating?
It's a tough time of year to squeeze in a good book, but you can certainly listen to an audiobook while making all of your holiday preparations. And in the interest of preserving your sanity in December, I propose that reading for a few minutes every day is a holiday gift that you deserve.
Since my last book review post in September, I've listened to seven books and read ten. They aren't all worthy of reviews here, but here are my top ten of the group.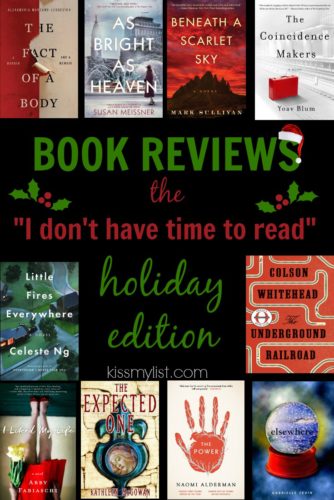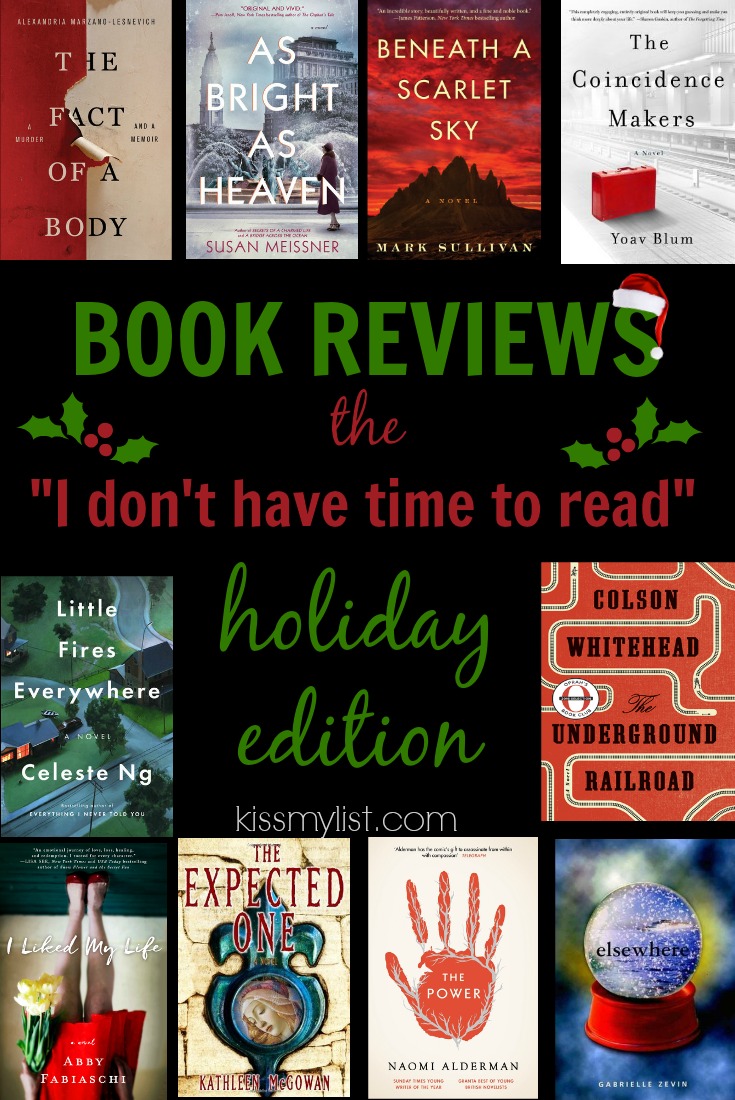 Disclosure: There are affiliate links in this post. This means I make a few cents from any purchase you make – don't be jealous.
I received an ARC from Bookish First – expected publication date is February 6, 2018.
I've read quite a bit of historical fiction set during World War I and prohibition, but Meissner focuses on a significant event I knew little about: the Spanish flu epidemic that killed three to five percent of the world's population. Despite this backdrop, her novel is ultimately a study of our resiliency and ability to find beauty in the ugliest of places.
Pauline and Tom Bright arrive in Philadelphia with their three daughters less than a year before the flu sweeps through the city. Told in the alternating voices of the three sisters and their mother Pauline, As Bright As Heaven follows the Brights from 1918 to 1926. It is a well-written and enthralling coming of age story and family drama.
What if everything people believed about the New Testament was wrong? Well, not everything, but some major aspects of the telling of the life of Jesus and the beginning of Christianity. In a novel that is an odd but effective combination of historical fiction and The DaVinci Code, McGowan addresses this scenario.
In present day, writer Maureen Paschal is researching a new book when she begins having dreams about a woman in red. Two thousand years ago, Mary Magdalene hides her own gospel in the mountains of France; they are a telling of Jesus' life and death from her perspective. As Maureen searches for an explanation for her visions, she becomes involved with the ancient biblical lore and a family secret.
The novel tells both stories, and it is a fascinating one. You must read with an open mind and suspend belief for the sake of the tale, but it's worth it.
Novels about slavery are tough reads, and this one is no exception. But it is a powerful read, and one that I found ultimately hopeful and a testament to the strength of human beings and their ability to survive.
The reader follows Cora, a young slave whose mother has escaped without her. Years later, Cora escapes as well. She travels via the underground railroad, which Whitehead has reimagined as a literal mode of transportation. We follow Cora as she moves from place to place, trying to be free. She encounters men and women who would treat her like an animal, who would rescue her, who would love her. As I read with disbelief, I reminded myself that this is our country's history, and that we must never forget or try to erase the atrocities upon which our nation was built.
This was my pick for book club this fall, and it made for deep and interesting discussion. 
Elena Richardson is a wife and mother of four, and a color-in-the-lines type of woman. Mia Warren is single and the mother of one, and an artist who may have never colored in the lines in her whole life. When she and her daughter Pearl move into Shaker Heights and rent a house from the Richardsons, life gets a bit complicated. Throw in Mia's mysterious past, and a custody battle between the Richardson's Caucasian friends and a single Chinese mother, and you have another stellar piece of fiction from Ng. It's not flashy, but the strong writing and interesting characters make this a worthwhile read.
Check out Celeste Ng's debut novel, too – Everything I Never Told You, which I reviewed here.
What a unique read – it's a memoir that reads like a true crime novel. That's because it is both; the author weaves her own experiences into her exploration of convicted murderer Ricky Langley. She sees her life in Ricky's, and as she delves into the case, she tells the narrative of her own childhood paralleled with his.
I can't say more without giving away major points of the book, but I found myself engrossed in both stories. The author is a lawyer, and it's fascinating to read of her struggle to reconcile the black and white of the law with the gray of being human. I impatiently waited until I finished before I googled the players, and I suggest you do the same. It's a story of family secrets, forgiveness, and the complicated nature of truth.
Elsewhere by Gabrielle Zevin (audio)
I enjoyed Zevin's The Storied Life of A.J. Fikry, so I decided to give one of her YA novels a listen. While completely different from A.J., it has the same feel, and that's a good thing.
Liz Hall is fifteen years old, and she is in Elsewhere. That's where people go when they die, and where they will age backward until they become babies again and return to Earth.
A bit corny, yes. It may sound depressing, but it's really not. It's a lovely story about a girl who wants to be alive, but doesn't realize that she has a life in Elsewhere that can be just as good as her life on Earth. 
Elsewhere is a quick read and a thoroughly enjoyable listen, if you are willing to go along for the ride.
I received an ARC of this book from Net Galley; the expected release date is March 6, 2018.
Guy, Emily and Eric are coincidence makers; they create coincidences in order to orchestrate events in other's lives. They are people but not people, real but not real. This is their story – who they were before, how they came to know one another in their coincidence creation course, and who they become as they move through life. 
If that sounds like a vague description, it is because I can't say much more without spoiling the novelty and surprise that this book holds. It isn't quite fantasy or science fiction, although the reader must be able to suspend reality a bit to accept the premise of the novel's universe. It's worth the effort; I've rarely read such a unique work. It's the type of novel that gets better in the days after I've finished it – the last quarter of the book makes up for the slightly sluggish start. It's a quick read as well – if you are a reader who likes to step out of your box every once in a while, this is definitely a novel to try.
This novel was a pleasant surprise; I expected it to be fluff. Maddy is a stay-at-home mother and devoted wife – or she was, until she jumped off the library roof. She leaves behind teenage daughter Eve and husband Brady, but she's not finished with her life. Suspend belief enough to accept that Maddy is "up there," and attempting to connect Eve and Brady with a woman who can fill the hole she left. 
Each chapter is told through three points of views: Maddy's, Eve's, and Brady's. This narration works well, and I found that I related to so many parts of this novel, in many small (and not so small) ways. I related as a mother, a wife, a sister, a person who lost a friend to suicide, and most of all as a person who strives to live a life I love, with people I love. I laughed, I cried, and I sighed contently as I read the last page; that's the sign of a great read!
As atrocious as World War II was, there are so many stories of heroism and human kindness, and so many stories untold. One of these stories is Pino Lella's, an Italian teenager thrust into the war first by guiding Jews across the Alps, and then as a Nazi driver turned spy. While the dialogue is created by Sullivan, the events are real. This was a fascinating listen, and based on reports from friends and ratings on Goodreads it is an equally engrossing read. As with Fact of a Body, don't google anything until you've finished the book!
In the not so distant future, teenage girls develop the power to run electricity through their hands. They awaken the ability in older women, and the world's power structure is turned on its ear. 
The Power follows four people through the birth of this new world, and it is a riveting glimpse into a reality where females have the power. Particularly given the climate in this country regarding sexual harassment, this novel imagines what may happen when the scales rebalance. It's not necessarily a pretty or satisfying rebalancing, but I found the concept so unique and telling. Even if you are not a fan of science fiction, The Power is a thought-provoking read.
*****
I hope you are able to squeeze in some time for reading this December, or at least add a book or two to your 2018 to-read list. Come back in a month for my annual Top Ten of the year!

Linking up with Finish the Sentence Friday this week, because I miss those people.