This is my final post of 2017, and that means it is time to get all geeky with statistics as I analyze my reading over the past twelve months. While that probably does not interest anyone but me, my list of the top books I read in 2017 may be helpful for those of you who always have a to-read list.
Fun fact: My fourth blog post ever, almost five years ago, was a Top Ten Books of 2012. Since then, I have published 33 rounds of book reviews, choosing the best from the 375 I've read from 2013-2017.
"Best books" is a highly subjective phrase, and lists touting the best are everywhere this time of year. Last year I had not even read any of the New York Times' 10 Best Books;  this year I've read two on the list. I really liked one of them even though it didn't make my top ten (The Power), and the other was one of my least favorite books of the year, not even warranting a review at two out of five stars (Exit West).   
I choose based on the books I've read this year, but those books aren't necessarily published in 2017. Here is my Year in Books, courtesy of GoodReads: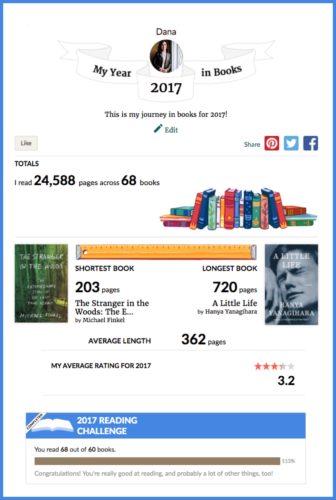 I set a conservative goal for myself this year, originally challenging myself to read 55 books. I hit that goal with a few months to go, so I increased it to 60. I ended up reading 50 books and listening to 18 for a grand total of 68 books.
As always, I rate every book from one to five stars, and my average is consistently 3 to 3.3 stars. I am a tough rater, so a rating of three stars is a good book that I would recommend. I'm picky about giving four stars, and downright stingy giving out five stars. This year, my ratings fell like this:
0 one-star books
5 two-star books
48 three-star books
11 four-star book
4 five-star books
Here are my top ten books of 2017, in no particular order. The titles link to my full review.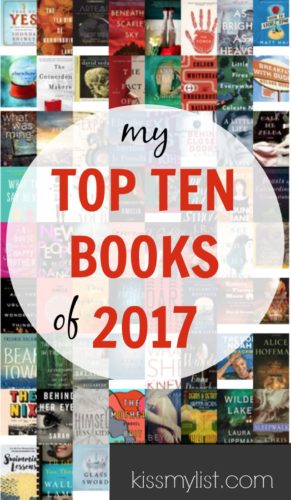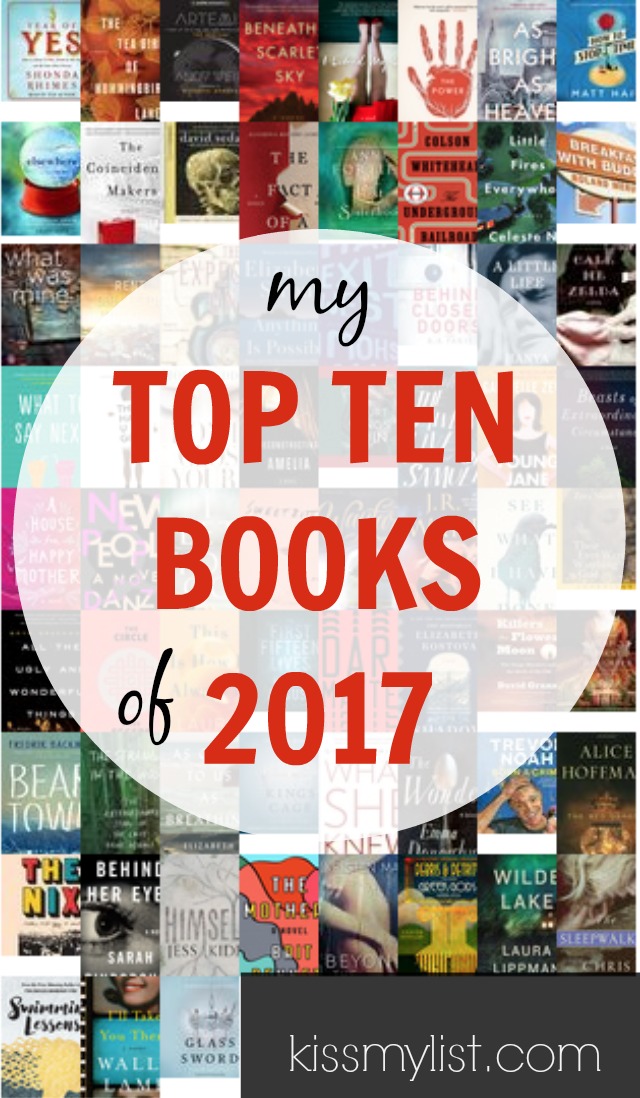 Heavy but worth it
A Little Life by Hanya Yanagihara – Beautifully written, heartbreaking, raw, redeeming and hopeful.  It's an investment to read this novel, but I think it's worth it.
All the Ugly and Wonderful Things by Bryn Greenwood – Wonderfully written with deeply flawed and deeply human characters, this story of love in unlikely places made me feel all the emotions at the same time.
Historical Fiction
Beneath a Scarlet Sky by Mark T. Sullivan – Fascinating narrative based on the life of Pino Lella, Italian teenager turned Nazi driver turned spy. While technically fiction because the author imagined much of the dialogue, all the people and events are real.
America's First Daughter by Stephanie Dray and Laura Kamoie – Told from the point of view of Thomas Jefferson's oldest daughter Martha, this novel is a southern family saga rooted in truth, touched by scandal, and unfolding during the American Revolution and our first half-century as a nation.
Great Book Club Material
I Liked My Life by Abby Fabiaschi – Why did Maddy commit suicide when she seemed to have a life she loved? Told from the alternating points of view of Maddy, her daughter, and her husband, this pleasant surprise of a novel explores one woman's exploration of her place in the world.
This is How It Always Is by Laurie Frankel – What I imagine to be a realistic look at what a family goes through when a young child is transgender, this novel is less about sexual identity and more about what it means to be a person. Fantastic, current and thoughtful.
Beartown: A Novel by Fredrick Backman – Nuanced, complex characters and brief scenes create a fast-paced novel about a wooded, wintery small town that lives and breathes hockey. An act of violence force Beartown's residents to examine how they define themselves in public and private moments.
Memoir
Born A Crime: Stories from a South African Childhood by Trevor Noah – I don't even watch Trevor Noah, but his memoir is fabulous. Noah is a compelling storyteller, and his essays had me laughing, crying, and shaking my head in wonder and disbelief.
Young Adult
What to Say Next by Julie Buxbaum – The unlikely friendship between Kit and David is at the core of this lovely read. Buxbaum creates real teenagers dealing with real problems, and crafted a novel that made me literally sigh contently when I finished.
Elsewhere by Gabrielle Zevin – Despite the premise of fifteen-year-old Liz going to Elsewhere after she dies, this novel was one of the most feel-good books I read this year. It's a charming story about living the life you have instead of dwelling on the life you don't have.
*****
As always, you can find my comprehensive list of book reviews on the top menu, or by clicking on the graphic below, which is also always on my sidebar.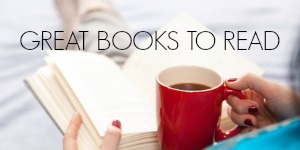 May your 2018 be filled with great books!

Linking up with Finish the Sentence Friday – it's "year in review" time, and of course my review is about books.