She pulls out a huge piece of paper and gingerly unfolds it. The years have thinned the fibers, and it rips along the creases despite her care. The five of us kneel around the paper, reading aloud to one another, laughing and remembering.
This fragile time capsule is our Quote Wall, covered in magic marker with inside jokes, witty remarks, and (occasionally drunken) verbal blunders. It adorned our apartment walls in college, and our memory keeper Andrea has kept it safe for all of these years. When our annual roommate reunion weekends are at her home, she pulls it out and we reminisce. Many quotes make me laugh until the tears come, and some I need a bit of help remembering. A few quotes baffle all five of us, as the decades have stolen their significance. I suppose it's natural that we would forget much of the minutia of those four years, but it saddens me. It's like completing a puzzle only to find that the final piece is missing; those forgotten quotes fill that empty space. 
My four roommates, and my honorary commuter roommate Erin, are the only friends in my life now who knew me before I had kids. I have amazing post-motherhood girlfriends, but these five women knew me Before. Before I was a wife. Before I was Mommy. Before I was grown up. Often I can barely recall the Before, but they were there. We were young and single together.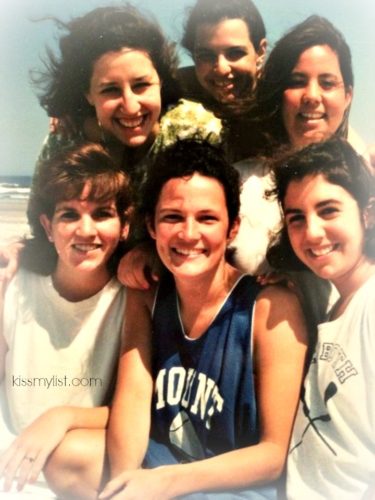 Graduation brought jobs and new homes, husbands and children. We followed similar but separate paths as we established our families. Monthly double dates became quarterly family nights with babies and toddlers, and those became semi-annual get-togethers scheduled months in advance. Our children control our social calendar, but we manage to reserve one thirty-six hour visit every year.
These friends were once in the nucleus of my life, and now they are on the periphery. But relationships are fluid, and on this weekend these friends move back into the center. We are five women who have left our Mom capes at the door, although they are always in view. 
I remember the young woman I was, as I take stock of the less-young woman I have become. Being with my oldest friends gives me a perspective on my own life; they help me look back at where I have been and contemplate where I want to go. We reminisce about life before marriage and motherhood, and we talk about Allysa, our roommate who did not live to see her 25th birthday. She will forever be that young and carefree girl that the five of us have left behind, and her absence is an ache.
Andrea sifts through the papers tucked away with the Quote Wall. Among the pages is an invitation to my baby shower, and a photo of my infant daughter. Now that baby is in college, making her own wall of memories with girlfriends who are also on the edge of adulthood. 
Far from that edge, I will soon be peering into the empty nest. One by one, my girlfriends will follow, until our reunions include early bird specials and photos of grandchildren. And always, the Quote Wall. Creased and faded, it holds the voices of the young women we were and the lifelong friends we would become.
 Joining Kristi and Mardra for Finish the Sentence Friday: "The people we meet…"