Girlfriends.  We have them in elementary school, running on the blacktop and trading snacks in the cafeteria.  We have them in middle and high school, sharing secrets, clothes, and dreams.  We have them as young women, as we emerge from our childhoods and find our way in this new grownup world.  And we have them as mothers, when they are our comrades in arms. Yet in the frenzy that is motherhood, our girlfriends can easily drift to the edge of our lives; there simply aren't enough hours in the day for girl time.  Right?
Ah, but there is.  There has to be.  Because our girlfriends fill that space that children and husbands can't.  Girlfriends give us permission to be ourselves in all our imperfect glory, with no expectations or demands.  They know what it is like to be defined by all those hats we wear, and they allow us to toss them off and just BE.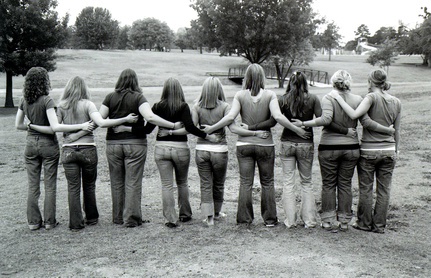 Spending time with my girlfriends invigorates me.  I laugh until I 
almost
 pee, I share my troubles, I get raunchy, I receive wise advice and try my best to give it back. My girlfriends are a fleeting buffer between me and the big bad world, and our time together restores the stamina and fortitude that daily life erodes.

I am so blessed to be a part of a few different girlfriend groups, and I bask in my friends' wit, compassion, and occasional salaciousness. Each group enriches my life in a way that my phenomenal husband and children can't.

Make a plan to spend time with your girlfriends; the returns are immeasurable.  Yes, it may be difficult to do, but make it a priority to nourish these relationships. Take a weekend getaway if you can, or take in a weeknight movie. Create a book club, or a Pokeno group, or meet for lunch. Make the effort; spending time away from your spouse and kids will make you a better – and happier – wife and mother because of it.


My amazing and perennially positive friend Kris is the mastermind behind Thirsty Thursdays, a few hour monthly reprieve for the women in our neighborhood.  On the third Thursday of each month we meet at a local restaurant or bar to catch up and recharge. We show up when we can, for however long we can get away.  Some months there are five women, some months there are twenty.  But I will move heaven and earth to be there, because I love my girls.