Our home was built in the late 1980s, and this red brick fireplace is showing its age.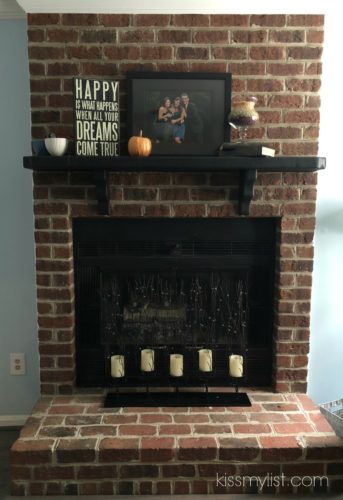 It's fine, but I've been wanting to paint it for years. Removing paint from brick is tough, though, and my past DIY fails left me reluctant to put my marriage at risk again.
Like the time I tried to strip the paint off our front door and we ended up having a brand new one installed.
Or the time I painted the stair banisters, then sanded them to a point where the entire railing had to be replaced.
My husband, who generally lets me carry on with whatever hare-brained project I feel determined to complete, was understandably leery of arming me with a paintbrush again.  I'm not always a hot mess – I painted our interior doors black and they look great! 
I scoured Pinterest for the most idiot-proof technique, and I was actually successful! For once, the project threw no curveballs, and it went exactly as planned. Here is how anyone (really, anyone) can update a brick fireplace for a completely new look.
Supplies: 
White paint (I used the leftovers from an old can of ceiling paint)

Water

Paintbrush – the cheapest will do

Old towels

Painter's tape
COST OF SUPPLIES: $0
PREP
I tend to prep carelessly, but it's worth it to take the time and do it right. I cleaned the dust and dirt of the bricks with a damp old towel, and then taped off all the edges where the brick bumped up to the fireplaces doors, or the wall or floor. 
PAINT
Water down the paint; I began conservatively with a 3:1 ratio of water to paint. Starting with a bottom corner that's out of sight, I painted one small area at a time – about three rows of bricks, three or four bricks wide. I immediately wiped off the bricks with an old towel, leaving a white-washed look.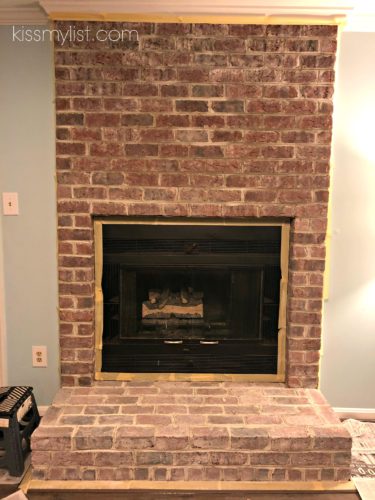 After less than an hour of painting and wiping, the fireplace was painted, but it wasn't light enough for my taste. I stopped for the day and did another coat the following day. This time I used a 1:1 ratio of water to paint, and that turned out to be the right formulation. Halfway through the second coat, you can clearly see the difference.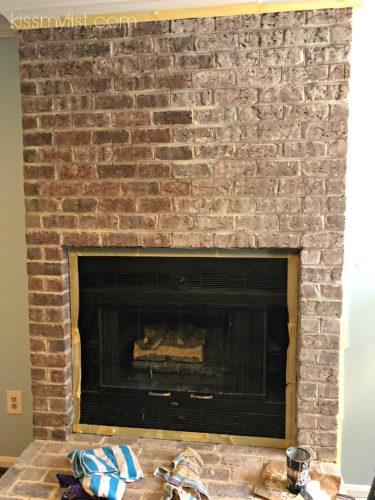 Here is the completely painted fireplace.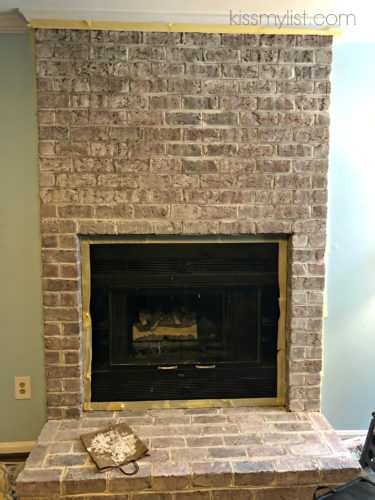 Had I wanted it whiter, I could have played with the water to paint ratio, or wiped off less excess paint. This is the look I was going for, however – softer than red, and not as stark as solid white.
DECORATE
Our original fireplace mantel came with the house; I painted it black years ago but I was ready for a different look. I found what I was looking for at Rustica Hardware, where I could order a custom length floating mantel in a lovely gray wash for less than $150, shipping included.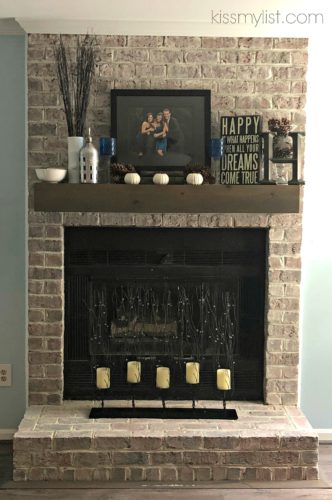 Without shelf brackets, I could lower the shelf and have more height for the mantel decor. Here is a before and after: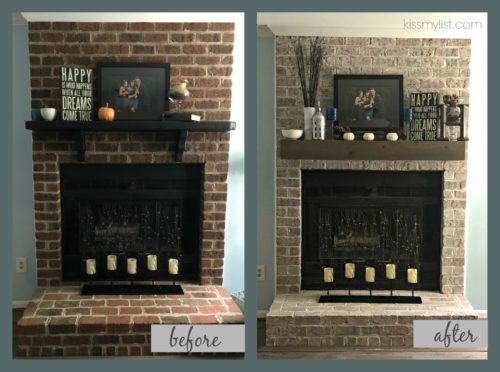 I should mention I had previously made an even easier update to the fireplace by painting the brass around the doors. A quick coat of black paint was all it took.
I'm thrilled with my updated brick fireplace, and my husband is thrilled that it cost under $150 and did not require hiring a professional. Win-win! Another win would be if you pinned this post so that other failed DIYers may find some inspiration.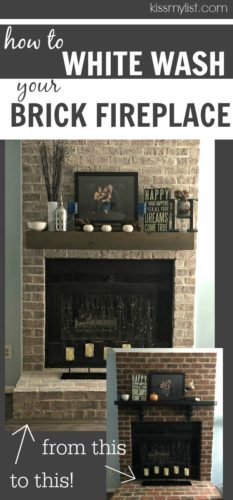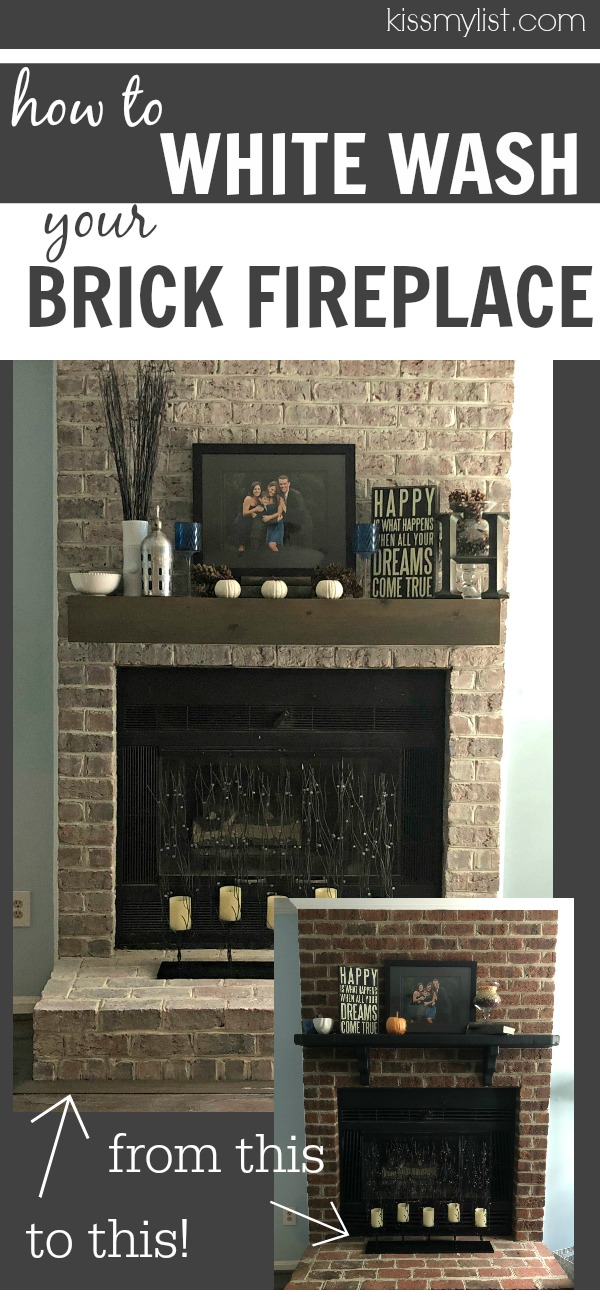 This is a FTSF post, inspired by the photographs of my new and improved fireplace.