I'm overdue for a Love List post, and as we head into the hot, lazy days of summer, my list is full of things to keep you cool.
Okay, not really. But a few of my summer loves will keep you groomed and pretty, a couple are yummy, and two are just random.
None will keep you cool, but you will be cool if you use any of them. 
Disclosure: There are affiliate links in this post that help me pay for the care and upkeep of this blog.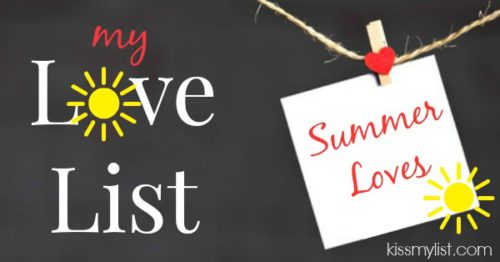 Everything I ever needed to know about beauty and hygiene, I learned from my girlfriends. I discovered these first three summer loves on a fun and unexpectedly informative girls' weekend.
This looks like white mascara, but you put it on before one coat of your regular mascara. If you normally use two coats, you'll only need one. I only use one coat, but by using the primer first, my black mascara looks amazing, it stays on longer, and my lashes look lusher. And while L'Oreal doesn't make this claim, I swear the primer makes it easier to wash off the black mascara at the end of the day.
You can buy it here on Amazon for under six bucks.
This mascara is clear, but don't use it on your lashes. Use the wand to tame unruly eyebrows, or pesky flyaway hairs that stick out near your part. Just be sure to use a light hand or you could end up looking like Alfalfa. I'd even recommend this for manscaping bushy eyebrows or facial hair. This mascara is also on Amazon for under five bucks.
It's a regular razor on one side, and an electric trimmer on the other, AND it works in the shower. The regular razor takes Hydro Silk refills, and the trimmer uses batteries. And while this sounds a bit dramatic, this razor is life-changing. Try it if you don't believe me. It's under twelve bucks on Amazon.
Now that you are well-groomed, let's talk food.
My friend Allie raved about these on her blog, but Allie is a tri-athlete and her nutritional needs are quite different from my own. She needs more fuel because she burns more calories, but I do trust her recommendations and I know that she will not tolerate a yucky protein bar, no matter how healthy it is.
These chia bars are little – maybe three inches long. They are 100 calories and have three grams of protein and four grams of fiber, and they are perfect for a quick snack. The problem I have with protein bars is that I eat them as a snack and not as a meal replacement, but many are 220 calories or more. These bars are low enough in calories and high enough in fiber and protein to be filling. They are available on Amazon or on Health Warrior's website, but they are also in many grocery stores and Targets if you just want to try one. My favorites are the chocolate ones and the coconut.
This little spice bottle of deliciousness is full of all the yummy seeds and seasonings on the top of an everything bagel. It is fabulous sprinkled over eggs and popcorn. I've even sprinkled it over the butter on the bottom half of my everything bagel, since there's no seasoning on the bottom half. GENIUS, I tell you.
Don't live near a Trader Joe's? I just discovered that like most things available for purchase, you can by this on Amazon. 
Let's finish off with some random loves.
I am not an avid podcast listener, although I'm sure I could become one if I stopped listening to audiobooks. If you are a podcast fan, I'm sure you've listened to this fascinating seven-episode series from the producers of This American Life and Serial. Here is their teaser: 
"John despises his Alabama town and decides to do something about it. He asks a reporter to investigate the son of a wealthy family who's allegedly been bragging that he got away with murder. But then someone else ends up dead, sparking a nasty feud, a hunt for hidden treasure, and an unearthing of the mysteries of one man's life."
You won't be able to stop listening; I went for extra long walks that week because I couldn't wait to hear another episode.
Have no idea how to listen to a podcast? Just open the app that is already on your iPhone (or download an Android app), search for S-Town, and start playing.
One of the worst things I can do for my bad back is sit in one place for any length of time. Knowing it costs less than back surgery, I invested in the Varidesk, which rises and folds on top of my existing desk so I can alternate standing and sitting. 
There are lots of models; I have the ProPlus 36. It has been life changing. I know I said that about the bikini trimmer, but this time I mean it in a much more significant way.
I hope you've found something to love on this list! What are some of your summer loves?