As I strolled the city last weekend, I passed a man carrying a rooster, a woman with a bunny on her shoulder, and a couple, each with a large snake draped around the shoulders.
Bizarre? Not when the city is New Orleans.
It's been two years since I've visited one of my favorite cities, and she is just as fabulous as I remembered. Four days of eating, strolling, drinking, shopping, dancing, and listening to everything from jazz to eighties cover bands.
There is simply no place like New Orleans. I say this with confidence, even though I have only seen a fraction of the city and its communities. Where else is there music in the streets on a weekday afternoon? Not organized concerts, but a group of musicians who sit down and start playing?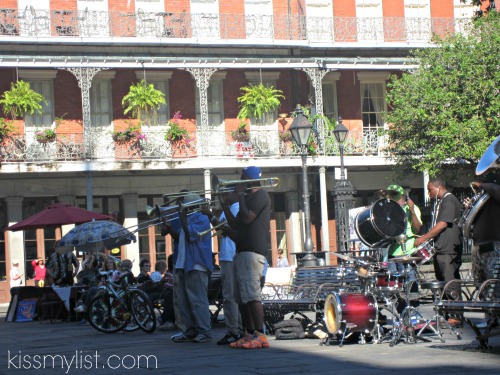 We ambled through the French Quarter, peeking into doorways for a glimpse of courtyards teeming with flowers, greenery, and fountains.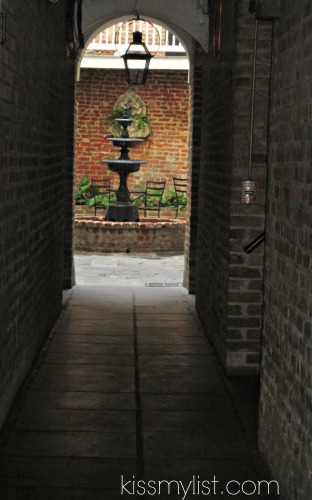 As a devoted viewer of American Horror Story, I was morbidly thrilled to see the house of Delphine LaLaurie, the Louisiana socialite turned torturer and serial killer. Her doorway, decorated for Halloween, is decidedly less lovely than the others.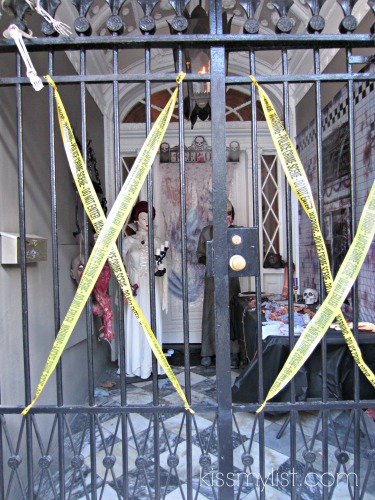 Many homes in the French Quarter go all out for Halloween. Grand balconies and iron work are decked out with ghosts, spiders, and the occasional severed limb in a fountain.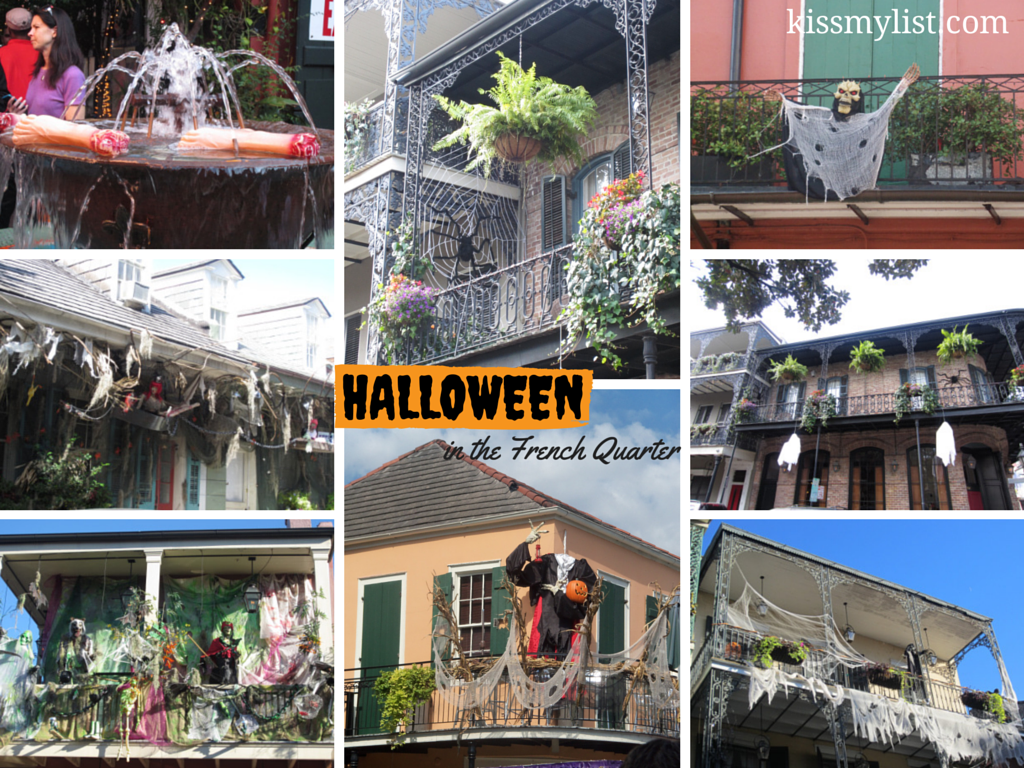 We stayed in the Halloween spirit on a haunted ghost tour of the Quarter, during which I hoped to see a vampire, preferably a sexy one. No luck. We did stop at a restaurant that is rumored to be haunted by the spirit of a former owner; there's a table set for the ghost so that he will stop tossing silverware and wine bottles all over the joint in the wee hours. Our tour guide encouraged us to take a photo in hopes of capturing an image of the specter; if you look very closely you may just see him.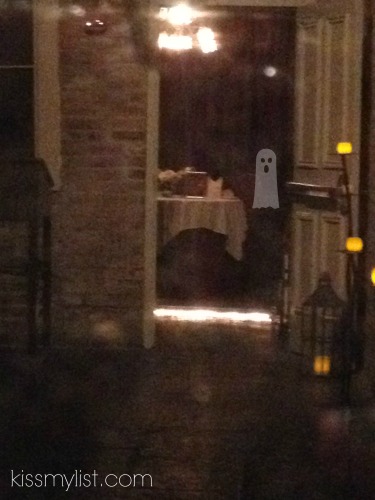 While what happens in NOLA generally stays in NOLA, I can share a few things that we did and saw. Oh, and ate.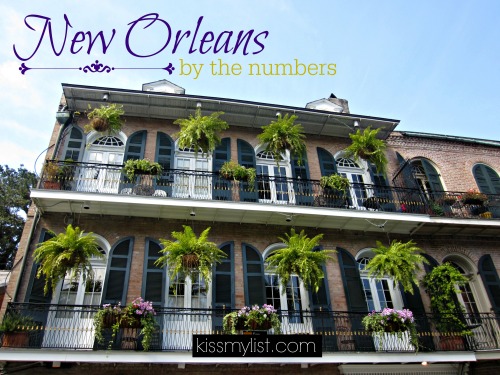 1 wedding party dancing down the street

4 visits to Cafe du Monde, for a total of nine beignets. Some of us may or may not have dragged our fingers through the powdered sugar after the beignets were gone.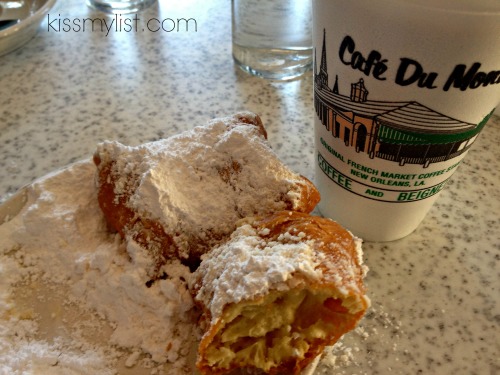 6 Pepto-Bismol pink vests that very few men could pull off. These guys rocked them, and they rocked the Crescent City Blues and BBQ. When locals say there is at least one festival every weekend, they're not lying.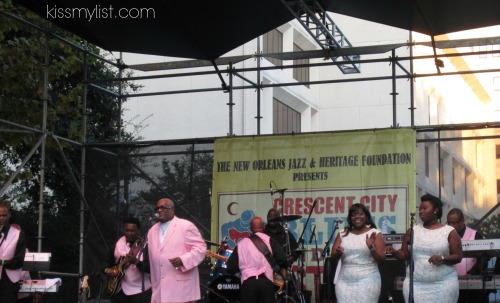 8 gazillion beads outside of this house off of Magazine Street. The first photo is a tree trunk and the second is a fence.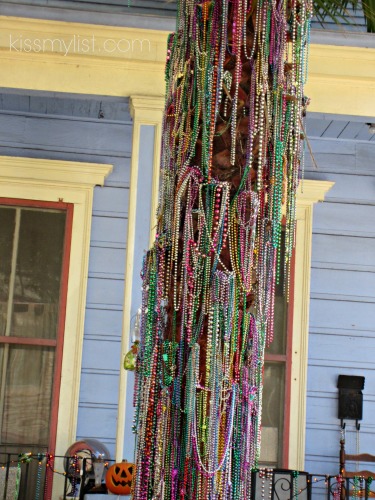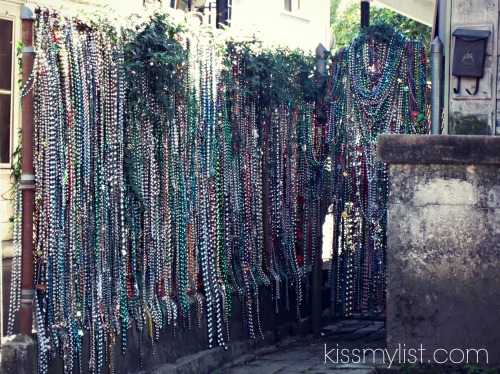 20 minutes spent with blog friend Cheryl of A Pleasant House. We were having lunch five minutes from her house, and she walked over to chat for a little while. How cool is that?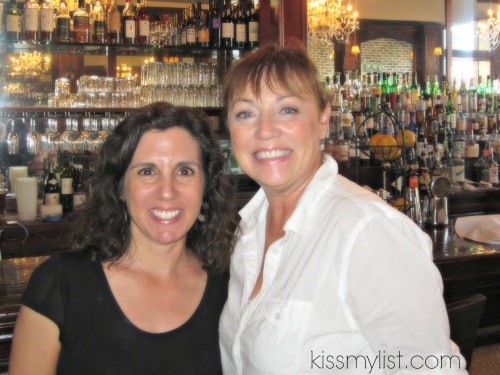 96 grilled oysters at Acme Oyster House, 24 of them eaten by me (over the course of two visits). I would not eat raw oysters if you paid me, but these grilled ones are a buttery, cheesy, slightly chewy piece of heaven. Some of us may or may not have licked the shells.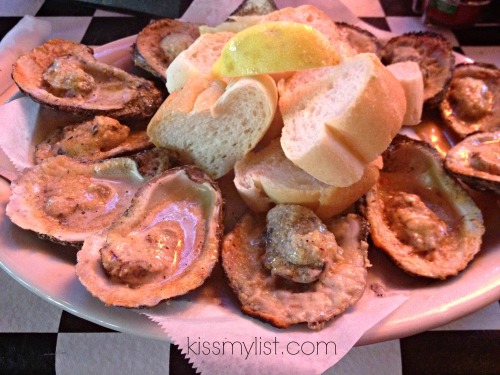 100 test tube shots purchased by some gullible but nice guy who felt bad for the girl selling them at a bar on Bourbon Street. He spent $150, and then gave most of the drinks away. We took a few off of his hands, but I wisely took no photos.
730 days until I'm reunited with the city I fall a little more in love with every time I visit.
If you're looking for some suggestions of things to do and see as a tourist in New Orleans, check out my first post about the city. Or you can pin it below!