Disclosure: There are affiliate links in this post; the spare change I earn from purchases you may make through those links helps me ditch the meal delivery services and just buy take-out for my family.
Cooking dinner for my family is one of my least favorite jobs. More specifically, I detest
a. Menu planning
b. Shopping for the ingredients
c. Complaints about the meal being served
d. Cleaning up
e. Tossing the inedible leftovers I forgot were in the fridge
The actual cooking part does not make my top five worst things about the dinner experience. If I have all the ingredients and I know what I'm making, I don't mind preparing and cooking it. I stick my earbuds in and listen to a book on Audible while I work, and I do get a bit of a June Cleaver-feeling when I put a lovely meal on the table.
I am the perfect candidate, therefore, for the meal delivery companies who drop the ingredients for yummy dinners on my doorstep. In typical Dana fashion, I went all-in and tried four different companies over the course of six weeks. The menu planning is simplified into a limited number of choices, the food shopping is done for me, and I choose the number of servings to eliminate leftovers. 
So what did I think?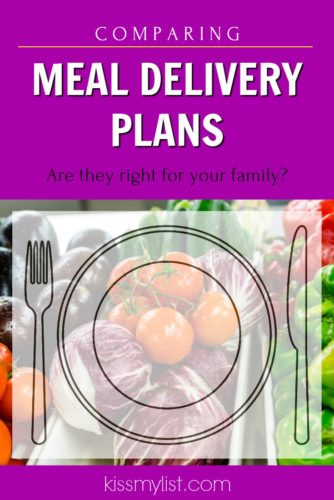 Week One
I tried Home Chef the first week, and I received an email informing me that my box would arrive by 8 p.m. on Tuesday. It did not arrive until late Wednesday afternoon. I called customer service Wednesday morning, and I was credited my cost and re-issued the discount I used for my first purchase.
I planned on tossing the food when it arrived, given that it was in transit more than sixteen hours longer than it should have been. But all of the eight (8!!!) ice packs were still partially solid, the meat was cold, and there were no weird odors.
I threw caution to the wind and cooked both meals, and no one became ill. Success!!
Week Two
The second week, I tried Plated. My house must be in the Bermuda Triangle because the delivery wasn't here by 8:00 pm AGAIN. I called, again, and the customer service rep could not have been lovelier. He credited me for the two meals, and re-applied my new customer discount to a future purchase.
My box arrived at 9:30 p.m., so I was able to make both meals without fear of food poisoning.
Week Three
This week, I purchased meals from Hello Fresh. Astoundingly, my box arrived an hour before the 8:00 pm deadline, debunking my theory that my house is invisible to GPS systems.
Weeks Four, Five and Six
Weeks four and five were the second deliveries of Home Chef and Plated. This time, both boxes arrived well before the 8:00 p.m. deadline. No more free meals for me!
I tried Blue Apron during week six, which is the service my mother has been using and loves. It arrived at about 6:30 p.m., and I was impressed by the compactness of the packaging. The food was comparable to the other companies, but Blue Apron wins for the most environmentally conscious packing.
So how was the food? 
Every meal service sent fresh, high quality food. We ate every meal I prepared, although we enjoyed some more than others. Of the eighteen meals, I would probably only make three or four again, but it was nice to try new recipes and get out of my kitchen comfort zone.
My issues
With the meal plans, of course. My issues in general would require a book, not a blog post.
Number of servings
Three is a tough number to serve for these meal plans. Home Chef, Hello Fresh and Blue Apron don't have a three-person option, so I felt like ordering for four was a bit of a waste in terms of both food and cost. Plated's three-person option doesn't meet the threshold for free shipping, but in retrospect I would still save money (and food) by going with three servings instead of four.
Menu choices
Most services offer different choices for the two-person and four-person plans, with the four-person plan being more family-friendly. Matt will eat anything (except liver and pineapple), but finding meals that appeal to both my teenage son and me was challenging. I preferred the more adventurous menus of the two-person plans, but I knew that many of them would not fly with the 16-year-old. 
Healthy options
While most meals were generally under 700 calories, the meals I chose had more starch and carbs than I prefer to eat for dinner. Had I only been cooking for Matt and me, I could have chosen differently. Every plan had plenty of vegetarian options as well. I didn't order any pasta meals, because I have enough pasta dishes in my own repertoire. 
Should you try a meal delivery service?
Whether or not a meal delivery service is right for your family depends on your goal. 
Yes, you should try one if your goal is to:
try new recipes
avoid meal planning
get out of a rut
You may not want to try one if your goal is to:
avoid meal prep
The four services I tried still required meal prep, particularly cutting produce. I didn't mind spending thirty minutes preparing and cooking dinner, but if that's too much prep time, try a service like Terra's Kitchen, which chops and cuts everything for you.
eat inexpensively
While I didn't find the pricing unreasonable, a family of four can eat less expensively than $40 a meal. But for some, the convenience and ease of having fresh food delivered to your door is priceless.
The outcome
For now, I have cancelled all four meal delivery services, mainly because I don't want to be responsible for remembering to skip weeks if I keep the subscriptions. A subscription can be reactivated at any time, so I will likely do that at some point when I know we will all be home for dinner, and the menus please all of us. 
Here's a handy dandy comparison chart of the four services we tried, for those of you who skimmed all my blather and just want the information.
One final note: Blue Apron and Home Chef are both on Ebates, so you can get cash back on your first week of meals. There are also plenty of first time discounts to be found via Google, so don't pay full price. Happy cooking!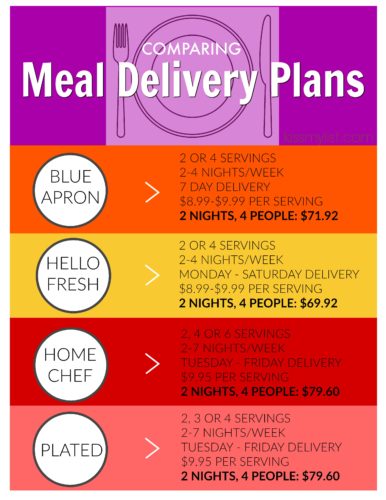 Linking up with Finish the Sentence Friday this week, "What's priceless about…" I did use the word "priceless" in this post, so it counts!