If you are a regular reader, you know that DIY isn't really my thing. But I'm not completely useless when it comes to sprucing up my home…
Do you have an empty wall in your home that is crying out for some artwork? Maybe you have a bunch of great photographs that are collecting dust in a drawer, or more likely still on your memory card in your camera. With less than $50 and some patience, you can create a focal point with a wall photo arrangement.
After my daughter's bat mitzvah, we had so many great photographs that I wanted to show off, but only so many surfaces to put them on. But I had a wall in my living room that was woefully bare. Armed with an old newspaper, a ruler, a level, and a pencil, I planned out an arrangement of eight photos that create a huge impact in the room.
 The key is to arrange the photos above and below a straight horizontal line. The process does require some forethought and careful planning, though, before you start hammering nails and buying frames. Here's how to do it:
1. Choose your photos. I followed the principle of decorating in odd numbers, and chose nine photographs. However, once I started, I found that for the sizes I had, eight worked better. Some photos were 5×7, and some were 8×10. I also had one 11×14 photo.
2.
Purchase frames.
For a cohesive grouping, I suggest using similar frames. I chose simple and inexpensive black frames from Michael's. By using frames with large mats, you can cover a larger area even with smaller photos. The frames for my 5×7 photos were matted to 8×10 size, the 8×10 photos were matted to 11×14 size, and the 11×14 photo was matted to 16×20.

3. Plan your arrangement. Cut pieces of newspaper to the size of your frames, and spread them out on the floor. Arrange them both above and below a horizontal line, varying sizes and orientations (vertical and horizontal) until you are happy with the placement.

4. Draw your horizontal line on the wall in pencil, using a level. Tape the newspaper templates in position and make sure you like the way it looks. Space the templates an inch apart from one another and a half inch above or below the line.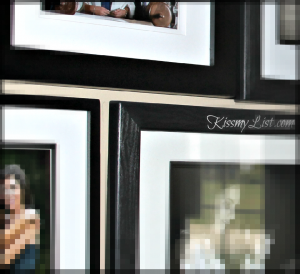 5. Hang photos above the line first. This can get tricky, as the hardware may be a few inches below the top of the frame. Have patience; it took me awhile to get each frame hung correctly. The ruler and a pencil are essential at this point. I measured where the hanging hooks were on the frames and marked the locations on the newspaper templates, then hammered right through the newspaper.

6. Have a glass of wine and call it a day. Come back the next day and finish the bottom row.




7. Step back and admire your handiwork!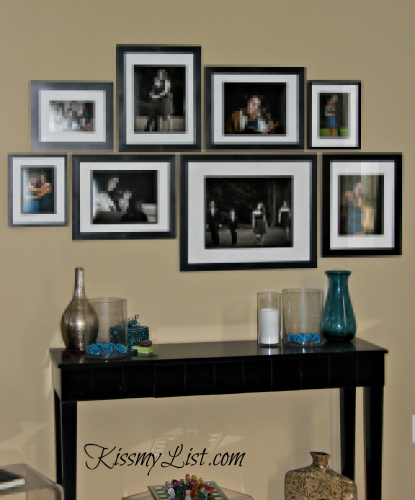 This is an easy option if you feel like you are design-challenged. A linear display requires little creativity, just careful measuring. A cluster of as little as five photos would look great on a neglected wall – in an entryway, going up the stairs, or over a couch. My arrangement is five feet long and almost three feet high; that's a lot of bang for your buck.

So get hanging!