The short answer is no, you don't. Read on for the long answer…
As the official trip and vacation planner for my family, I am rarely able to just go with the flow. But when your friend is turning 50, and that friend is a planner, you get to go along for the ride. And just go with the flow….of bourbon.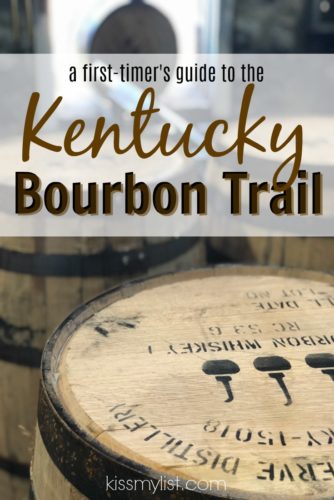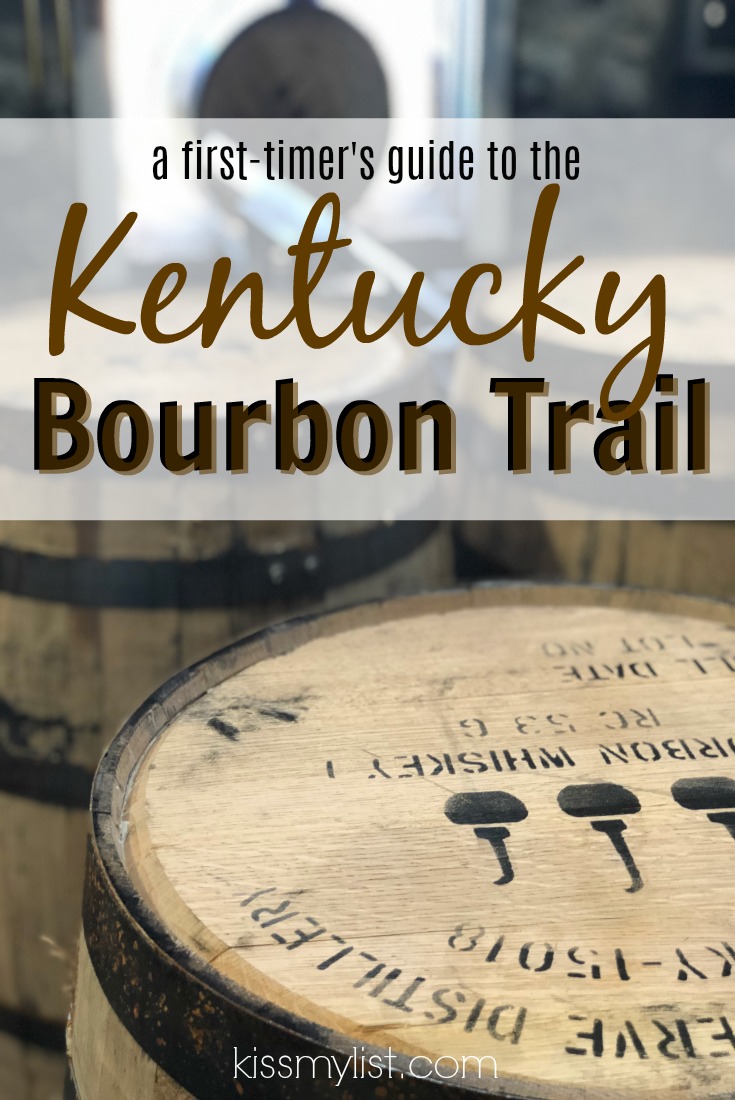 Our birthday boy Tom wanted to follow the Kentucky Bourbon Trail to celebrate his half century mark, so off we went. No, I am not a bourbon drinker, but I love to discover new places and learn new things, especially if I'm with fun people.
Tom is a fun person, as is his wife and my dear friend Laura. The other three couples are also fun (one has been to
New Orleans
with us four times), but I'm not sure if they'd want their gorgeous faces on my blog, so you'll have to just trust that they were with us.
Day One on the Kentucky Bourbon Trail
We begin our first day with lunch at
Proof on Main
, a funky restaurant in the 21c Museum Hotel in downtown Louisville. The decor is interesting, and the food is yummy. I am not ready to start with bourbon, so I opt for a delicious vodka cocktail.  I also have fun playing with the portrait mode on my new iPhone.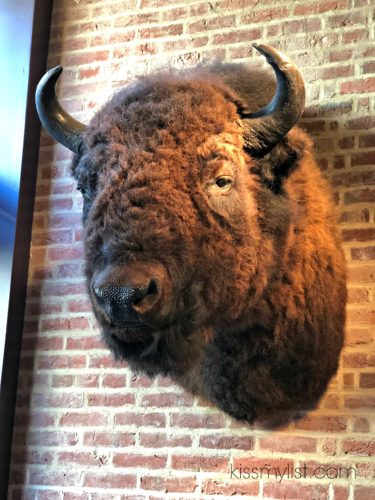 That afternoon, we board a
Mint Julep Tours
bus and head to Bardstown, Kentucky for an after-hours private tour of the
Heaven Hill Distillery
. We are treated to appetizers and a bourbon cocktail before meeting the master distiller and heading into one of the rickhouses for a tasting.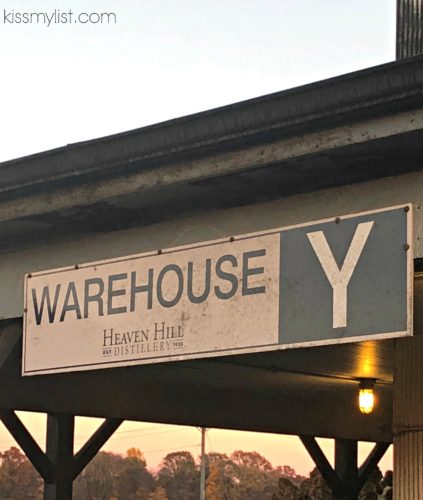 After tasting two types of bourbon, our third taste comes right from the barrel. We take turns using a whiskey thief (think turkey baster) to extract some bourbon from the bunghole of the barrel. This bourbon is "barrel-proof," which means it is stronger than it will be once it's bottled. Because I need extra-strong bourbon for my third tasting.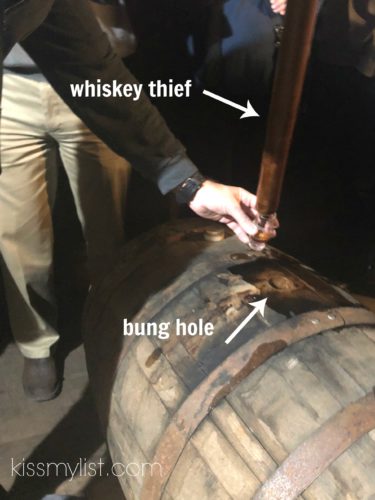 Because we have a private tour as part of the "
Evan in Heaven Experience
," our guide is Heaven Hill's master distiller Denny Potter. He's the only master distiller we meet on our trip, and it is really cool to chat with the guy who is responsible for quality control.
We hop on the bus and head back downtown for our tour of
Evan Williams
. Our guide talks a bit about Prohibition and speakeasies, and then lets the Birthday Boy knock on the door of their "speakeasy," where the tasting will be held. A knock, a code word (thoroughbred), and we are in!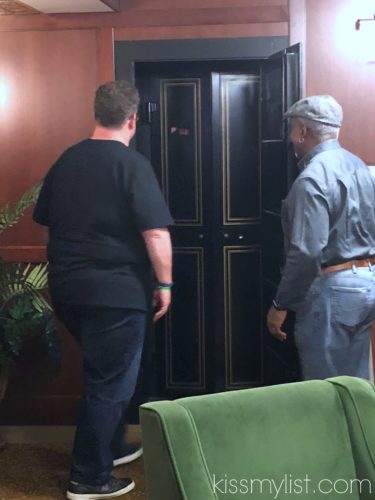 The room is beautiful, and we munch on more appetizers before we sit down for our tasting. I am learning quite a bit about bourbon, but I still can't really taste the difference between the different brands.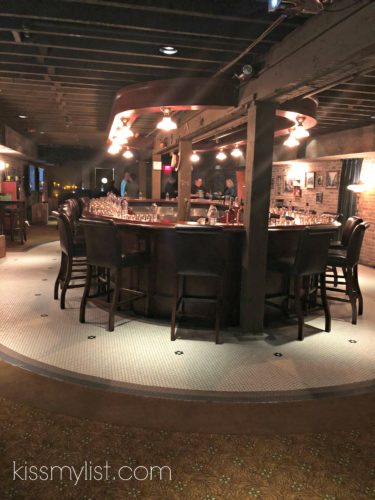 I can, however, taste the difference between high-wheat bourbon and high-rye bourbon. By law, bourbon must be made with at least 51% corn, but the other 49% of grains can differ. A high-rye bourbon is spicier than a high-wheat bourbon, and to an unsophisticated palate like mine, that translates into "OMG this liquor burns!!!"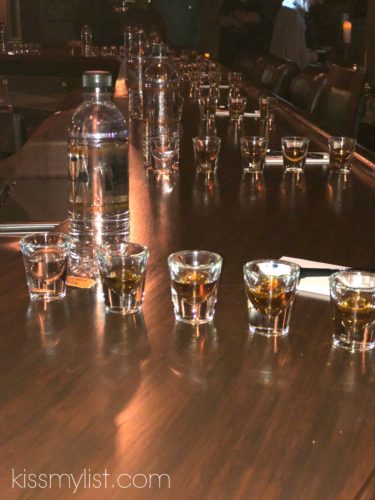 I prefer a high-wheat bourbon, and I prefer it even more with a few (or many) drops of water.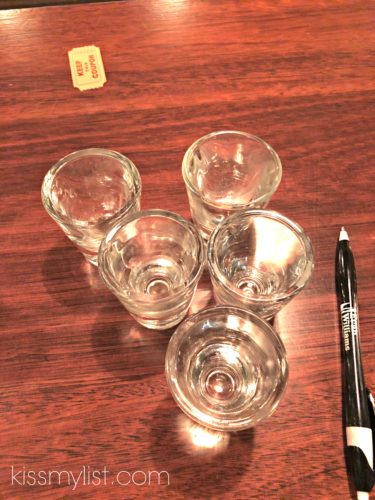 After our tasting, the Birthday Boy gets to hammer the bung into the bunghole of a barrel, and we all sign it before it is stored away to age.
We then take the regular tour of the distillery, which has a bit of a Disney/Hershey's Chocolate World feel to it. The Evan Williams Bourbon Experience is in downtown Louisville, so it's really easy to visit, and well worth it.
Day Two on the Kentucky Bourbon Trail
With four distillery tours on tap for the day, we crowd into a rental SUV and head to Frankfort. Our first stop is
Buffalo Trace Distillery
, for the Hard Hat tour. We instantly notice the different feel of Buffalo Trace; the site is a national landmark, and has been producing bourbon for over 200 years.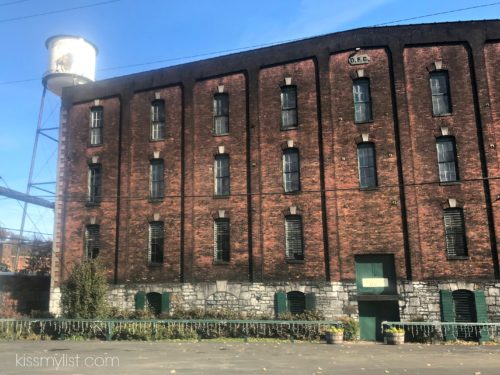 For this tour, we were able to go into a warehouse where the bourbon is produced. Our first stop is the mash cooker. There's corn in there, but I can't tell you anything more specific because the other group of guys on the tour with us keep standing in front of me and I can't hear our tour guide.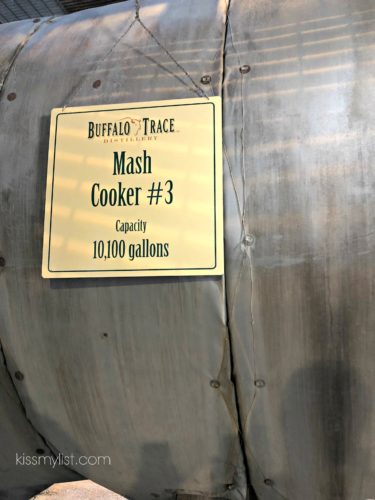 Once yeast is added to the mash, the magic starts to happen. These huge vats are three stories high and hold over 92,000 gallons. We get to sample the mash; it tastes like the liquid in a can of corn. It doesn't taste like alcohol yet…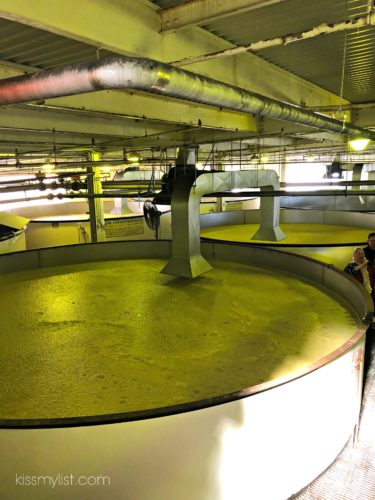 …until it goes through the still. This condenses the alcohol and separates it from the rest of the liquid, and then it's condensed back into alcohol, which is basically moonshine.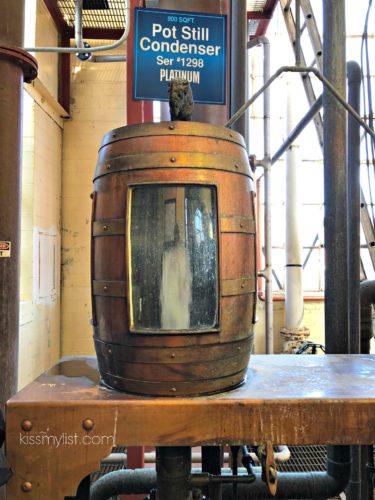 This clear liquid goes into the barrel, which is what gives bourbon its color. After our tour, we have a brief tasting, during which I discovered that Buffalo Trace Bourbon Cream topped with a bit of root beer is delicious. I buy a bottle as soon as I get home, and last night I yell at my son for drinking my root beer. "It's for my bourbon cream!" I insist. He rolls his eyes, as any good teenager would do.
We pile back into the car for the ride to
Woodford Reserve
, and I manage to snap a pic of the Kentucky countryside as we drive.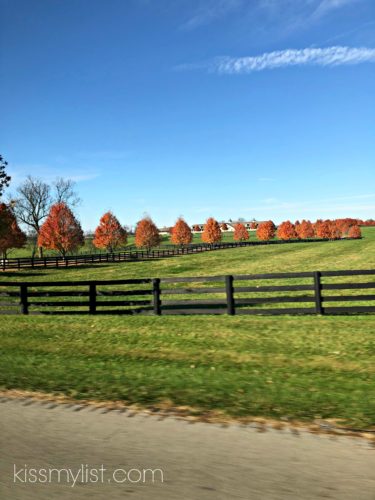 Woodford is gorgeous, and a completely different experience than the other three distilleries. I get bored with the bourbon education and start getting artsy with my phone and the corn mash.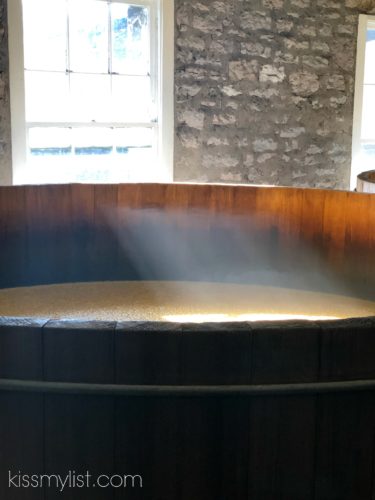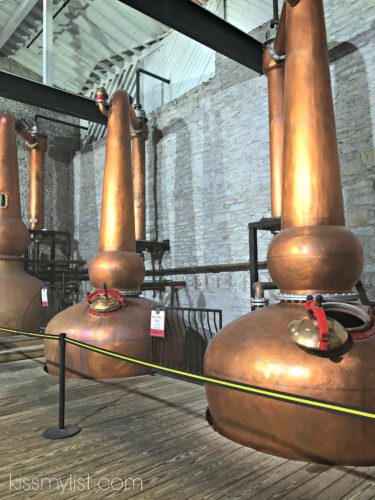 We head into a rickhouse, and I wonder how they test the bourbon to see if it's ready.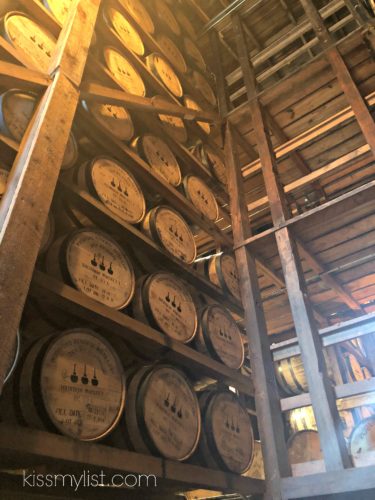 I find out…they drill a hole into the barrel to get a sample, and then seal it back up with wax.
Our tasting is the most educational one yet; our guide teaches us how to fully appreciate bourbon and drink it like a connoisseur. While I can't say I was able to identify all the flavors, I did start to understand the complexity. That Kentucky Hug, though. It's the warm sensation you get in your upper body after taking a sip, and after a dozen or so, I am losing steam.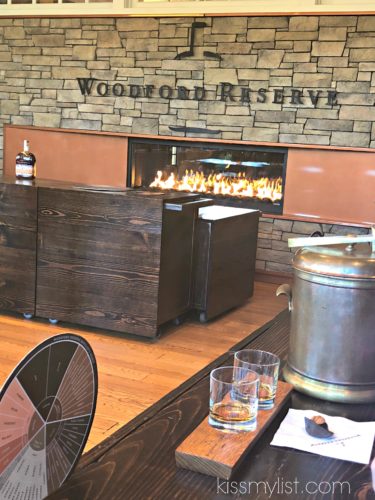 Our final distillery is Four Roses, although we only have time for a tasting. I rally through; I am determined to finish all the tastings.
That evening we dine at Le Moo restaurant, and I am the only person who orders seafood instead of steak. This guy thanks me as we leave.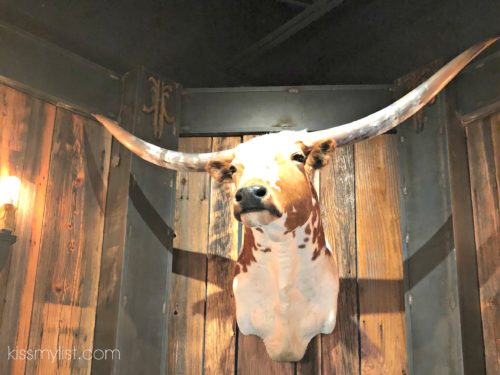 On our way back into Louisville, we take a detour over the bridge into Indiana. You know how some people make it a goal to visit each state? Some of those people are in the car with me. If you look closely, you cannot see those people because IT'S DARK and we are in the parking lot of a hospital. But they are in Indiana, so it counts, kinda.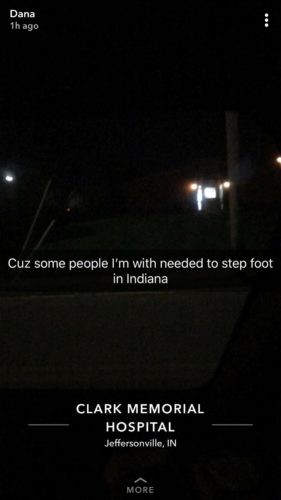 Day Three on the Kentucky Bourbon Trail
We have brunch at a great place called Toast on Market, and then the guys visit one more distillery, Angel's Envy. Like Evan Williams, it's in downtown Louisville, so while they walk there, the girls walk the other way and do some shopping. Then we head to the one place you must visit that's not on the Bourbon Trail – Churchill Downs.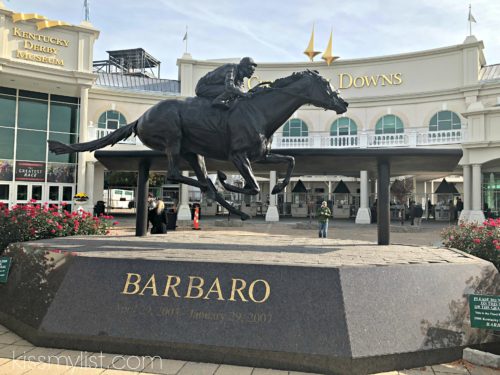 I don't love horse racing, but I know enough to realize that when one is at Churchill Downs and watching races, one must (1) make a bet and (2) have a mint julep. Matt makes a bet; I have the mint julep. He and the other guys also smoke cigars they bought the day before, because it seems like the thing to do at the track.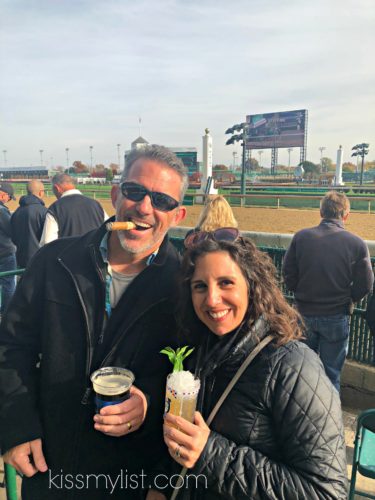 That evening, we have cocktails at the rooftop bar at
8Up
, where I order my first-ever whiskey sour, with Four Roses bourbon.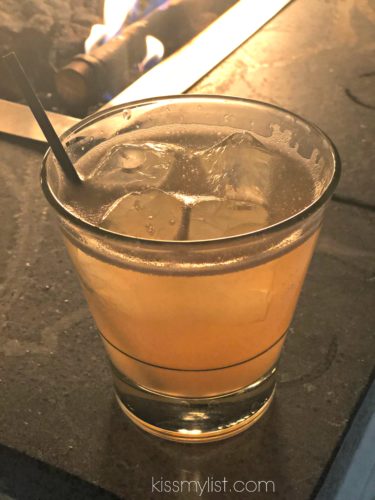 For our trip finale, we have reservations at
Jack Fry's
for Tom's birthday dinner. I have no photos because I am too busy eating. But I do have one final cheers to Tom, and to a fabulous long weekend discovering the Kentucky Bourbon Trail!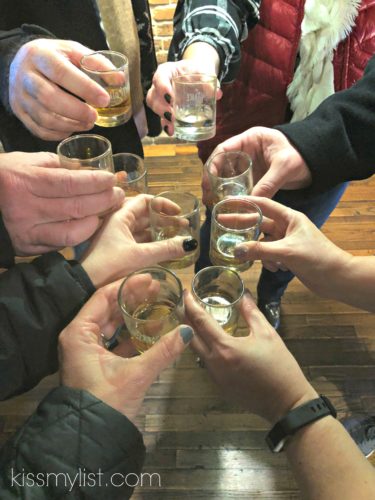 If you're thinking of planning a trip, I hope our itinerary will be of some help. There are many great resources online as well, and the Kentucky Bourbon Trail website is a perfect place to start planning. You do have to plan, though – make reservations ahead of time so you can get into the tours you want. Cheers!