Everyone has thoughts that are better left inside the head. When those thoughts demand attention, some people keep a record of them in a diary or a journal.
When I released my own random thoughts in a Dear Diary post in September, a few easily entertained readers commented that I should do a diary post on a regular basis. It's a lot of pressure to attempt wit and humor on a regular basis, particularly if it is based on my own life and the weird stuff that happens in my brain. But I will try. This time I even got a little philosophical.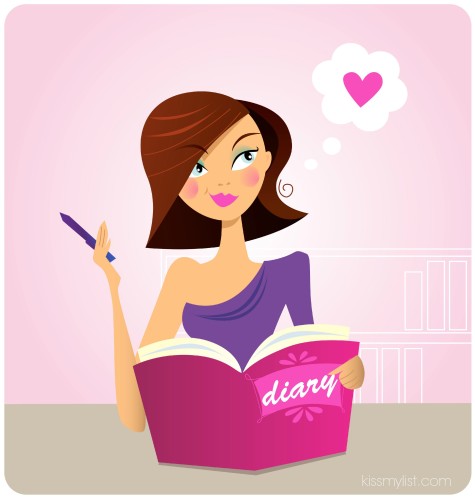 Dear Diary, Today I realized that while I am still young enough to produce eggs, I am too old to donate them.
Dear Diary, Tonight I watched the last twenty minutes of Silence of the Lambs, Twister, and Disney's The Descendants. I was totally into each one. Must. Cancel. Cable.
Dear Diary, Today I was stuck in traffic on the highway when the woman in the next lane a few cars ahead of me turned around, gave me a dirty look, and mouthed something that definitely ended with "bitch." I have no idea why. Note to self: It's not worth getting pissed off at a stranger, because that stranger may not have a clue as to what she did to piss you off.
Dear Diary, Finishing a sentence with "that's what she said" is really just the adult equivalent of 11-year-old boys snickering. Is it wrong that I still say it, and say it with glee?
Dear Diary, A sponsored post for a hair color product showed up in my Facebook feed this morning. Note to Facebook: The fact that I have not yet colored my hair is the one vestige of youth to which I stubbornly cling. You suck.
Dear Diary, Whose job is it to come up with the fortunes in fortune cookies? While this is a crappy fortune, it may just be excellent advice.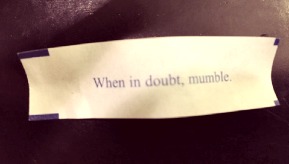 Dear Diary, My teenager observed that Friends becomes less funny in the later seasons, which she also observed coincides with the friends getting older. Very astute, that girl.
Dear Diary, Why does a public restroom designer go through the trouble of installing automatic soap dispensers, faucets, and hand dryers, and then installs an exit door that has to be pulled?
Dear Diary, Yesterday I went to an NFL game, and each time our team scored, all the adult male spectators high-fived one another. Why is that? It's not like they did anything.
Dear Diary, I think there should be an undo button for minor mishaps. Like when I drop a bottle of salad dressing all over the kitchen floor, or when I answer "You too!" to the cashier who just said "Thank you for shopping at Target!"
Speaking of shopping, I did quite a bit of online spending this weekend. Check out my holiday gift guide for ideas and ways to save!