What do you do when your kids have different spring breaks, and the potential end of family vacations is approaching much too quickly?
You decide to go away over winter break, for the first time ever. You pick a place on everyone's bucket list, and you focus. I scraped this vacation together in record time (for me, that's a few months), using the internet and whatever guide books were available at the public library. Arizona, here we come!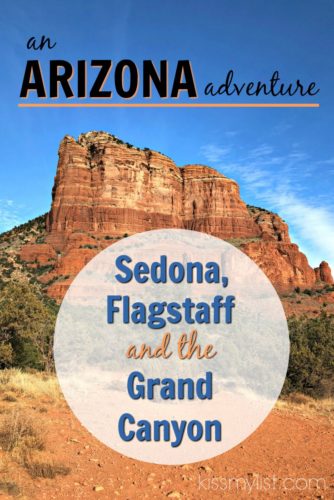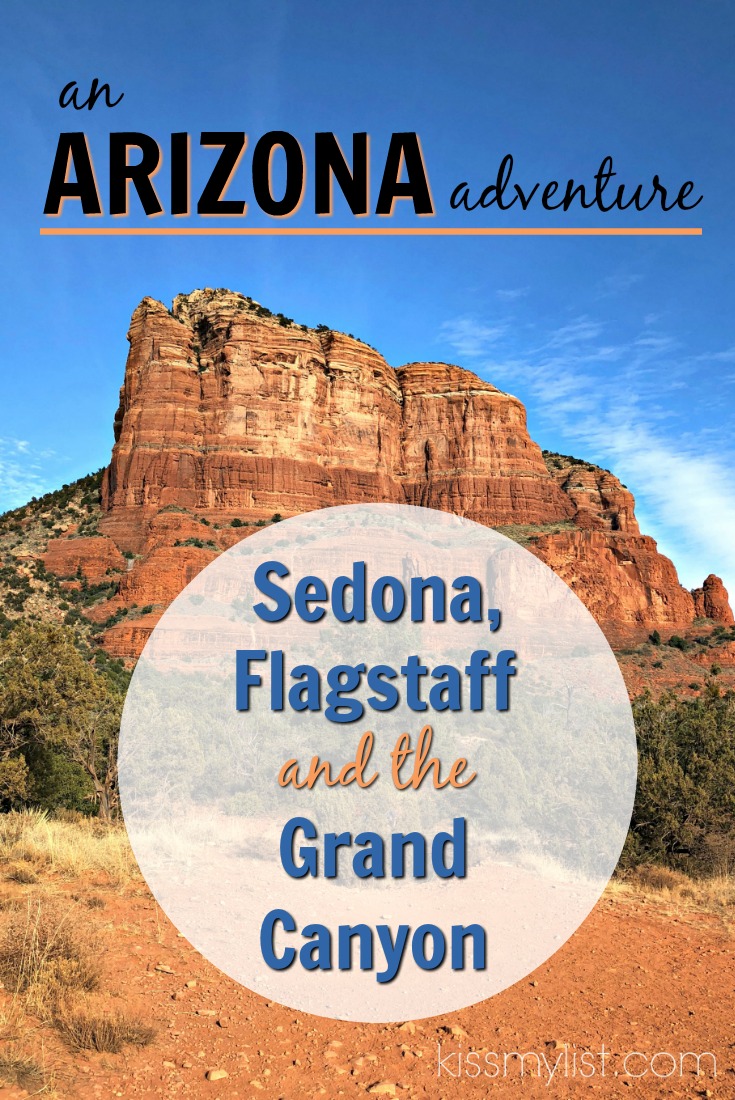 Day One
We are in the air before the sun rises, and land in Phoenix, Arizona by mid-morning, Central Time. It's a two-hour drive to Sedona, and on the way we stop at Montezuma Castle National Monument. 
This preserved cliff dwelling was a five-story, twenty room dwelling built between 1100 and 1300 by the Sinagua people.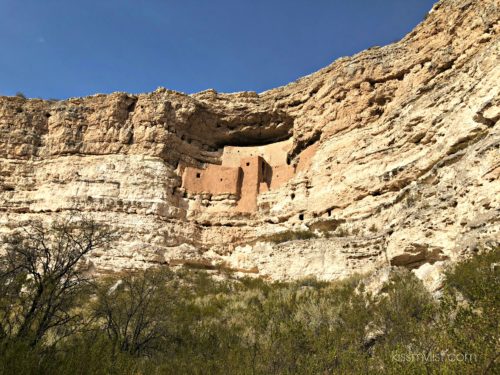 Montezuma Well is a short drive away, and it is another site where the Sinagua lived – you can see their cliff houses dotting the rocks around the water. The well is a limestone sink fed by constantly flowing springs, at a lovely constant temperature of 74 degrees. The water also contains high levels of arsenic, which I assume did not bode well for the people who lived here 1000 years ago.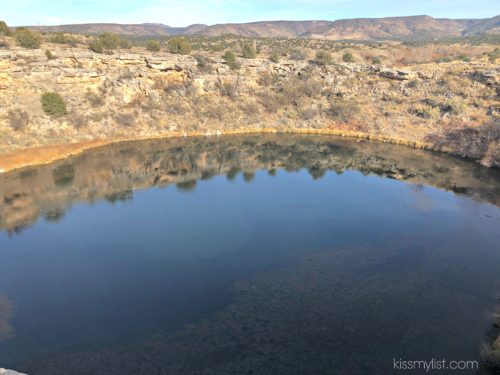 Even if I had no idea what to expect in Sedona, it is immediately evident that we are somewhere special.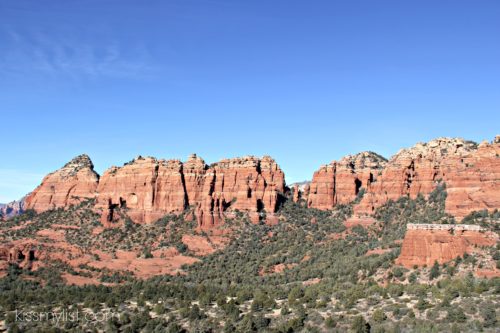 We walk around the quaint downtown that evening, taking in the breathtaking scenery and sunset.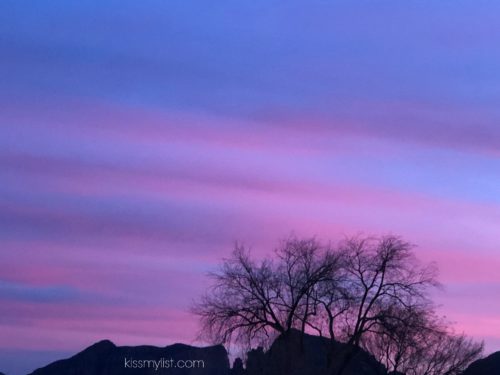 Day Two
Christmas Eve day in Arizona begins with a Scenic Rim Pink Jeep tour. Everyone who has been to Sedona told me we must ride the pink jeeps; how can we not?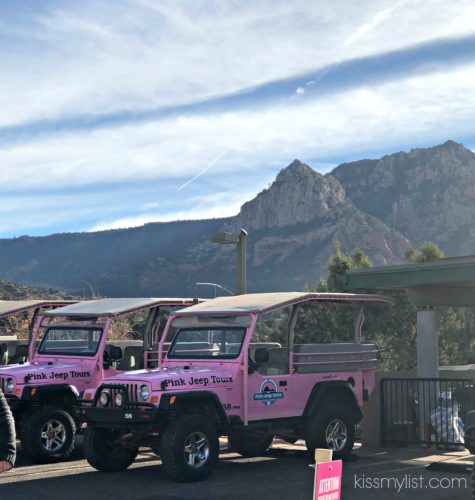 I sit in the passenger seat the whole time since it is slightly less bumpy than the back. Our tour guide Mike is a great driver and shares lots of interesting information about the history of Sedona. As we drive, we are going up, and up. Until we are here.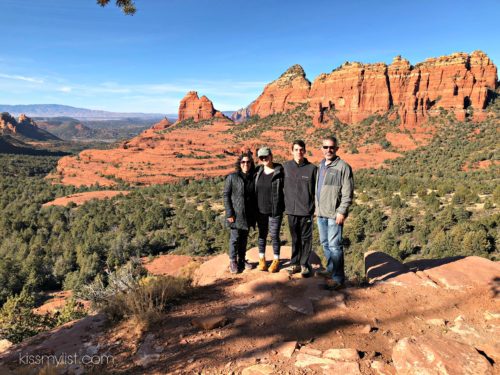 There is a couple sharing the jeep with us, and he has a bit of an issue with heights. He is fine close to the road, but he can't even watch us as we stand here for a panoramic.

Mike takes our family photos; the Pink Jeep guides are also schooled in basic photography. We return to downtown Sedona, passing Snoopy rock on the way. Excuse the poor lighting; it's tough to take a picture while riding shotgun in a jeep.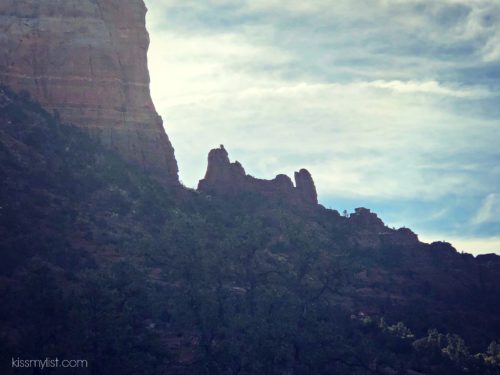 That afternoon the four of us venture off on a solo adventure, and hike Devil's Bridge Trail. It's a 4.2 mile hike that climbs fairly gently, until the final quarter mile. Then you scramble up rocks to get to the bridge.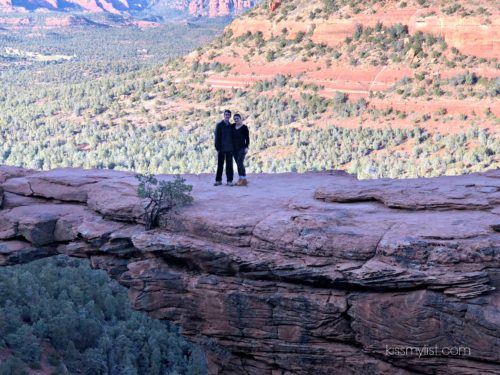 Doesn't look too bad, right? Just don't look down.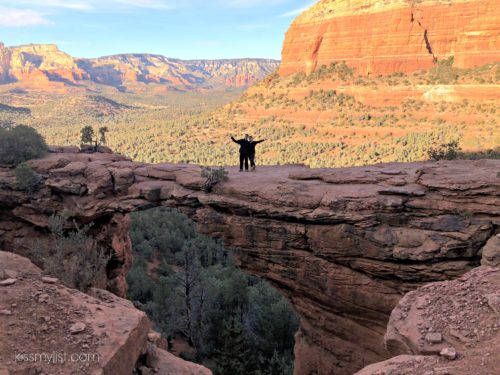 Here's a less-scary view from the other side of the bridge, as we are hiking back down.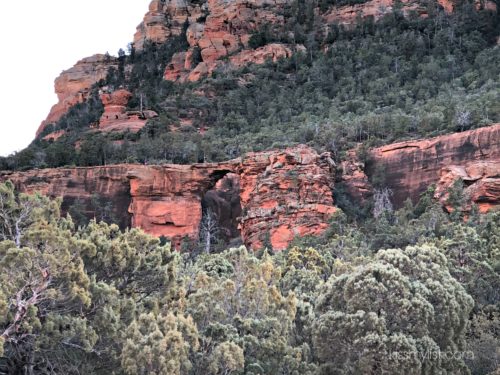 Day Three
Merry Christmas from Sedona! We begin the day with a hike on the Airport Loop. The lovely gentleman at the parking booth advises us to go to Overlook Point, where one can experience the energy of a Sedona vortex. We nod enthusiastically, but we are unable to channel our spiritual and metaphysical side and appreciate the mystery of the vortex.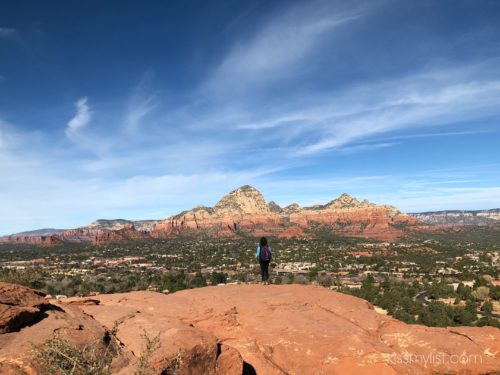 Whether or not you believe in energy vortices, there is most certainly a magic to this place. We all take a few minutes to soak in the beauty.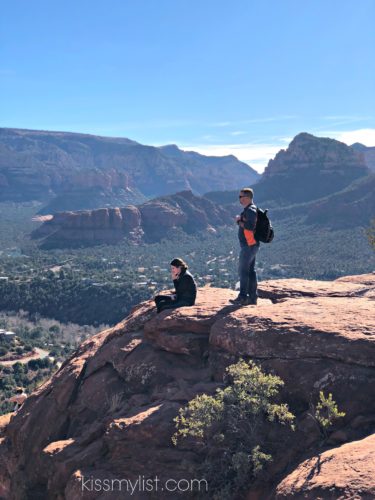 After lunch back at the hotel (The Hilton Sedona Resort at Bell Rock, which was lovely), we drive the five minutes to Bell Rock and Courthouse. The parking lot is packed, and Bell Rock is crowded with people climbing for a good view. We walk past all those people and circle around the two rocks. Most of the time we don't see another soul.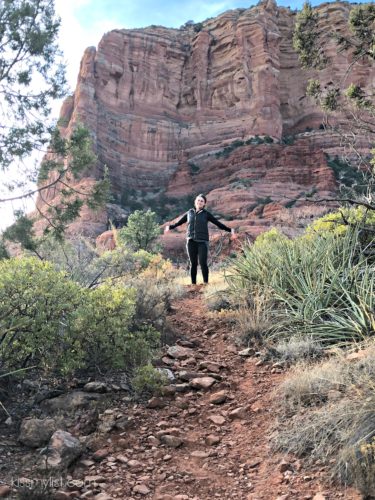 One bonus to hiking with your teens in Sedona is that the cellular towers are spotty at best while you're out and about. This forced unplugging leads to some interesting conversations with even the most tight-lipped adolescent!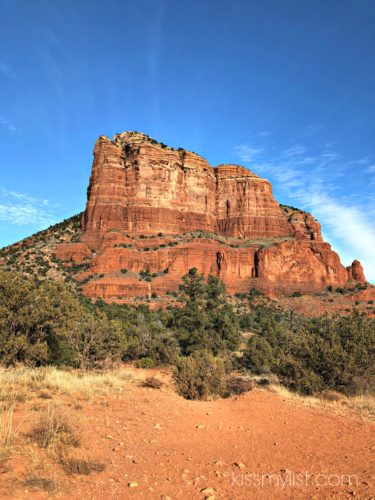 We dine at the lovely Mariposa on Christmas evening; the dining choices in Sedona are excellent. We also enjoyed La Cucina Rustica and Elote.
Day Four
We say goodbye to Sedona and take the scenic route through Oak Creek Canyon to Flagstaff. It's a gorgeous drive, and the twists and turns remind me of Highway 101 on the California coast – more evergreens than ocean, of course. At the highest point we pull off and can see the winding road from which we came.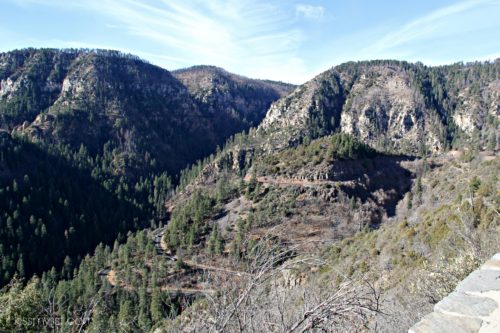 We stop at the Walnut Canyon National Monument before arriving in Flagstaff, and it is so much cooler than I thought it would be.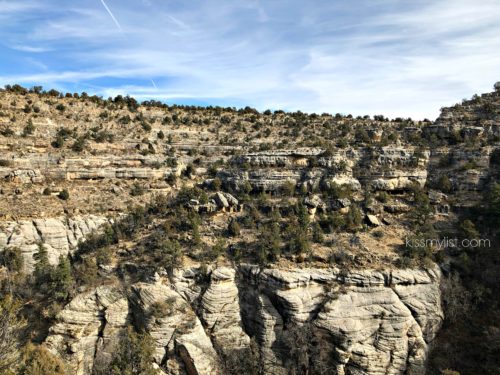 If you look closely, you can see what look like small holes in the side of the rock. These are cliff dwellings on the Sinagua people, who lived in this area of Arizona until about 1250. They were not the first people to live in this canyon, but they were the last. We walk down the 200 stairs to descend 185 vertical feet into the canyon, and walk the mile-long Island Trail where we see those dwellings up close.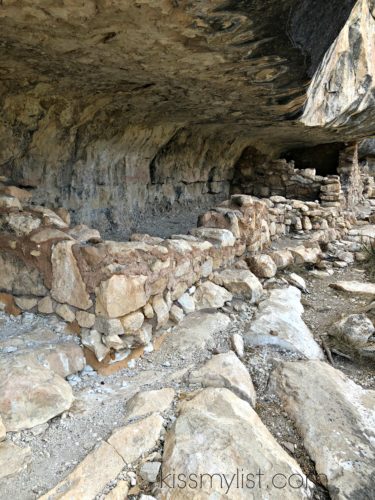 Jane Auel's Earth Children is one of my all-time favorite book series, and walking along this trail makes me feel like I am walking in the steps of those ancient people. I completely geek out about this, and wish I had someone with me who shares my fascination with pre-history.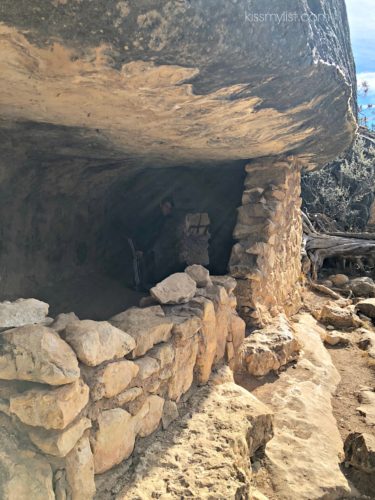 See the building at the top of this next photo? That is the Visitor Center where we start our descent. It is much more pleasant to go down the trail than it is to go up; this is a theme we find repeating itself at the Grand Canyon.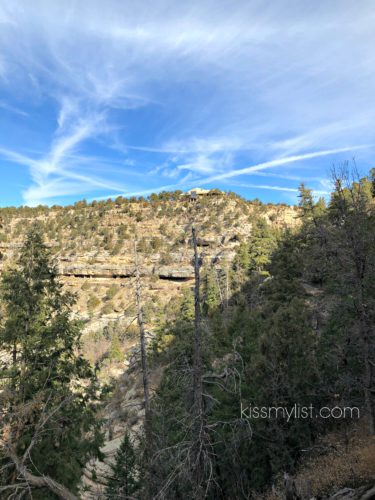 After we catch our breath from going back up the 200 steps, we head into Flagstaff and take in the cute downtown area. We shop a little, eat a little more, and then come back for dinner to eat some more. I recommend both the Lumberyard and Beaver Street Breweries for decent pub fare.
Day Five
We are on the road by 7:30 a.m., and arrive at the south rim of the Grand Canyon at 9:00. Here is my first view.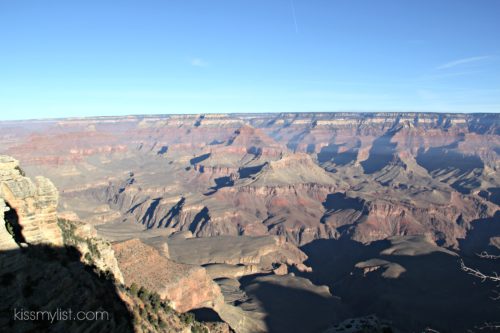 If you've been here, you know that photos don't begin to capture the size or the awesomeness. The shadows don't help either.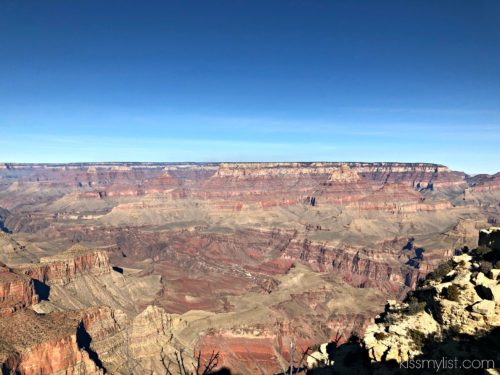 After our first peek, we hop back in the car and drive the twenty-two miles from the Visitor Center to Desert View. At each of the seven stops, we get out and soak up more.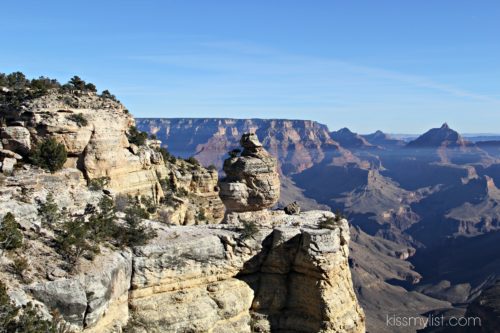 We get our first look at the Colorado River, which looks like a trickle with the naked eye. With my zoom lens, it looks like a stream.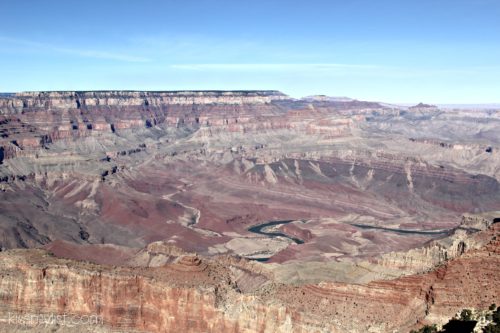 We arrive at the Desert View Watchtower, and the throng of tourists begins to get to me a little. After climbing the tower for more views, we head to the parking lot where we see this guy.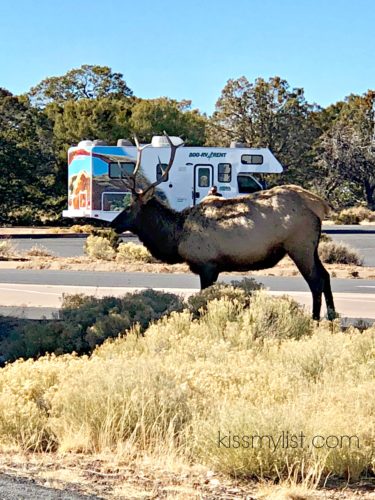 He's huge, and he's pretty close. Yet foolish people insist on getting closer, jabbing their selfie sticks in his face when all he wants to do is eat his lunch. Every time he bends his head down, I'm afraid he is going to charge the idiot in front of him. He wisely decides the grass tastes better than stupid tourists.
We head back to the Visitor Center and catch the shuttle to South Kaibab Trailhead. We're going below the rim! We don't get too far before we meet these guys, and have to pull over to let them pass.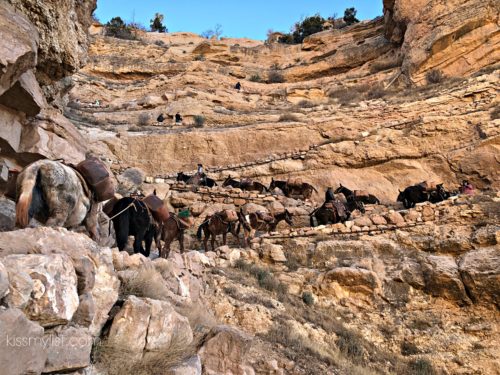 The mules were bringing trash up from the canyon floor, after bringing down supplies earlier in the day. While the mule-driver told us no mule has ever slipped with a passenger, I still prefer to move with my own two feet.
We arrive at the first trail marker, clearly marked.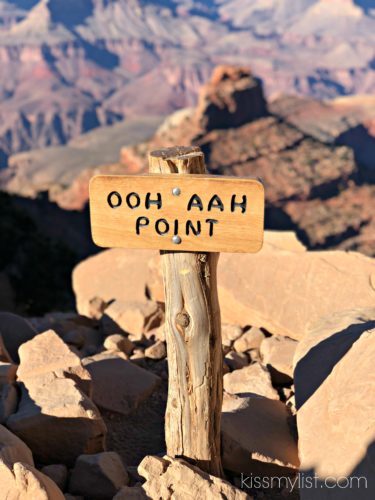 It is aptly named.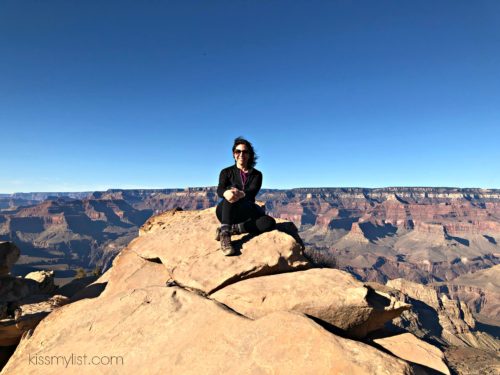 After watching a few tourists get ridiculously excited about photographing a squirrel on a rock (They were Americans; surely they've seen squirrels!), we reluctantly climb back to the rim. The cheeky signs we see at the Grand Canyon are accurate. "Going down is optional, coming up is mandatory." But it's hell on the glutes.
We drive to another viewing point to watch the sunset, during which I take a ton of photos that all stink. But as we are heading back to the car, I ask an older couple if they will take one last family shot. The husband knows what he is doing, and he gives us some pictures that don't even look real.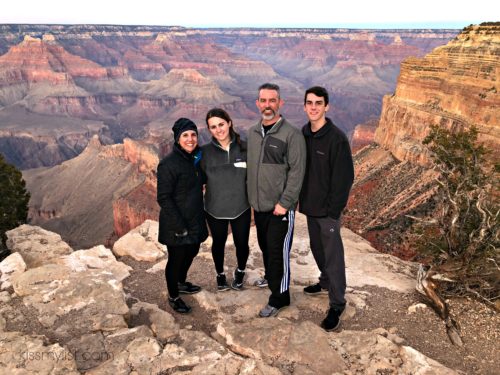 That is a few minutes after sunset; ten minutes later it is pitch dark, and we are heading back to Flagstaff. But first we stop in Williams, Arizona for dinner at retro diner. It's on historic Route 66, a fact which I think is cool but is underwhelming for my teens. Williams is a cute town, especially decorated for the holidays.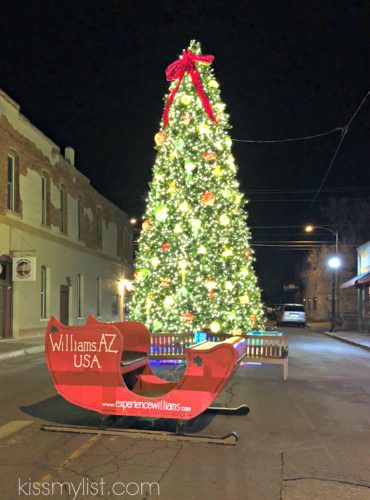 Day Six
Our final day of exploring starts late when I forget to set my alarm, but no one seems to mind. We drive about 20 minutes northeast of Flagstaff to Wupatki National Monument and Sunset Crater Volcano.  As we drive through the Coconino National Forest, we get some awesome views of the Painted Desert off to the northeast.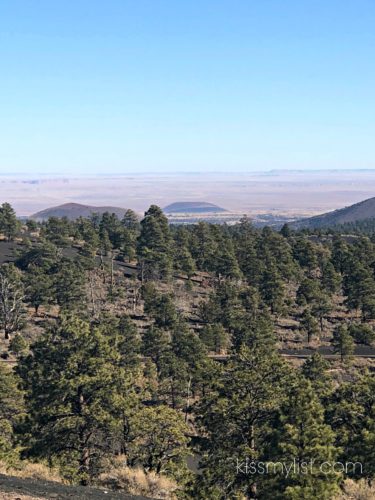 The Wupatki Pueblo is the amazingly preserved shell of a 1000-year-old village.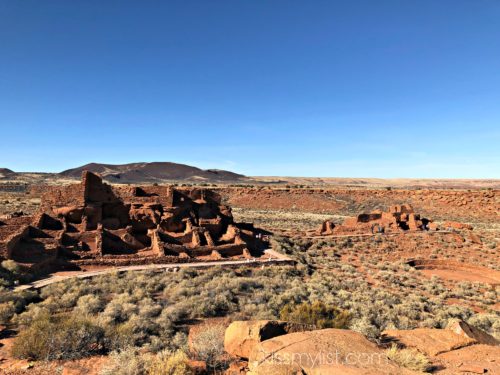 I know so little of American history before the Europeans came to this continent; Arizona is filled with the history of Native Americans, and it is fascinating to witness some of this history in person. Like this ball court, found in other pueblo remains in Arizona and thought to be a place where kids played a hockey-type game.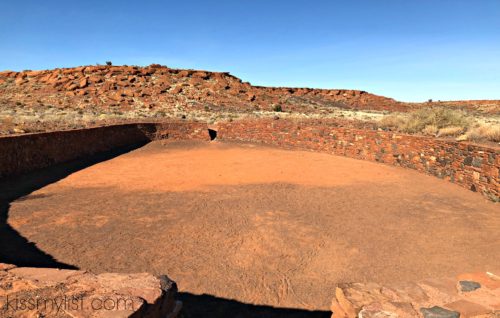 We climb one final structure and set up my phone to take a family selfie. It's poorly framed with tiny subjects and huge sky, but that's how I feel in Arizona. Blue sky everywhere, land that goes on and on, and humans such a physically minuscule part of the world.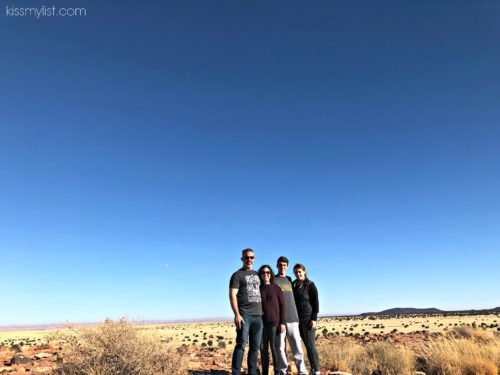 I feel even tinier when we visit the Lowell Observatory that afternoon, when we gaze upon the moon from these enormous telescope.
We return in the evening to see the Orion Nebula, and get another look at the craters of the moon. A guide shows us the constellations using a laser pointer I'm sure is illegal for the general public; she has to put it away at one point to let a plane pass through the sky without blinding the pilot. 
Day Seven
We take a side trip on our drive south back to Phoenix, and spend an hour or so in Jerome, Arizona. Jerome is an historic copper mining town, and purportedly haunted. In the 1920s, the town population was about 15,000; by the 1950s it was barely 100. Now about 450 residents of Jerome make up this haven for tourists and artists.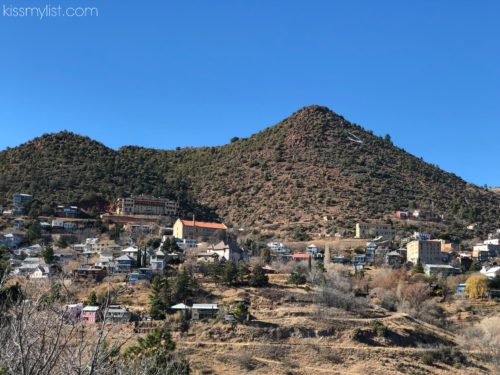 The town is built on the side of a mountain, on a 30-degree incline. As we leave, we stop to look down the 1900-foot deep Audrey mineshaft, constructed in 1918.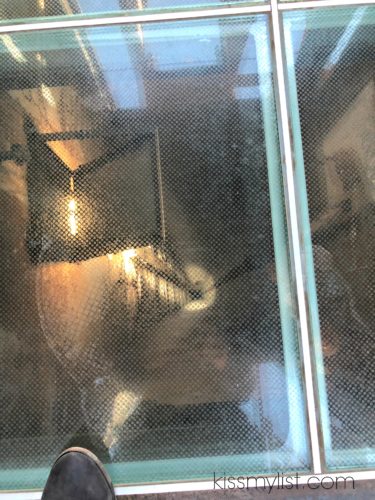 Even looking down through the glass, my stomach gets queasy thinking of how deep the hole goes. Go to the tip-top of the Empire State Building, then go another 750 feet. Into the ground. In this.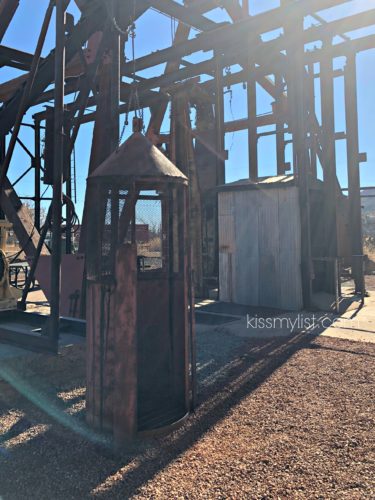 I am happy to leave and go back to the wide open spaces of Arizona, if only for the drive back to the airport.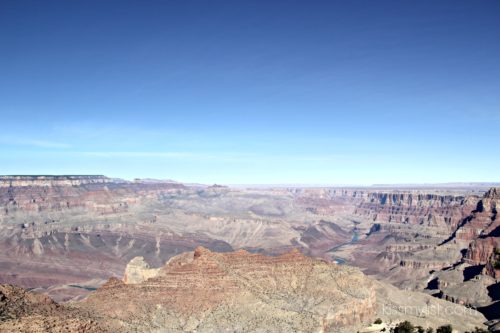 One tip if you are planning to visit any federal recreational sites: Buy an America the Beautiful Annual National Parks Pass. It is $80 and good for one year. Had we paid entrance fees for all the parks and national monuments separately, we would have paid $125…and our pass is good through December 2018. Where should we go next? 
Before you go…I created a new page highlighting all of my travel posts. Just click on Travel in the top menu bar, or click right here. I'd love for you to pin any posts that may interest you!

Joining Kristi and Kenya  for Finish the Sentence Friday, for which we are to write a five-minute stream of consciousness about winter. I ignored the stream of consciousness part, choosing to follow only half of the directions.