As soon as I set foot on the glossy white tile, I feel like I might break out into hives. I maneuver through the obstacle course of racks and shelves, dodging landmines of toppled sweaters and discarded jeans. My hand skims over a blouse and I cringe at the cheap feel; it reminds me of my old Friendly's uniform that I am fairly certain would have melted if set aflame. I follow my daughter through the maze until she heads to the dressing room with an armful of clothing. Joining her inside, I lean awkwardly against the mirror and try to stay out of her way. I detest this store: the clothes, the disorganized mess, the way I feel one hundred years old as I pick through the midriff shirts and macro mini skirts. I don't belong in a store called Forever 21; I was twenty-one years old forever ago.
*****
I pass the familiar woven triangular bread basket, as we chat about a little of everything. The conversation is easy, and despite my bad back I am more comfortable than I have been in days. I dip the ladle into the tomato sauce, smiling at the silver dish I remember from my childhood. It was usually filled with Ragu or Prego, but tonight my mother has tried a new brand of sauce, which I  give the thumbs up. Family dinners at my parents' usually include the whole crowd in the dining room, but tonight we are just four. Matt is out of town, and James and I eagerly accepted the invitation to Monday night dinner. We sit at the round kitchen table with my mother and father, eating chicken paremesan, Caesar salad, spaghetti, and bread. I am not at my own house, but I am home.
*****
I slouch on the bleachers, my braces and feathered hair blending with the sea of other sixth grade girls. The gym teacher, who would in later years be renamed a physical education teacher, apathetically calls out the names listed on her clipboard. The sea dwindles as girl after girl moves to another spot in the gym with her class. When I am the only student remaining, the gym teacher confers with her male counterpart, heads bent and clipboards touching. Why was I not called? Did I read my schedule incorrectly? Am I in the wrong class?
I am. I am on the boys' list, which would have thrilled me four years later. But now, I am not quite eleven years old, and I am mortified and alone on the bleachers.
*****
For years, holding hands was a rare treat. Those hands were filled with stroller handles, then preschoolers, then kids who were still willing to walk hand in hand with Mom and Dad. But now we're lucky if the teens walk beside us, and my hand is free to find his again. They fit together easily, as if they had never been separated. Our selectively observant son comments on the weird way our fingers mesh – my pinky tucked between his pointer and middle finger. I never noticed it before he pointed it out; it is just our natural way. We walk through the neighborhood on a balmy March day, just the two of us. Like it has for over a quarter of a century, my hand slips into my husband's, where it belongs.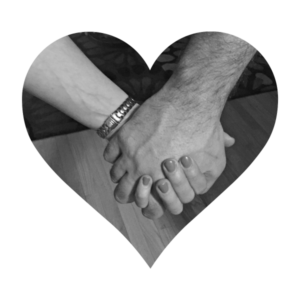 This post is a completion of the Finish the Sentence Friday prompt, "The places I belong…"