Thanksgiving is the perfect occasion for ushering in the holiday season; it's a time for stories, projects, cooking and sharing. That's exactly what this post is about. I've linked up with five other bloggers, each sharing a piece of what the season has to offer. We have humor, thought, family projects and food. Mine is the family project…

What will you give thanks for this holiday? Among other things, I will be thankful that my tween and teen no longer clamor for glitter and construction paper; the days of craft projects are generally behind us. No more making turkeys out of their little handprints; no more paper pilgrim hats or feathered headdresses. I'm a little sad about that…wait. I'm over it.

But the crafts haven't totally left the building. I host Thanksgiving dinner every other year, and this simple project is a wonderful way to add meaning to your holiday while beautifying your table or mantle.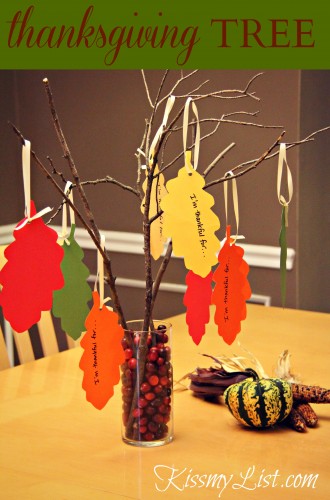 Materials:


Leaf template (There are plenty of free ones online; I used this website and choose the oak leaf template 2)
Scissors
Hole punch
Sharpie
Colored paper – red, orange, yellow, green
Ribbon or twine
Dead tree branches, trimmed to the size you'd like
Clear vase or similar glass container
Cranberries (a 12 ounce bag was enough to fill my vase)
Instructions:

1. Using the leaf template, cut out leaves in various colors of paper. To save time, I stacked the template on top of the colored paper and cut without tracing. It's a craft, not a masterpiece.

2. Write "I'm thankful for…" on each leaf, leaving room for the rest of the sentence. I used eight leaves; use as many as you need for your family or Thanksgiving guests.

3. Punch a hole near the stem of each leaf, and thread ribbon or twine through. Tie off so that you have a loop to hang on the branch.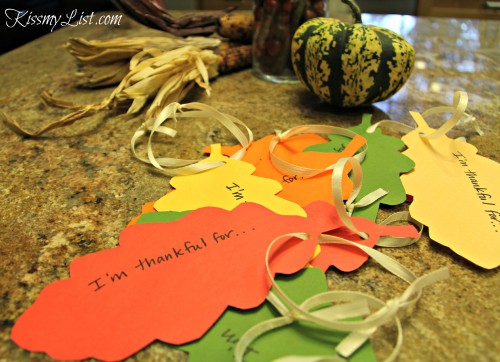 4. Arrange the branches in the glass vase. While holding the branches in place, pour the cranberries in the vase to serve as an anchor for the branches. This is easier with two pairs of hands. My kids run for the hills when I mention the word "craft," so I did manage to do it alone. But it's easier with help.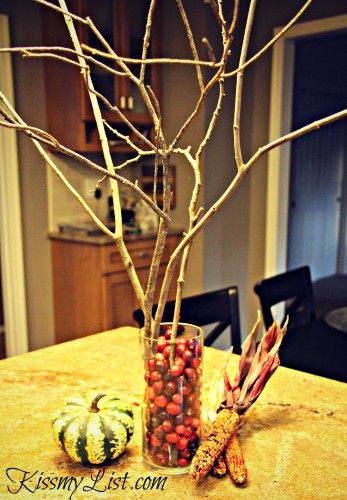 5. Hang the leaves on the branches, and you are done!

That's the crafty part. The meaningful part is writing what you are thankful for on the leaves. Some ideas:

If you are doing the project as a family, have each family member complete their leaf as you create the tree.

OR…

Leave the tree as is until Thanksgiving day. While your guests are milling around while you frantically try to baste the turkey, give them each a leaf to complete and hang on the tree.

OR…

Put a leaf and a pen on each plate when setting your Thanksgiving table. The leaves can serve as place cards or simply add color to your table. Guests can complete their leaf as they sit down for dinner, and then hang it on the centerpiece tree.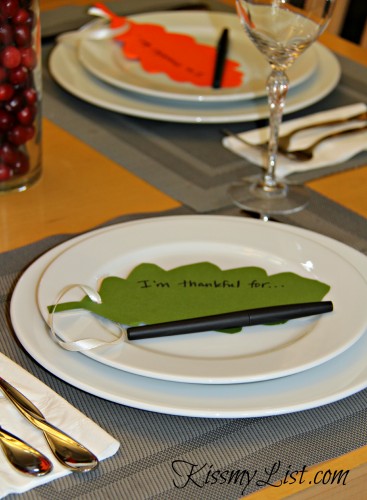 OR…

Display your tree on an end table or mantle during the entire holiday season.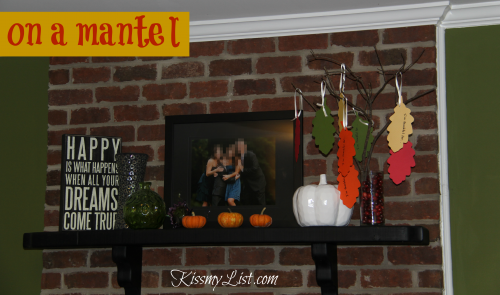 Because every day – not just Thanksgiving – is a day to be thankful for.
***
I hope you'll visit my fellow bloggers too – click on the blog names below to see what we've all put together for you.

Home on Deranged has a family post about the first and last Thanksgiving spent with mom.
The Rowdy Baker has posted a recipe for an Iced Pumpkin Roll with Cream Cheese Filling.
Writer B is Me will share a humorous story about what happens when someone is asked to make the mashed potatoes one too many times.
PinkWhen shares a project you can display for Thanksgiving dinner and guests.
And Baking In A Tornado will share a recipe for that leftover turkey.
Enjoy!