I have always been a memory keeper. Perhaps it is hereditary; my mother dutifully filled the pages of my baby book with snippets of my early childhood. I continued with my own "School Memories" book in elementary school, and filled albums with photos and captions to document my high school and college years. When I became a mother, I scrapbooked dozens of albums of my children's early years, from the first ultrasound to the first day of middle school.
Unfortunately, I was so busy telling their stories that I stopped telling my own. Through blogging, I'm beginning to do that. My "Dear Me" letter to my sixteen year old self  is an example, but I want to tell my story to my children and grandchildren.
I created a "Who I Am" scrapbook over a decade ago, and that is a part of my story. I shared some of that in an October post, and now I am ready to continue writing. Care to join me?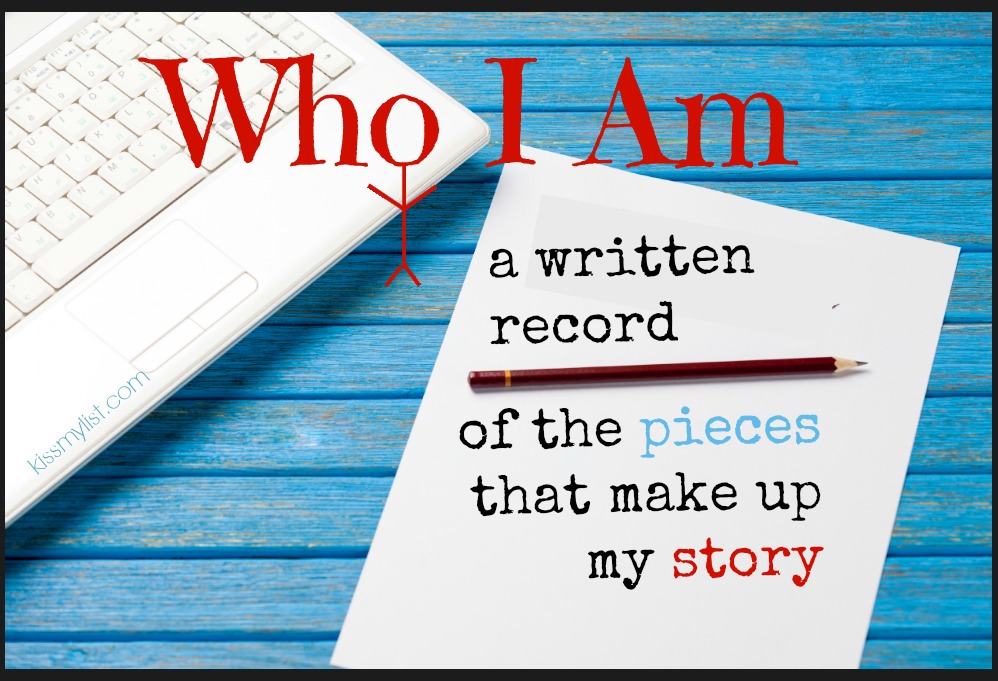 Once a month, beginning in January,  I will provide you with a prompt, so that you can create a page in your virtual scrapbook. Each topic will explore a piece of your story, so that by the end of 2016 you will have a written record to pass on to the people you love – children, grandchildren, siblings, or friends.
You can include photos if you'd like, but there will be no fancy pages, no stickers, and no craft scissors. Words are more powerful than embellishments, and they don't fade or get dog-eared.
The level of accountability and sharing is completely up to you. You can write each month, and choose whether you want to link up with mine and other participants'. If you're not a blogger, you can simply write on your own. Depending on the interest, I may create a private Facebook group for sharing. Or don't share at all; you can sign up for the prompts and never communicate with me again. I hope you will, though.
Interested? Sign up, and I will send you an email with your first prompt in early January.
I'm taking next week off, but I will be back before New Year's with my top book picks of 2015. See you then!
The participants of Finish the Sentence Friday (hosted by Kristi and co-hosted this week by Michelle) are writing a piece of their story today, with the prompt "Dear Me."