I shift a few inches to the right, edging closer to Matt in the crowded diner booth. To my left, James snickers as my movement against the vinyl bench creates a sound identical to a release of bodily gas. Across the booth, Gwen's head is bent over a phone. The "no electronics at mealtime" rule does not apply when the electronics are Grandma's. 
"You have to go into your Settings," she explains with a patience I've rarely seen in my high school senior. Her messy bun tips forward, almost touching the salt and pepper head of her grandmother. The two stare at the screen, one gaze confident and one confused. The teenager works her magic, and my mother-in-law smiles in relief as she tucks her ancient smartphone into her handbag. Problem solved, courtesy of the most savvy electronics user in our family.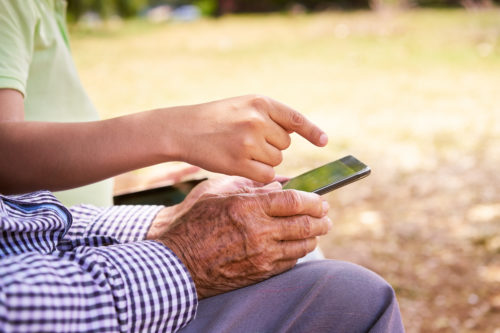 As the oldest grandchildren on both sides, my two kids have been their grandparents' technology gurus for the better part of their childhoods. It has been a bond between the generations since the kids became tweens and their knowledge surpassed their grandparents'. Once they had email addresses, their grandparents could skip relaying messages through me and talk directly to the source.
The source is not always reliable, however, and technology is not always a relationship boon.
"Did he get my email?" my mother asks me when we chat on the phone after dinner.
I don't know if James got the email, and I tell her that. He obviously has not responded to my mother, and she is turning to me to bridge the gap. I am the middle man, and I can't win. Grammie is upset that communication is ignored, and the kid is upset because Mom and Grammie are riding him.
"Just reply to her," I implore. "Pretend she's a friend that you would get back to immediately." He rolls his eyes, but the fingers move quickly on his phone as he does as I ask.
While I was close to my grandmother, our communication was less frequent than it is for this generation. I called her when something important happened, but less frequently just to catch up. A telephone call had to be planned; it was an event. Now, grandchildren and grandparents can touch base at any time, and for the smallest of reasons.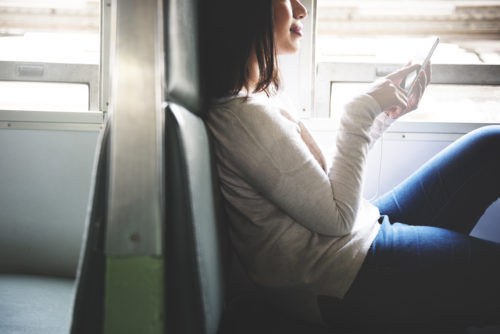 As the kids get older, they are usually better about timely replies. They want to stay in touch with their grandparents, but they don't necessarily want to be as connected as they are to their friends. Constant contact and instant responses are the norm for teenagers and millennials, but even this generation of adolescents doesn't want to be beholden to their grandparents 24/7.
Once again I am the middle man. I explain to my mother that my kids will reply eventually, aware that I am making excuses for them. I explain to my kids that Grammie feels snubbed when they don't respond the same day they receive a text. I want to take everyone's phones and toss them out the window.
I was stuck in the middle again last week, but this time I was happy to be there. James asked a girl to Homecoming, and he texted me a photo of the two of them to share the news.
"I sent it to Grammie, too," he mentioned casually when he climbed into the car after school. "I figured it would make her happy."
Oh, it did. She told me how touched she was by this voluntary gesture; as the go-between, I delivered this news to James. He is beginning to realize how much a few seconds of his time can mean the world to his grandmother.
The landscape will undoubtedly be different by the time I have grandchildren. Perhaps they will give me lessons in mastering the iPhone 20, or we will catch up via a virtual reality FaceTime. As the world becomes wider and family time becomes tougher to come by, technology is more than a divide between generations. It also creates opportunities for small, infrequent connections that strengthen the bond between them.
This piece first appeared on JMORE Living.

If you took my Thesaurus Day quiz last week, click HERE for the answers!