Picture this: You and your spouse are lying in bed. He is on his back, and you are nestled against his right side with his arm extended under you. Your right arm is free, but your left arm is squished and pinned uncomfortably between your side and the mattress.

Scene two: Same bed, same spouse. (Maybe. It's your imaginary scenario, so choose whoever you want – I won't judge.) The two of you are spooning. The front spoon is comfortable, but the back spoon has his or her side once again pinned against the bed and two bodies.

Matt and I have dubbed this phenomenon "T. Rex arm."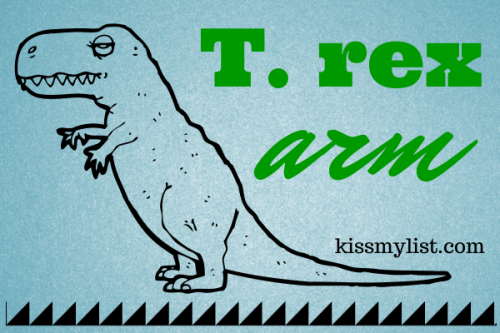 A tyrannosaurus rex, for as powerful as it is, has two wimpy little limbs dangling uselessly from its upper torso. They are too short to reach one another, so the poor creature can't scratch an itch, pick its nose (do dinosaurs have boogers?), or pick the stringy remains of the chap it ate for lunch out of its teeth.

Put your upper arms against your side, and wave your forearms around. Yes, you look like an idiot, but you have now experienced life as a T. rex. Ridiculous, right?

That's how Matt and I feel in those positions I so vividly described. No matter the mood, if one of us mentions T. rex arm and attempts to waggle a useless upper limb, giggles are sure to ensue. The giggles are mine; Matt guffaws in a manly way.

We always talk about inventing a mattress that would solve this problem. Just make a slit in the foam, so that you can slip that T. rex limb through. Then Matt actually stumbled on one advertised online – it's ALREADY BEEN INVENTED.

Seriously. It's called a Modular Love Mattress, but I refuse to link to it here because I'm bitter. That was OUR idea. I will admit that it looks pretty stupid, though. Sometimes ideas are meant to stay in your head. You can Google it if you want, but it will be twenty seconds you'll never get back.

So. You may have completely related to everything I've written, and now have a name to describe what happens to one partner's arm when you're trying snuggle. Or you have no idea what I'm talking about and I've wasted your time rambling about some nonsensical dinosaur metaphor.

Either way, T. Rex arm is a real thing. It's the price we pay for cuddling.