I really don't know how parents with more than two children do it. I have two kids, three years apart, which means that I have attended Back to School night twenty-two times.  
In elementary school, I sat on tiny chairs twelve different times, listening to all the fun and exciting learning experiences my children would have throughout the year. 
I admit without apology that I skipped Back to School night the last two years of middle school for my second child. We didn't have the opportunity to meet the teachers, so what was the point? I only go to lay eyes on the teachers; I don't need to hear the same spiel about the same school for the fifth and sixth time.
This week I went to my sixth high school Back to School night, and in order to amuse myself, I created a list of the parents you will find at this yearly event. I haven't been snarky in awhile, so let's start this school year off right, shall we?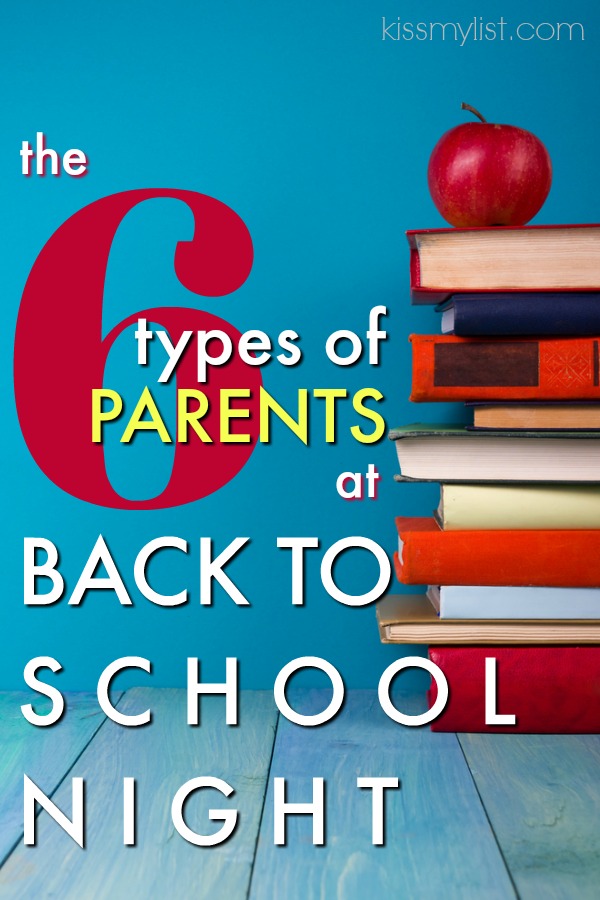 This list applies specifically to parents of high schoolers, although the types are similar for elementary and middle school. At our Back to School night, the evening starts with thirty minutes of talking heads in the auditorium. Then the parents walk through the school day of their student, spending ten minutes in each class before heading to the next one. It's like American Ninja Warrior for moms and dads.
THE NEWBIES
It's their first year at the school, and you can tell just by glancing at them. They look either terrified or overwhelmed, like they are the ones attending high school for the first time. How will I find all my classes? Who will I walk there with? Will anyone trip me in the hallway? I can almost hear them worrying, and I can definitely smell their fear.
THE SLACKERS
These parents show up to Back to School night late, perhaps missing the presentation in the auditorium and arriving just in time to go through the schedule. They skip classes they aren't interested in (sorry, P.E. teacher) and play Candy Crush on their phones while the teacher is speaking.
THE MULTI-TASKERS
With more than one kid in the school, these parents have to divide and conquer. They prioritize classes and split up if they are a pair. Usually Mom chooses which classes she wants to attend, and sends Dad to the rest, knowing he will take no notes to share with her later. They may high-five one another when they pass in the hallway.
THE BROWN NOSERS
These moms and dads stay after class to talk to teachers, even though they are told that TONIGHT IS NOT THE TIME TO HAVE INDIVIDUAL DISCUSSIONS! They sit in the front row of every class, and ask questions that are often easily answered if they just read the syllabus. Their goal is to be remembered by the teacher, so the teacher will remember their kid.
THE SOCIALIZERS
These parents are at Back to School night to catch up with the friends and acquaintances they haven't seen all summer. They stop to chat in the hallway and whisper to each other during class; this group often overlaps with the Slackers. For the Socializers, Back to School night may continue at a bar or restaurant, while their kids are home studying. 
THE PROS
These parents have been around the block, and they know exactly what they need to do to get what they want out of Back to School night. They make no eye contact in the hallways, sit close to the door, and move swiftly and confidently. They are the first ones out of school at the end of the night, so they can beat the traffic jam that forms in the parking lot as everyone tries to get home.
I'm a little of most of these, and while I complain about Back to School night, I have mixed feelings about only having one more to attend, ever.
Which type of parent are you? Did I miss any?