It's Love List time! You would think that a February Love List should have terrific ideas for Valentine's gifts, right? You would be partially correct. There are a few things on my list of things I'm loving that would be great gifts, but my Love List is typically filled with everyday items that just make life a little more amazing.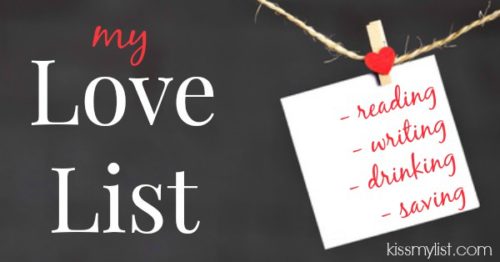 Disclosure: Some of the links below are affiliate links, which means I get a bit o' cash back if you make a purchase through that link.
We have dozens of water bottles shoved in a kitchen cabinet, but the S'well tops them all. Gwen wanted one for Hanukkah, and since they were on sale I bought myself one too. They aren't cheap, but they are high quality and make great gifts.
S'well bottles are on my Love List because:
They keep liquid cold for 24 hours and hot for 12 hours. I can vouch for the cold liquids – the ice cube that I put in the bottle at 7:30 a.m. was still solid at 7:30 p.m. 

No condensation on the outside of the bottle.

The top screws off easily, and it's like drinking from a plastic water bottle. No sucking through a straw or cutting your lip on the metal edge.

They are so pretty!!

S'well is a socially conscious company that makes giving back to those in need part of their business model.

Their customer service is awesome; I was accidentally shipped a bottle with a company logo on it, and they quickly sent out a new bottle. Bonus – they told me to keep or recycle the incorrect bottle, so now Matt has one.
Amazon Subscribe and Save
If you're not using this feature as a regular Amazon customer, I encourage you to check it out. Subscribing to an item gets you a 5% discount, and if you subscribe to five or more items in a month, you save 15%. 
It's easier than it seems. I started by subscribing to two different types of San Francisco k-cups  and toilet paper, and I receive them every two or three months. I can change the delivery frequency depending on my needs. In order to get the 15% discount, I throw in a Glade air freshener and a three-pack of gum, both of which are under $2.00. I add in other items as I need them, but I always have a few inexpensive products ready to go to get me to five items.
Just type "subscribe and save" in the Amazon search bar, and you can see all the items that are available. You can cancel a subscription at any time, so even if you don't think you want to buy something regularly, it may be worth it to get the subscription discount even one time.
I'm a stevia girl, and these flavored drops have made my mornings (and afternoons) yummier. I use the coconut one all the time, although the coconut flavor is very mild. The peppermint mocha flavor is for my afternoon coffee. There are other flavors, too, as well as the plain sweetener.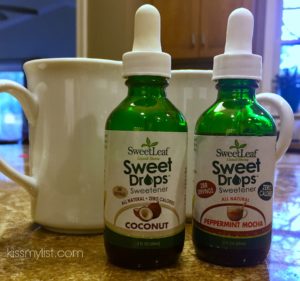 There's no aftertaste, and the bottles last forever (okay, at least six months). The Sweet Leaf website almost always has a sale, although you may be able to find them in your grocery store. Amazon has some flavors too, and their price is usually the lowest. 
I bought my mother a six month subscription for Hanukkah, and a three month subscription for myself. I'm hooked! On the first of each month, you can choose your pick from five titles, or skip the month if nothing appeals to you. Additional books can also be purchased for $9.99. These are hardback, full-sized books, and usually hot off the press.
There are also discussion forums for each book, so you can log on and participate, or just lurk and see what everyone else has to say. 
This is an awesome gift idea, and your recipient can log on and start the subscription any time.
Intrigued? A one-month subscription is $5.00, then $14.99 a month. A three-month subscription is $9.99 a month, and then $14.99 a month; and a 12-month subscription is $11.99 a month. Shipping is free, and if you skip a month, your subscription simply extends a month. One thing to note is that subscriptions auto-renew, so make sure you cancel if you're no longer interested. Click the graphic below to find out more and sign up! 
My daughter ordered these during her first semester in college, and she knows her pens. The fine point is perfect for writing in journals or planners. If you are a pen connoisseur, give these a try. Gwen also has the medium point in different colors, which are great for studying.
Amazon's price is good, and the ten-pack is the best deal.
*****
I hope you've found something to love on my Love List; check out the full list of everything I've shared on my Super Huge Love List. Even if Valentine's Day isn't your thing, treat yourself anyway – you deserve it!