No pun intended. I never discuss politics on this blog, and I rarely share anything political on social media. Yet this presidential election is such a significant historical event that I cannot NOT address it.
I will not address the election from either side of the aisle. I will address it in the ways I represent myself here, in this space. While I'm sure my views will be apparent, I have no intention of engaging in the heated, hateful dialogue so rampant during the election. Don't even try it.
I write here as a mother.
There are many great resources advising parents how to talk to their children about the election, whether their candidate won or lost. Most emphasize reassuring our kids that they will be okay.
I have a 15-year-old and an 18-year-old, and they will not swallow that pill. They are too old to be satisfied with reassurances, but they are still young enough to want them. That's difficult to do when I am anxious and fearful for our nation's future.
At 2:11 a.m. on election night, Gwen texted me: I honestly can't believe this. I am thoroughly upset and extremely scared for the future of this country.
Me too, baby.
I write here as a woman.
One hundred years ago, women could not vote. The fact that a woman was a major political party's nominee for President is historically significant, regardless of your opinion of Hillary Clinton. On Election Day, I watched a live feed at Susan B. Anthony's grave, and I got chills thinking about how proud and amazed she would be to witness this day. The sense of loss I felt yesterday was not just for me, but for millions of little girls, teenagers and young women.
I write here as an American.
Our nation is deeply divided, and the wounds run deep. People are frustrated, disillusioned, and angry. Campaigns by their nature are divisive, but governing should not be. As disappointed as I am in the results of the election, I am an American and I love my country even if I don't love my President.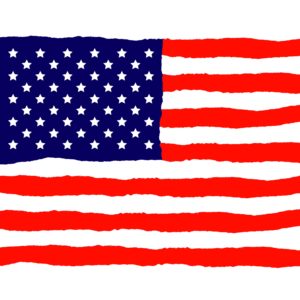 I write here as an optimist.
I choose to believe that America will heal, although it may not be in my lifetime. I believe that there are many more individuals who are open-minded and good than there are bigots and racists. I believe that we are stronger together, whether we were with him or with her.
While I was writing this post, I was in a Facebook group chat. Some of us voted for Clinton, some for Trump. We had a respectful, civil discussion, and asked each other questions about why we voted the way we did. While our political views are different, we all wish for a safe, united country where we can raise our families.
I write with determination.
I voted; my candidate lost. I'm unsure of what the future holds, but I can do something to shape it. Among the dozens of articles filling my Facebook feed today, this one entitled "How liberals can channel their post election anxiety into action" is worthy of a click-through. It's a helpful read, even if you aren't a Democrat. It is empowering to take action for causes you believe in, and there are many worthy causes to support.
I've addressed the elephant in the room, but that doesn't mean he's going away. It does mean, however, that I will go back to my regularly scheduled posts about middle age, parenting teenagers, and reading good books. Wake up, be amazing, repeat daily – that's what I'm focusing on. I hope you'll stick around.

This is a FTSF post, hosted by Kristi and co-hosted by Denise.