Yes, I've written about my love affair with New Orleans before. Twice, actually. Each time Matt and I go back to New Orleans, we revisit old favorites and discover new ones. More than one person has asked me if it's still as great as it was the first time, or the second, or third or fourth.
The short answer is absolutely. The long answer is the rest of this post.
Before my fifth and most recent visit last fall, two readers of this blog asked me for recommendations of things to do, see or eat in New Orleans. Sharing travel tips is one of my favorite things to do, so here is quick list of what I recommend when visiting one of my favorite cities. This is a great post to pin for later – pin the photo below and save it to your "Oh, the places you'll go" board.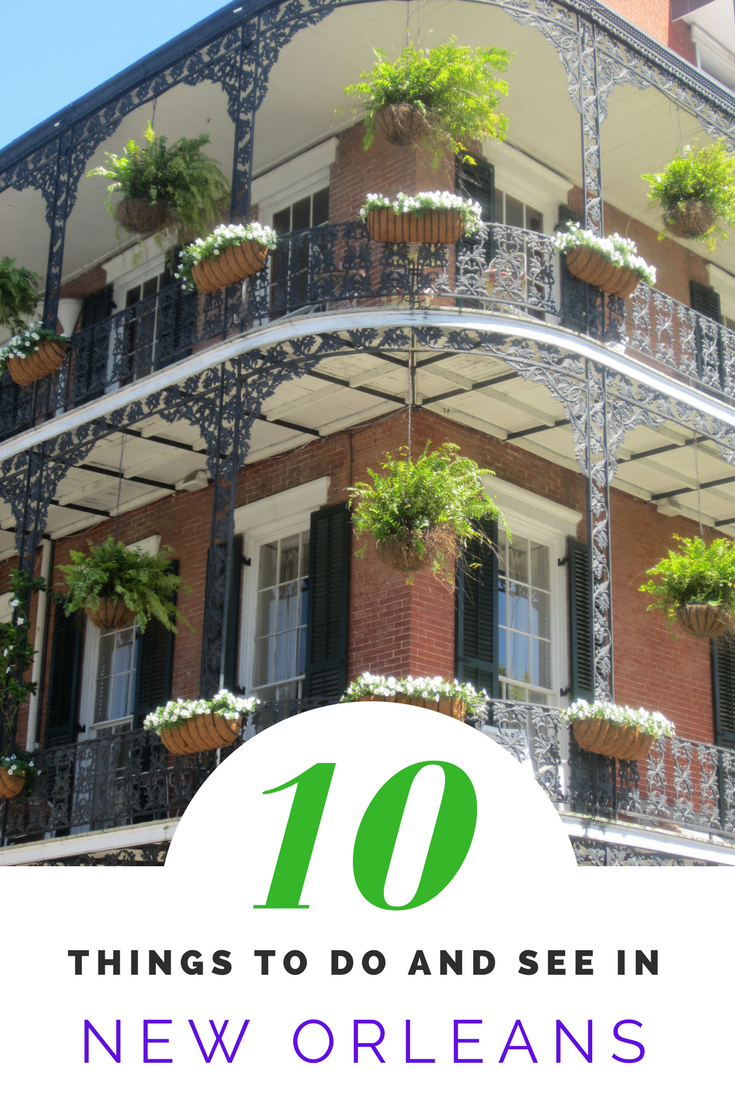 1. Slightly cheesy but fun and informative tours 
I've tried the cocktail tour and two cemetery tours, but still haven't taken a horse and carriage ride through the French Quarter. For $20 per person per thirty minutes, I prefer to walk off lunch and sightsee on foot. Also, horse poop.
There are tons of tour operators, so do a little research online before your trip and pick a reputable one. We once had a tour guide whose front tooth was flapping around by a thread as he talked; at some point in the cemetery, it was gone. He was a decent guide, though, so reputable doesn't always mean dentally blessed.
We finally tried Felix's this trip, which is the competing oyster place right across from Acme. Those in the know fall firmly in one camp or the other; Felix vs Acme is like Geno vs Pat for cheesesteak lovers. All four of us landed in the Acme camp, whose grilled oysters have more cheesy deliciousness.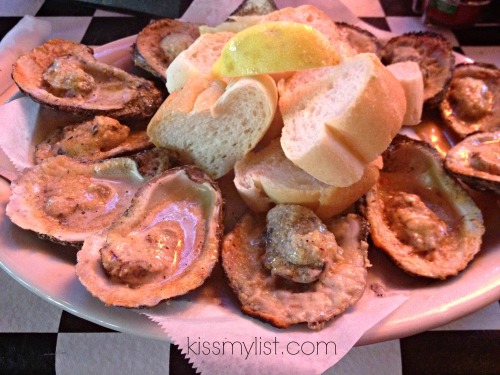 Another new experience this visit, Mardi Gras World gives tourists a behind-the-scenes look at how those amazing floats are built. I learned all about Mardi Gras and its history, and we toured the working warehouse and watched artists at work creating new floats for the coming year. A quick google search for "Mardi Gras World coupon" yielded a Living Social special for half-off tickets. Two tickets for $20 was well worth it for a fun and interesting tour. Bonus: Mardi Gras World has its own shuttle bus that runs a loop through the French Quarter/Central Business District area, and it transports visitors there and back free of charge.
4. A Saints game in the Superdome, or just tailgating.
I'm a mediocre football fan, but I do love being in the stadium during a game. I've never been in a dome, and the Superdome is super cool. We hung out outside of the dome before the game and during the first quarter, and then bought tickets for $20 apiece and headed in. Even if you don't have any desire to watch the game, you can hang out in the area outside of the dome before the game. There's food, drink and live entertainment, and you don't need a game ticket to join in the tailgating.
I'm used to seeing vendors sell bottled water out of coolers as we walk to the stadium in Baltimore, but in New Orleans, they were selling beer too.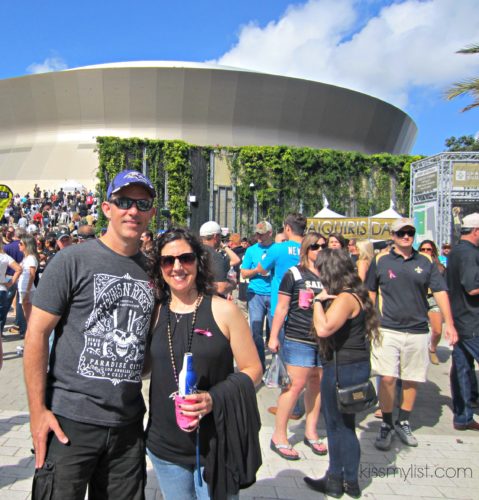 5. Strolling through the French Quarter
This never gets old. The architecture, the shops, the people – it's all so very New Orleans. Spend an afternoon, spend a day, spend a few. When you need a break, stop by…
6. Cafe du Monde
Powdery, sugary goodness. The iced coffee is pretty fabulous too. First-timers are easy to spot; they're the ones with powdered sugar all over their shirts. Don't exhale while taking a bite!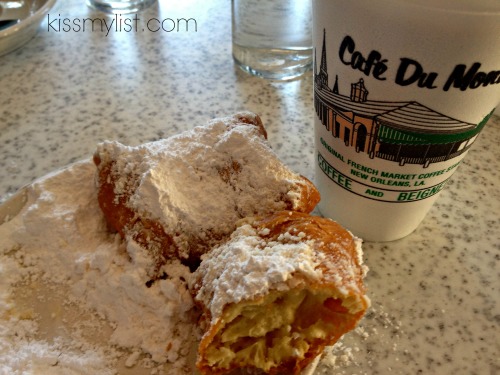 I am not a jazz connoisseur, but you don't have to be to enjoy the music of Frenchmen Street. It's a vibrant and incomparable experience. Where else can you dine on hot dogs and french fries on the balcony of Dat Dog while listening to a ten-piece traveling band playing on the corner below you?
8. Music Festivals
Chances are that when you're in New Orleans, there will be a music festival. Find it and go. Sit on the grass with the locals and tourists, and soak it in.
Vendors sell everything from alligator heads to local art; spend some time wandering up and down the aisles. Pick up some t-shirts as souvenirs, and strike up a conversation with an artist. I've never met one who wouldn't chat with me about his or her work.
10. Food

While most people like to get restaurant recommendations when they visit a new city, there are so many wonderful places to eat in New Orleans even if you just wing it. I've mentioned a few in previous posts here and here, but there are lots of resources for finding restaurants. Ask a shopkeeper, your Uber driver, your concierge, or your bartender. Just be open to trying food out of your comfort zone. (One exception: Port of Call near Frenchmen Street serves the best burgers I've ever had. Just be careful of the drinks called Monsoons; they are not for lightweights.)
10a. Bourbon Street

Yes, you should walk down Bourbon Street at least once. Start at Canal Street, and walk until it quiets, past the bar called Lafittes Blacksmith Shop. The busy portion is a spectacle, and has predictably become less appealing for me with each visit. The crowds seem to have become younger, or perhaps I'm just older. Either way, there is so much more to experience in New Orleans.
Laissez le bon temps rouler!

Join the Finish the Sentence Friday crew today – join us!