This is my eleventh post for the Who I Am project, a yearlong writing venture designed to tell my story one piece at a time. This month's topic is "Medicine for the Soul," and it is timely given the current state of our nation. I take medication when I am ill or physically hurting, but when I need calm, reinvigoration, or inspiration, I turn to two lifelong loves. If you know me personally or have read this blog for any length of time, you know what they are.
Broadway
The music, specifically. While sitting in a theater as the overture begins is my favorite place to be, it is the music that is medicine for my soul. I play the soundtracks in my car, belting out the tunes as if I am performing on the Tonys. While I enjoy the upbeat numbers, the ballads are my specialty. Some I can't get through without choking up, but I think that's part of their appeal. Singing such powerful lyrics aloud is a cathartic release. 
Some random tidbits:
I see an average of seven or eight shows a year. One or two are on Broadway, and the rest are typically national touring companies that visit my city.

The CDs currently in my car are: (1) Hamilton (2) Kinky Boots (3) Les Miserables (4) Wicked.
The songs I go to first on each of those CDs are: (1)  All of them, in order, from start to finish and then back to the beginning (2) Not My Father's Son (3) On My Own (4) The Wizard and I.
I would give up dining out for the year before I would give up my theater subscription.
Books
"Medicine for the Soul" was a page in my original Who I Am scrapbook almost thirteen years ago. Books were my medicine then, and they are my medicine today. I'm certain they always will be. 
I read in the car (as a passenger, although I listen when I drive), in bed at night, in my reading chair on the weekend, and while I walk the dog. I read as I barely work out on the elliptical; I read on planes and in waiting rooms.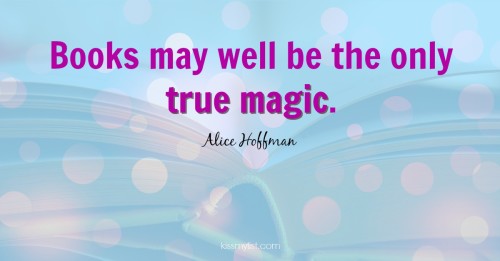 When my kids were little, I read while I nursed them. Gwen usually fell asleep when she was finished, and I let her snooze in my lap for over an hour while I continued to read. I read with my children at bedtime until they were tweens, and the annual Scholastic Book Fair at their elementary school was the most wonderful time of the year. 
Reading educates me, inspires me, and relaxes me. I'm in two book clubs, and I am the dork who always reads the book. When someone else chooses the book, it allows me to expand my reading palate, although it is already varied. I'll try any genre at least once, and I enjoy trying reading challenges that force me to step outside my reading box.
Some random tidbits:
I do not form a mental picture of book characters in my head as I read.

I used to sludge through a book until the end, even if I hated it. Now I will bail after giving it a fair shot.

I keep giving short story collections a fair shot, but I rarely find one that holds my interest. 

I have no preference for real books versus reading on my iPad, although if I could only choose one format, I would choose real books.

I rarely buy books for myself. I love the library, and I'd love to work there.

My mom thinks I should get a job writing the inside jacket cover book summary/teaser. Is that even a job?

How much do I love to read? I would give up Broadway musicals before I would give up books.
If you wrote for the Who I Am project this month, link up here! It's open for three weeks so you have plenty of time. The final Who I Am prompt will be emailed on December 6th; if you'd like to receive it, click on the graphic below to sign up.