My girlfriends, particularly the "playgroup" who still meets weekly even though the youngest kid is almost nine, are a wealth of information. We share things we've found and loved: clothing, beauty products, recipes, television shows, books, home decor, and so many other things.
I love sharing information that I think may be helpful to my friends and family, and I love to do the legwork when I'm planning a project. That was actually my original intention for this blog, but I got sidetracked by the unexpected joy of writing for writing's sake.
My Love List series allows me to share the things I'm loving, with the hope that you may be able to come away with at least one useful piece of information, or at least something you may love too.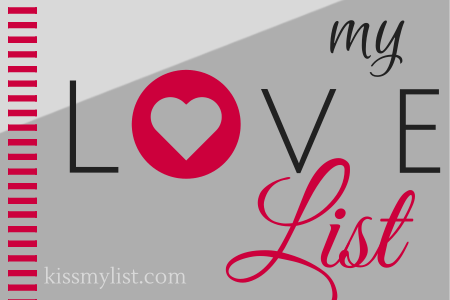 Here are all of my Love List posts, with the most recent list first. Click on the month to find out why you may love these things too!
L'Oreal Paris Cosmetics Voluminous Primer Mascara, Maybelline New York Great Lash Clear Mascara for Lash and Brow, Schick Hydro Silk TrimStyle Moisturizing Razor for Women with Bikini Trimmer, Health Warrior Chia Bars, Trader Joe's Everything But the Bagel Seasoning, S-Town podcast, Varidesk
S'well bottles, Sweet Leaf Sweet Drops, Amazon Subscribe and Save, Book of the Month Club, Paper Mate InkJoy Gel Pens
Beer subscriptions, Dive Bar T-Shirt Club, cauliflower rice, Jergen's Wet Skin Moisturizer, Facebook phone storage tip, Kindle First
DevaCurl Cream, Hamilton, User Testing, Baby Foot Peel, Play! by Sephora
Moody Sisters Skincare, San Francisco Bay Coffee One Cups, Moka pot, Cinda B tote bag, USB transfer thingy, Nix Heart necklaces
Sterling earrings, skinny banana chocolate chip muffins, Audible audio books, DIY granite cleaner, Snorg tees
Ebates, Sally Hansen Miracle Gel, roasted sweet potatoes with Trader Joe's pumpkin pie spice, Tinkle Eyebrow Razor, Herr's Old Bay Seasoned Cheese Curls
November 2014
Plum Paper Designs planner, Raise.com, Smile Actives teeth whitener, Jus by Julie cleanse, Josie Maran cheek gelée
October 2014
Trader Joe's pumpkin tea, onion goggles, pumpkin topiaires, Old Navy black jeans, BlogClarity.com and Pinning Perfect
September 2014
handbag organizer, Beyond Your Blog, chocolate babka, Guardians of the Galaxy soundtrack, Amazon music
August 2014
Mitscoots socks, write on mugs, Bare Minerals foundation, blueberry coconut baked oatmeal, Aqua Notes
June 2014
Hippie Chick granola, paint your own masterpiece, greeting cards, fun costume jewelry, Find my Friend app
May 2014
Chuao chocolates, Cartwheel app, EOS lip balm, Maidenform t-shirt bra, cute mug
April 2014
Pop Chips, homemade produce wash, spring/summer dresses, Map my Run app, easy Spring wreath
March 2014
Better Life cleaners, an awesome beauty trick, Pitbulls and Parolees, no bake raspberry and cocoa granola bars, and Listen to Your Mother
February 2014
gray nail polish, deodorant sponge, Quiddler, travel Stevia, and Ghiradelli brownie mix
Check back for my latest Love List, and tweet me if you have something you love that you want to tell me about!