My girlfriends, particularly the "playgroup" who still meets weekly even though the youngest kid is almost nine, are a wealth of information. We share things we've found and loved: clothing, beauty products, recipes, television shows, books, home decor, and so many other things.

I love sharing information that I think may be helpful to my friends and family, and I love to do the legwork when I'm planning a project. That was actually my original intention for this blog, but I got sidetracked by the unexpected joy of writing for writing's sake.

So I've decided to start a series on Kiss my List that will allow me to share the things I'm loving, with the hope that you may be able to come away with at least one useful piece of information, or at least something you may love too.
My Love List
I plan on sharing My Love List on the first Monday of each month. Here are five things to love this first Monday in February (and no, more snow is NOT one of them!).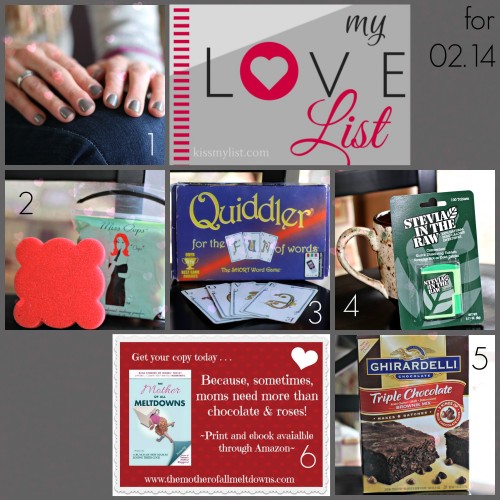 (Disclosure: The Amazon links below are affiliate links, which make no difference to you but I'll earn a few cents if you purchase through Amazon. Most items can be found locally, though.)

1. Gel manicures and silvery gray nail polish
I keep my nails short, and in the winter I like deep, dark nail polish. But this time I opted for more of a neutral, yet still with a wintery feel; it is a medium gray with a little sparkle. The manicure in the photo is nine days old. It's a gel manicure that will last at least two weeks – best invention for the hands ever. Try
OPI's "Brand New Skates"
color if you paint your own nails; it would look great on toes too.

2. Deodorant sponge
This chunk of red foam will wipe off those icky white deodorant marks that I always seem to get on my shirts. Seriously. It's like magic for your pits. I personally vouch for their effectiveness. It's actually called the
Rescue Sponge
, but I think that name is a bit of an oversell. Really, it removes white deodorant marks, not the national debt.

3. Quiddler
My friend Sue introduced our family to this card game years ago and we've been playing it ever since.
Quiddler
is  like Rummy with letters; you have to form words using the cards in your hand. James was eight years old when we started playing and we helped him a little for  year or two. Why I love it: it has a definite end (eight rounds), it's a combination of luck of the draw and word knowledge, and it's fun for kids and adults.

4. Travel Stevia
I use stevia in my coffee, but restaurants and coffee shops rarely have it in packets. Shoving a bunch of packets in my purse makes me feel like a grandma taking the free rolls from the buffet, but this little gizmo is much hipper. Just hold it over your coffee, press the button, and a little tablet of stevia plops into your beverage. I found it at
Wegman's
, but I haven't seen it at other grocery stores yet.

5. Ghirardelli brownie mix
Once I made the Barefoot Contessa's from-scratch brownie recipe. They were great, but these brownies are better. And so easy. Why mess with perfection?  I have no photo of actual brownies because they don't last long enough, but this is the box in my pantry. I promise they look just like the picture on the box. I get the huge box at Costco; there are six pouches in there.  Culinary perfection.
And a bonus love: The Kindle edition of
The Mother of All Meltdowns
(the book I'm in) is on sale at Amazon for $0.99! The paperback is only $9.99. Pair it with a batch of Ghirardelli brownies and the promise of an hour to herself, and you have the perfect Valentine's gift for the harried mom.

What are you loving lately? I'd like to include some of your favorites in future lists, so share your loves!

Before you go…Facebook is changing its rules so that bloggers have to pay to have their fan page posts reach readers. I won't be paying to promote my Facebook posts unless I win the lottery. So if you'd like to receive updates when I post on Kiss my List, please subscribe to my blog via email. Just type your email address in the box below and click the subscribe button. Thanks!