Sometimes, when the jackpot is in the tens of millions, my husband will buy a lottery ticket. And sometimes, the two of us engage in that ridiculous discussion of the purely hypothetical: what would we do with our windfall?

The first thing we would do is keep our mouths shut. I don't want every person I've ever known showing up on my doorstep asking for a chunk of cash. I also don't want people to start getting all weird on me now that I'm a gazillionaire.

Notice how I am writing in present tense, not conditional? Like winning the lottery is a given? Ha. I am so delusional.
So as Matt and I discuss what we 
would
 will do with all that money, his financial background comes in handy. We figure out how to minimize the tax hit and maximize the interest earned so we can live off of it for the rest of our lives.  But if the winnings were smaller, what then? Here's what I decided: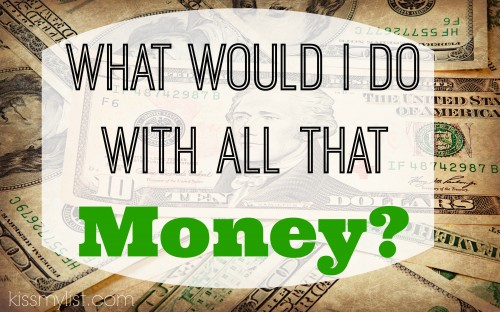 If I were given $10, I would finally give my kids their allowance on time.
If I were given $100, I would take Matt out to dinner and a movie.
If I were given $1000, I would put it in our vacation fund to help pay for our April trip to Disney. I actually did
win $1000
long before I had kids; I did not use it to pay for a trip to Disney.

If I were given $10,000, I would buy myself an incredible purse that I will use and love for years. Matt and the kids could buy themselves something fun too. Then I would put the rest in our vacation and new car fund.

If I were given $100,000, I would take my family to Europe. Then I'd split the rest between both kids' college funds.

If I were given $1,000,000, I would pay for both kids' college educations, pay off our mortgage, and take my family to Europe. I'd save the rest, but only after we each treated ourselves a little. I'd buy a little bling. Maybe not so little.

If I were given $10,000,000…I had to consult my accountant for this one. Matt tells me that we could pay taxes on the ten mil, invest it all and get about $300,000 in interest a year, tax free. So he would quit his job. And I'd buy that purse.

If I were given $100,000,000, and we invest it after paying taxes, we could get about $1.8 million a year on interest alone. Then I would do everything listed above. Pay things off, live a life of leisure, and make sure we give back some of the unbelievable windfall we've been given.
Considering I rarely have a single dollar in my wallet at any given moment, I'd say most of these scenarios are a long shot. But the
Finish the Sentence Friday
prompt was "If I had a million dollars…", so I went with it.

What would you do with a million bucks?

Before you go…Facebook is changing its rules so that bloggers have to pay to have their fan page posts reach readers. I won't be paying to promote my Facebook posts unless I win the lottery. So if you'd like to receive updates when I post on Kiss my List, please subscribe to my blog via email. Just type your email address in the box below and click the subscribe button. Thanks!