I'm a week late for National Library Week, but it's never too late to break out the shades, apply some sunscreen, and read a good book on the spring grass (or weeds, if you have a lawn like mine). I've read or listened to nine more books since my first book review post of 2017, and I'm sharing six great reads that cross a variety of genres.
I don't typically rank the books I review, but the first two listed here are my favorites of the bunch. In fact, they are my favorites to date of 2017.
Disclosure: There are affiliate links in this post, which help buy Kindle books on sale for $0.99.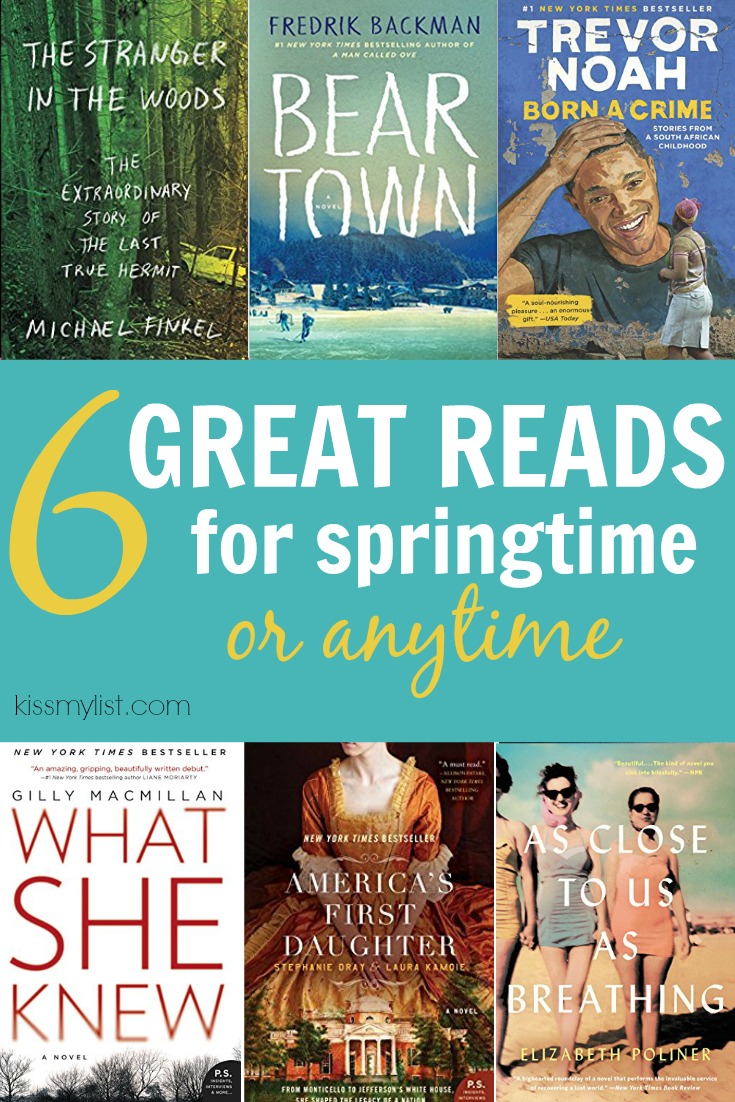 Expected publication April 25, 2017; I received an ARC of this novel from NetGalley.
I enjoyed A Man Called Ove by Backman, but I liked this novel even more. It begins slowly, as Backman introduces the reader to the residents of Beartown, a wooded, wintery small town that lives and breathes hockey. Every character is nuanced and complex, from the GM of the hockey club to the immigrant teen struggling to find a place among the players. The pace picks up as the team wins the semifinals and an act of violence ripples through the town. Backman's style of jumping from one brief scene to another keeps the novel moving, and he deftly tells the story of multiple characters without confusing the reader. Beartown is about a small town and ice hockey, but it is truly about human resilience and how we define ourselves in public and private moments. I read the last quarter of the book in one sitting, because I needed to know how all the threads would be woven together, and Backman did not disappoint. 
I highly recommend this thought-provoking novel; it's a great book club pick, and a perfect book for when you can only commit to reading in ten minute increments. 
As a Hamilton fan, I am predisposed to dislike Thomas Jefferson, but this historical fiction book was fabulous. It is told from the point of view of Martha Jefferson Randolph, TJ's oldest daughter and his loyal companion through his entire widowhood. While the authors explain some of the liberties they took with events and dates, the bones of the story are based on the many letters TJ wrote to everyone in his life over the course of decades. It is a southern family saga rooted in truth, touched by scandal, and unfolding during the American Revolution and our first half-century as a nation. 
It's a honker of a book at 580 pages, but I listened to it every chance I had. Taking a trip and don't want to run out of reading material? Grab this book – you won't be disappointed.
This was a pick for one of my book clubs, and while it's not one I would typically choose, it was an engrossing mystery. After she gives him permission to run ahead, Rachel's eight-year-old son Ben disappears while the two are walking in a wooded park. As the police investigation begins, Rachel starts to lose it, but who wouldn't? The novel follows Rachel, her ex-husband, and the lead detective as public opinion shifts from sympathy to suspicion.
There were a few red herrings and plot lines that I found lacking, but overall What She Knew was a quick, satisfying thriller.
I knew Trevor Noah is the host of The Daily Show, and that he is a comedian. I knew nothing else about him, but his book came highly recommended so I started listening. He narrates the audiobook, and I could listen to him talk all day, about anything.
But he doesn't talk about just anything. Noah tells the amazing story of his childhood in apartheid South Africa, as the son of a black mother and a white Swiss father. Their union was illegal, and Trevor himself was the physical proof of that crime (hence the title of the book).
Noah is a compelling storyteller, and his essays had me laughing, crying, and shaking my head in wonder and disbelief. I was ashamedly ignorant of apartheid and the history of race and culture relations is South Africa, and Born a Crime poked a small hole in the bubble that I live in as a white American. But more than that, this memoir is an honest and moving account of a fierce mother, a little boy, and his coming of age in a country changing as rapidly as he was. 
This novel is told through the eyes of Molly, and the reader learns immediately that her younger brother Davy dies at the family's beach home in the summer of 1948. Although this tragedy is not a secret, Poliner alternates between the years prior and after so that I felt the suspense building towards this inevitable event. I found myself hoping for a different outcome, as impossible as that would be.
Ada, Vivie, and Bec are sisters in a close-knit Jewish family, and the novel is their story. It includes the men they loved, the men they married, and their children – Molly, her brothers, and her cousin. While Davy's death is the transforming moment for every character, Poliner weaves a multi-generational tale around it and through it. It is an engaging story of family, choices, and ordinary human lives.
This was my mom's Book of the Month pick, and she passed it on to me when she was finished. A quick, fascinating piece of non-fiction, Finkel wrote this piece after meeting with Chris Knight nine times, and conversing through emails and letters. 
In 1986, Knight drove to Maine, walked into the woods, and disappeared. In 2013, he is arrested for stealing food from Pine Tree Camp. He had not spoken to or interacted with another human being in twenty-seven years. He lived in the woods with no campfire, undetected, breaking into nearby cottages to take only the provisions he needed to survive.
A slim book of just 200 pages, Finkel's interviews with Knight coupled with his research regarding hermits create a riveting account of one man's life off the grid. Why did he choose that life? How did he survive? Who are we if we are not connected to any other human beings? If you are looking for an easy read where the truth is stranger than fiction, The Stranger in the Woods is the perfect pick.
From historical fiction to true stories, from family sagas to small town drama, it's all in these six great reads. Which book will you read first?