My grandmother loved grapefruits, and my grandfather loved dark chocolate. I remember this because I also love both of those foods, and I am the only other person in my family who does. When they were alive, these common loves made me feel special in the eyes of my grandparents, and I still feel a connection between each of these foods and the people I loved.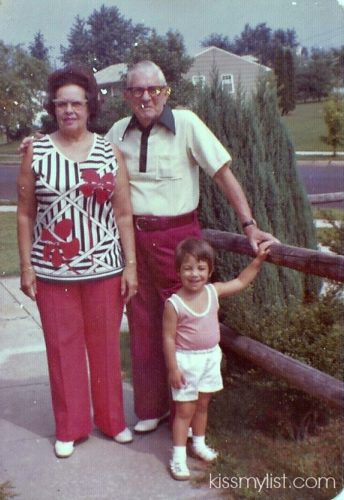 Likes and dislikes, fears and pet peeves – these little pieces are part of our stories. They may seem insignificant, but just one shared love can strengthen a bond across generations. These little pieces are the focus for this month's Who I Am project; if you care to join me, jump in now with this easy one!
I've written about the things I love and hate* before, as well as the things that scare or annoy me. To create something new for this post, I'm using all five senses.
*My sister and I were not allowed to use the word "hate," and that habit is hard to break. I'm going with "strongly dislike" instead.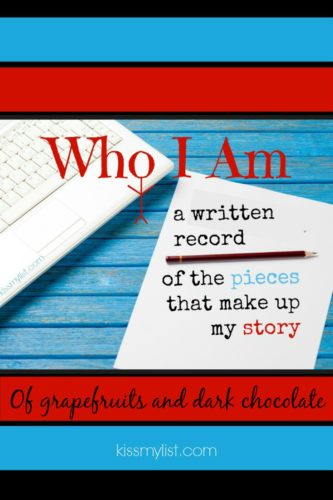 Sounds
I love the sound of m&m's being poured into a bowl.
It reminds me of my childhood, when my mother hosted her weekly evening Mah Jongg game. Dessert was not a given after dinner, but I knew I'd get it on those nights. 
I strongly dislike the sound of popping knuckles or joints. It makes me nauseated.
What scares me – the telephone ringing in the middle of the night. 
What annoys me – the dog barking even though she's been out, she's been fed, and she's been loved. What does she want from me????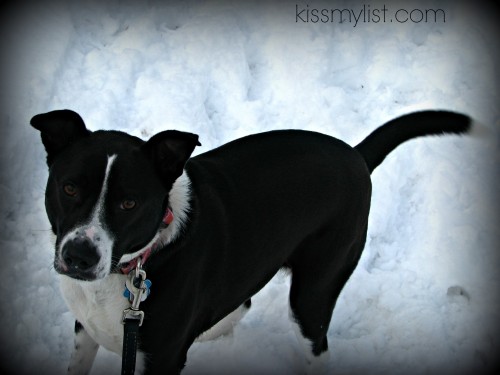 Scents
I love the smell of Play Dough, fresh basil, and oranges.
I strongly dislike the smell of ranch dressing and buffalo wings. I will not dine next to anyone eating hot wings.
What scares me – the smell of propane. When I turn on the grill and smell the gas, I'm always scared it's going to blow up in my face as I ignite the flame.
What annoys me – the smell of garlic I forgot to watch and therefore burnt in the pan.
Sights
I love any large body of water. I don't need to be in it or on it; I just want to look at it.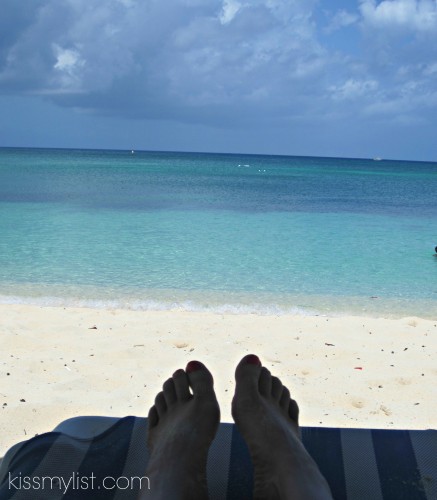 I strongly dislike our lawn. It is 90% crabgrass and weeds.
What scares me – clowns and dolls. It started with the movies Poltergeist, It and Child's Play, but spread to even benign, non-murderous dolls and clowns.
What annoys me – littering. How hard is it to hold onto your trash until you can throw it away? Seeing a driver toss his cigarette butt out the window infuriates me.
Touches
I love holding hands with Matt, getting my hair shampooed at the salon, and hugs from my kids.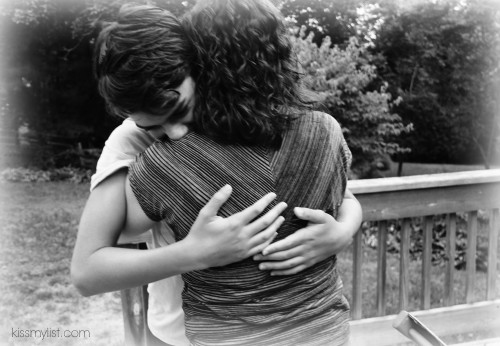 I strongly dislike the feel of someone's chin (usually James') on my shoulder.
What scares me – the feel of a bug on my skin or in my hair.
What annoys me – touching my lower back. It is so ticklish that it's irritating.
Tastes
I love expertly cooked scallops, the perfect berry, and a chocolate-covered caramel.
I strongly dislike yogurt and any kind of vinegar. 
What scares me – the taste of anything coming back up. 
What annoys me – the taste of soap that gets in my mouth when I wash my face too enthusiastically.
Maybe twenty years from now, I will snuggle with my granddaughter, sharing a bar of dark chocolate and laughing about our mutual irrational fear of clowns. My grandson will nestle in too, and I may even like it when he rests his chin on my shoulder. 
*****
Care to join us this month, or for the last four months of 2016? Jump into the Who I Am project anytime; if you want to receive the monthly prompts, simply click the graphic below. The link-up is open for three weeks, so you have plenty of time to write.