Less than halfway into our Alaska cruise, we have seen orcas, humpback whales, sea lions, bald eagles, black bears, mountain goats, and Alaskan huskies. There is still more to see, but if you need to catch up, read part one here and part two here.
Glacier Bay
After two full days of being on land, we spend the middle day of the cruise coasting through Glacier Bay. It's actually a national park covering 3.3 million acres, and is part of Alaska's Inside Passage. It is also, according to the National Park Service, one of the world's largest international protected areas. At some point unbeknownst to me, park rangers come onboard the ship and serve as narrators as we cruise through this icy wilderness.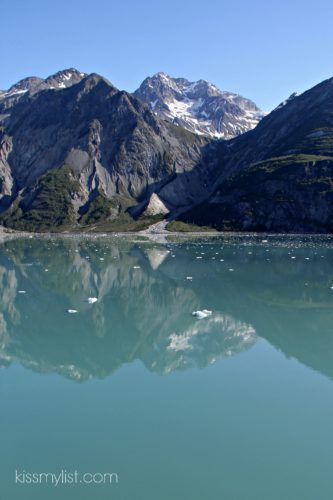 As I have every day, I stand out on our balcony first thing in the morning, and Mother Nature says hello in a way that only she can.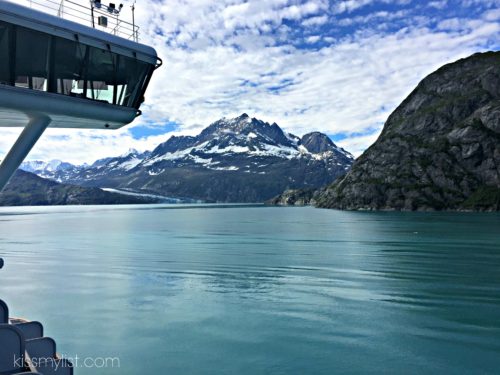 Our cabin is at the front of the ship, and that's the bridge jutting out over the water. For you landlubbers, the bridge is the platform from which the ship is commanded. It's the room where it happens.
I keep the television on the channel that is broadcasting from the bridge, and a park ranger narrates periodically as we sail into Glacier Bay. When she points out a bear swimming to shore on the starboard side, I run out to the balcony to watch. I have no photo of the bear, but I spot these otters sunning on the ice later.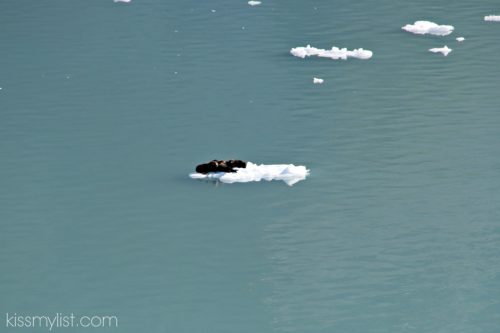 I admit I don't pay close attention to the park ranger's narration; I am too busy soaking in the sights. I can only see a tiny fraction of the 2,055 miles of glaciers in the park.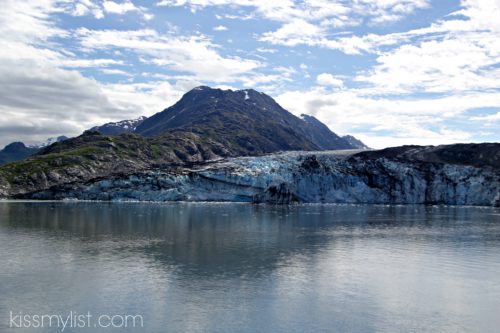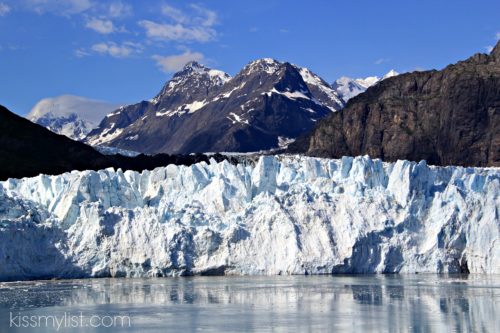 As we cruise by the glaciers, we hear the sounds of pieces of ice falling into the water. I'm never watching the right area as the ice drops, which is called calving.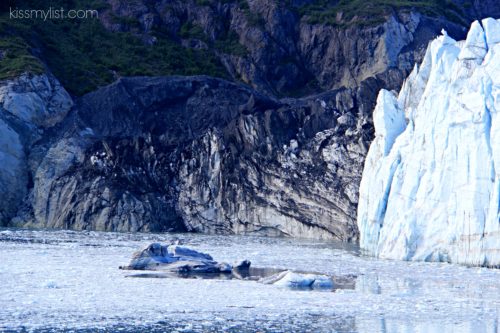 After breakfast on the balcony, four of us head up to the promenade deck to get a workout. Two and a half laps around the deck equals a mile, and we do 7.5 for an even three miles. As lovely as my neighborhood strolls are, they cannot compare to these views.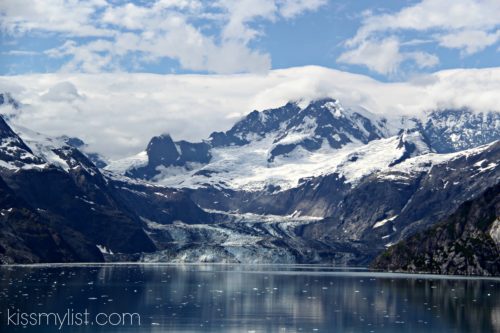 It's cool but sunny, and we chat as we power walk around and around. My niece Jenna takes off in a run every so often, just to catch up with us again.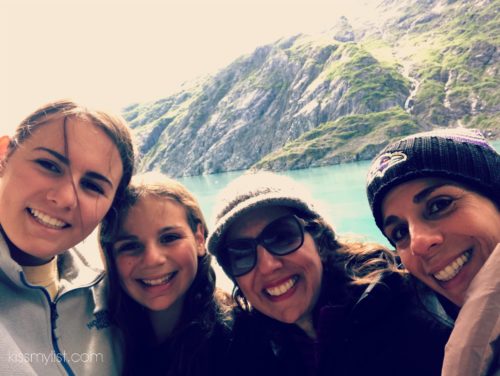 Only two cruise ships a day are allowed to pass through Glacier Bay. It is the largest area of untouched nature I have ever seen.
Our day in Glacier Bay is also my son's sixteenth birthday, and we celebrate that evening with a fancy dinner in one of the specialty restaurants. The dinner completely cancelled out my three mile walk, but my baby only turns sixteen once.
Ketchikan
We arrive at our final and most southern Alaskan port early the following morning. Ketchikan is the only port for which we have no planned excursion; we are just going to explore the town on foot. We get off the ship and pick up a map and self-guided walking tour at the Visitor's Center, and off we go.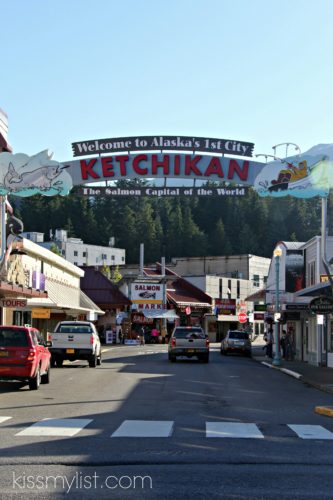 Our best chance for rain is in Ketchikan; it rains here so much that there's a liquid sunshine gauge erected in the middle of town. It's clearly intended for tourists, and this tourist gladly takes a photo, if only to prove that our dry weather mojo continues.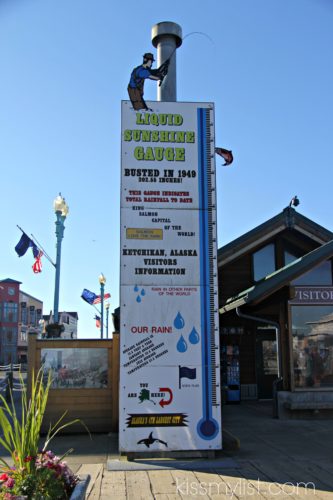 Gwen takes over tour guide duties and walks us through the town. Ketchikan has the world's largest collection of standing totem poles, and we see a few.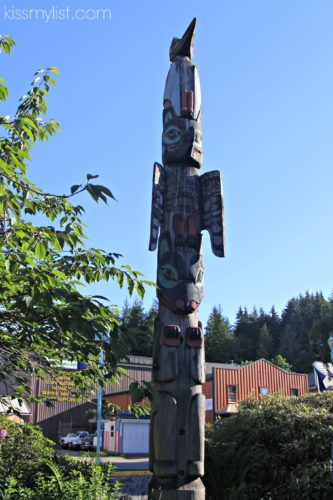 The totems commemorate the native residents of Ketchikan – the Tlingit, Haida and Tsimshian people.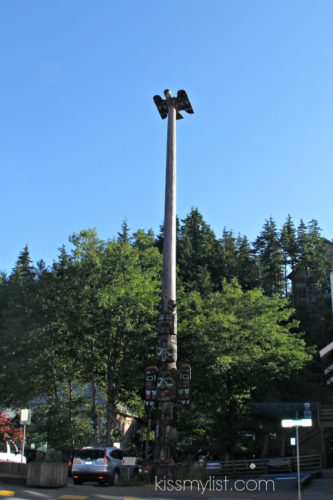 We arrive at Creek Street, which in one of the city's most popular attractions. It is built over the waters of Ketchikan Creek, and is lined with shops and restaurants.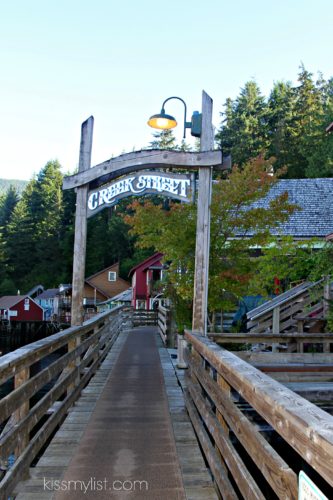 It used to be lined with brothels, since it is Ketchikan's old red-light district. Dolly Arthur was Ketchikan's most famous prostitute, and her home is now a museum depicting Prohibition-era life in small town Alaska. The sign makes me laugh: "Dolly's House – where both men and salmon came upstream to spawn."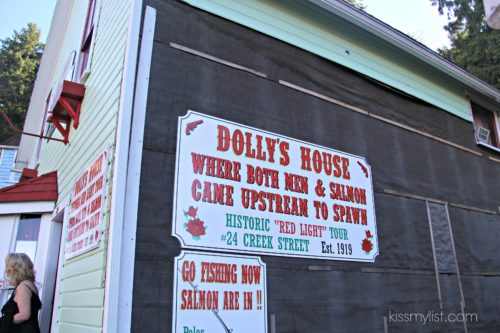 This museum generates quite a bit of discussion among our family, particularly our youngest member. The discussion involves some googling of early 20th century birth control methods…I will not elaborate any further. We continue walking down Creek Street and turn our focus on the actual creek.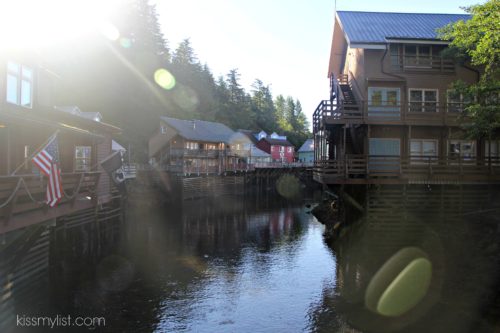 We are looking for salmon, but first we find a seal.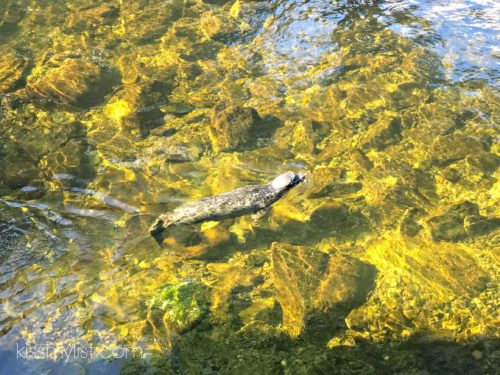 It's hard to imagine how any salmon make it upstream to spawn, swimming against the rushing water.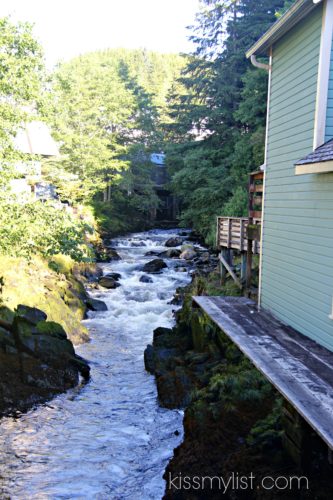 We follow the creek as we walk through town, and finally find a few salmon who made it.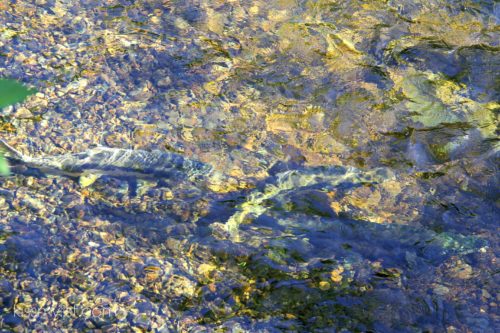 Those salmon struggle so hard to make it, just to get busy with another salmon, and then die. We see a few salmon that die in mid-swim upstream, and I'm surprised by how the death of a fish saddens me. We have a carnival goldfish that just won't die, and I'm fairly certain I won't shed a tear when the fella finally goes belly up.
We finish our walking tour at The Asylum Bar, which is dark and smoky and opens at 8 a.m. every day. We sit on the patio and sip beers while the teenagers take advantage of cell service.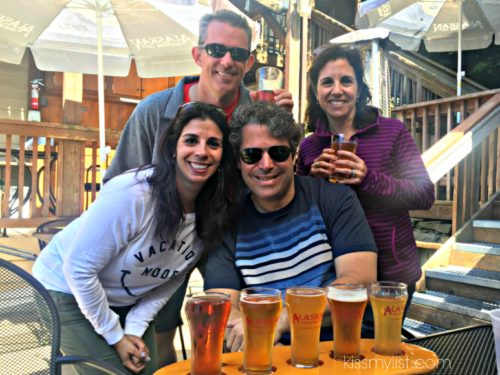 The ship sails by 1:30 p.m., and we are at sea until the following evening when we dock in Victoria, British Columbia. The four of us visited there last summer, so I serve as guide as we walk along the harbor. I take no photos, but I walk off all the desserts I keep eating aboard the ship.
The next morning we are back in Seattle, and our family vacation is in the books. I can't end with a beer photo, though, so here is one more shot of beautiful Alaska. If you haven't visited yet, I hope you get to meet her someday.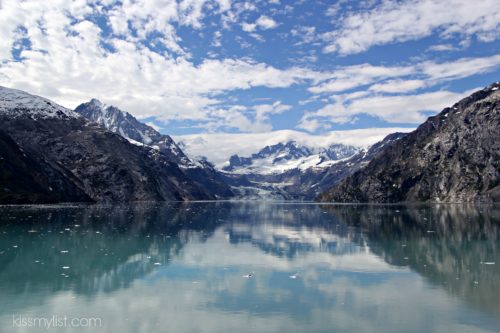 I'm joining in on FTSF this week, for the very loose interpretation of a prompt about summer.