Ah, the joy of the holiday season. Good cheer, candy canes, the UPS guy dropping off boxes every day…what's not to love? If you're a bit frazzled from all the buying, baking, and wrapping, take the time to de-stress your holidays. Grab a cup of eggnog and a blanket, hide in your bedroom, and curl up with a good book. The cookies and fruitcake can wait, gift bags are easier than wrapping paper, and Amazon delivers.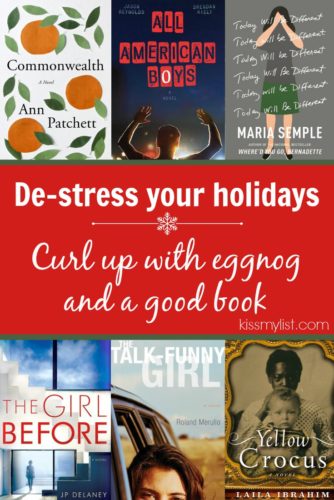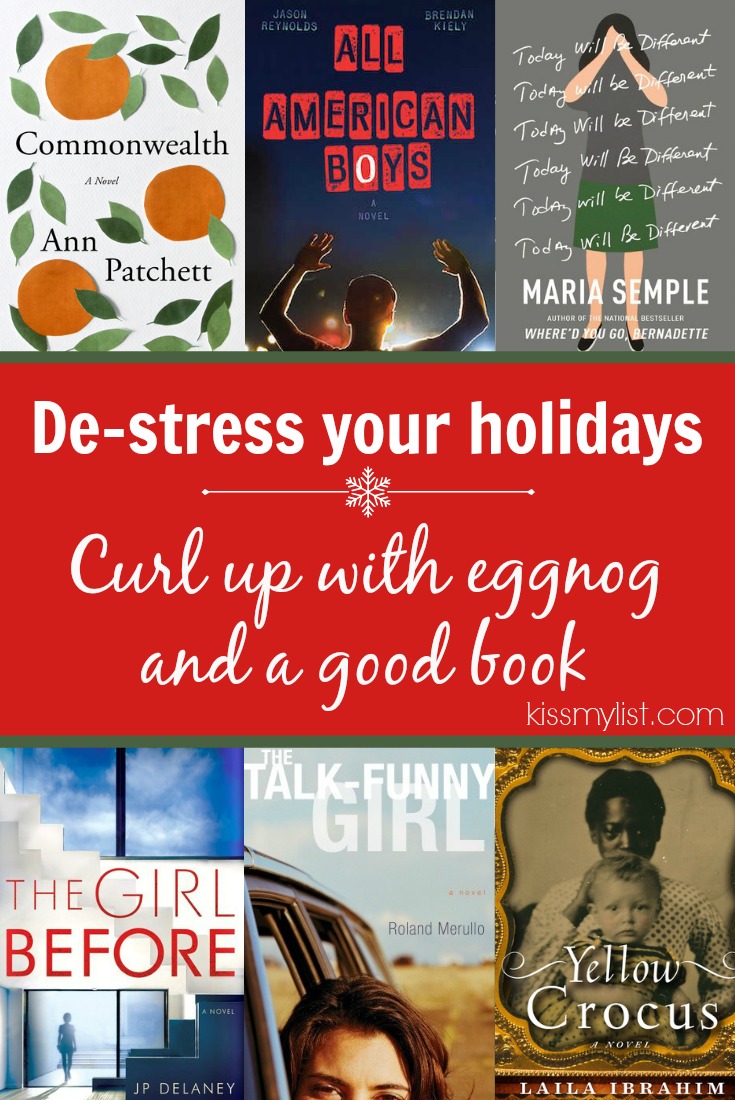 The book titles are Amazon affiliate links; if you buy the book through my link, I get a few quarters that I will keep in my car for the air compressor machine at the gas station. Thank you for helping me keep my tires inflated!
This was my book club's pick a few months ago, and based on the title and cover I assumed it was a young adult novel. It was not.
Marjorie is the Talk Funny girl, named by her classmates because she was raised so isolated that she and her parents developed their own dialect. They live in the woods of rural New Hampshire, on the outskirts of a factory town in economic shambles. Teenage girls have been disappearing, her parents are cult members, and Marjorie sees no way out. Enter her aunt, who hooks Marjorie up with a job helping a kind man build a cathedral in the center of town.
This is the story of Marjorie's journey out of ignorance and abuse. What I loved about her journey was that she was in charge – this is not a damsel in distress tale, or one of a wretched urchin being saved by a benevolent adult. The novel is full of fascinating characters, and is a testament to human resilience. Well-written and engrossing, The Talk Funny Girl is a worthwhile read.
All American Boys by Jason Reynolds and Brendan Kiely
This is a YA book, but it should be required reading for all tweens and teens over twelve, and their parents. And their teachers, and the community.
Rashad is an ROTC kid, and a good kid. When a woman trips over him in a convenience store, the misconstrued situation escalates. Rashad is a black teen in baggy clothes, the cop thinks he's stealing, and beats him.
Quinn was hanging outside the store, and saw his friend's older brother pummeling his classmate. He doesn't know what to think, until he realizes that he has to think something. As the beating becomes national news, the school and community are divided.
Rashad and Quinn tell this story, and that is what makes this book so relatable to teens. There is no political correctness, no sanitized words to explain away why Rashad is in the hospital with multiple injuries. The boys talk as boys do, and Reynolds and Kiely have each created characters in whom we can all find something in common.
The power of this book, however, is found in the conversation it demands we have. It may be a conversation with another reader, or simply a silent, private conversation in your head. But until we can talk about racism and prejudice, it's not going anywhere. I highly recommend this book; it would be a great gift for any tween or teen on your holiday list.
I liked Semple's novel Where'd You Go, Bernadette. I didn't LOVE it the way much of America did, but I liked it.
I expected to like Semple's newest novel as well. I did, but not as much as Bernadette. I actually did not like it enough to include it in my reviews had it been any ol' book, but I know many readers will pick it up expecting satirical brilliance.
The Bernadette of this book is Eleanor, and she is a hot mess. She swears she will get her act together today, but one calamity after another ensues. There are flashbacks, a husband behaving suspiciously, and a son named Timby. Who names their son Timby? Name your pet guinea pig Timby, but not your son.
I read this book on a flight to New Orleans; it's a quick and easy read.
You may like the book more than I did; book critics certainly do. However, I feel that it is my duty as an independent (and unpaid) book reviewer to give you a heads up if you have high expectations for Semple's newest novel.
This is the sixth novel I have read from Patchett, and it's my favorite. The writing is typical Patchett quality (that's a plus), and the story is full of quiet family drama. The book follows the Cousins and the Keating families. When Beverly Keating and Bert Cousins choose one another over their spouses, the four parents and six children become intertwined for better or worse.
Years later, the youngest Keating child tells her lover about her family, and he bases a book on the siblings. Patchett leisurely explores events and relationship in both the past and the present, allowing the reader to put together the puzzle pieces until she can see the full picture. It's a picture of a real family, with its flaws, its secrets, and its triumphs.
Expected publication January 24, 2017; I received an ARC of this novel from NetGalley.
The teasers for this novel claim it is "in the tradition of The Girl on the Train, The Silent Wife, and Gone Girl." It is a psychological thriller, but so are many other novels. I would not base my decision to read this book based on your opinions of the comparison reads.
The Girl Before is a dumb name, but the book was tough to put down, and I spent the better part of an afternoon engrossed in the story. Alternating narrators Emma (the girl before) and Jane (the girl now) and brief chapters made this book easy to fly through. Combine an intriguing plot and characters whose motivations are suspect (or at least ambiguous), and you have an entertaining page turner.
My own teaser: Jane moves into a magnificent apartment designed by an architect who insists they follow bizarre rules while she lives there. It's what I imagine a "smart house" would look like – everything is controlled by computer, and the house learns the habits of its occupants. Emma lived in the apartment before Jane, and their stories are told in alternating chapters and in a parallel timeline. Both women get involved with weird architect guy, and nothing good comes from that.
This is a perfect snow day book; you won't mind being stuck in your normal, non-creepy house while you're engrossed in this read.
While I'm sure this would be a wonderful read, it was a fabulous audio book. The narrator, Bahni Turpin, is superb, lending accents and depth to the characters' voices that strengthened my connection to them.
Lisbeth is born in pre-Civil War Virginia, the first child of a wealthy white planter and his young wife. Mattie, a slave with an infant son, is brought into the big house to be Lisbeth's wet nurse and nanny. As Lisbeth grows, she continues to cling to Mattie, loving her as she cannot love her own distant mother. Yet the two exist in different worlds, and Lisbeth's privilege blinds her until she can no longer ignore the reality of Mattie's enslavement and the cost she pays.
I appreciated the honesty of this novel; it doesn't sugar coat or wrap everything up in a neat bow. It was predictable at times, but I was invested enough in the story that I didn't mind.
If you've been on the fence about listening to audio books, take the plunge and get two books free with a 30-day trial membership. You can cancel before the 30 days is up, and still keep your two books. This is my affiliate link HERE. (I would suggest not using your credit on Yellow Crocus, though, since it's only $5.24. Save the credits for full-price books.) Have an audio book on hand when you need to walk off the eggnog and cookies!
If you are opposed to an audio book, the Kindle version of Yellow Crocus is currently free for Amazon Prime members. Snag it now so you have it in your library to read when the mood strikes.
*****
Stay tuned for my annual reading wrap-up post at the end of the month, with my picks for the top ten books I read in 2016. Until then, happy reading!