As much as I love Broadway, and for as long as I have loved Broadway musicals, I have never seen a Tony-award winning show, or an actor in that show, before they win the statuette.
Until now. Yesterday I watched Ben Platt and the amazing cast of Dear Evan Hansen in the most powerful, relevant, heartbreaking, real, hopeful musical I have ever seen. This young man will win the Tony; there simply is no other acceptable outcome to that contest. The show should win as well, but Platt's performance was like nothing I've ever witnessed.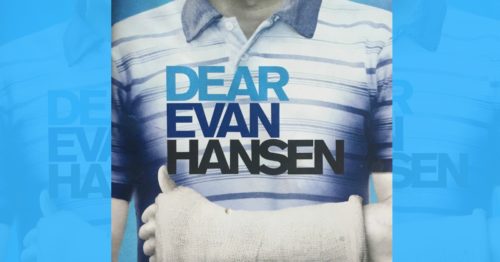 Platt is Evan Hansen, a high school senior battling anxiety along with the usual angsts of adolescence. He has no friends, he likes a girl who doesn't know he exists, and his single mother is treading water while working and attending night school. 
On the outside, always looking in
Will I ever be more than I've always been?
'Cause I'm tap, tap, tapping on the glass
I'm waving through a window
From "Waving Through a Window" in Dear Evan Hansen
His therapist gives him a daily assignment: write yourself a letter. "Dear Evan Hansen, Today will be a great day and here's why…"
SPOILER BELOW, although if you listen to the soundtrack the plot is fairly evident.
The letter ends up being mistaken for another teen's suicide note, and Evan's lie of omission propels him into the life he always wanted.
There is tragedy, there is grief, but at the heart of the show is a boy just trying to be seen. Trying not to be alone.
END SPOILER
I experienced Dear Evan Hansen as a mother, feeling the pain of the parents searching for a connection with their teenagers. As I watched, I was thankful my own children aren't struggling the way Evan is, and then I was afraid that maybe they were and I didn't know it. I felt the teens' pain, wanting to hug them and tell them, as Evan's mother tried to tell him, that one day all of this will seem very small.
But adolescence is about everything being very big, of utmost importance, right NOW. The show's creative team has a freakishly accurate finger on the pulse of today's teenagers, who live through a social media lens that my generation never did. Social media allows for constant connectedness, but that connectedness isn't necessarily genuine. A person can feel utterly alone among his thousands of Instagram followers; he can still feel unseen.
This is not your grandmother's musical. It doesn't hide behind flashy musical numbers or extravagant costumes and dances; the ending isn't wrapped up in a neat bow. It makes you feel, and hurt, and laugh, and hope. 
Even when the dark comes crashing through
When you need a friend to carry you
When you're broken on the ground
You will be found
From "You Will Be Found" in Dear Evan Hansen
It is a multi-tissue show, and I saw many eyes as swollen as my own as I climbed from my seat in the mezzanine into the lobby. I cannot fathom how Ben Platt performs eight times a week; he embodies Evan Hansen so completely that his mother worries about the toll it takes on him. Every tick, every crouch, every sob appears effortless, as if Platt actually becomes an anxiety-plagued seventeen-year old for two hours a day. This is the magic of live theater, witnessing this transformation happen in front of your eyes.
I am amazed at the talent of writers and musicians who can create a show that takes the viewer from crying to laughing without it feeling forced. While the show was emotionally draining, I would see it again in a heartbeat. I would take my teenagers and my husband, and I would bring the tissues. 
If you know me or follow this blog, you know that I am a super Hamilfan. How does Dear Evan Hansen compare to Hamilton? 
It doesn't. It's not even like comparing apples to oranges; it's comparing apples to steak. They are both musicals, they are both superbly written and performed, but they are in completely different orbits. That's the beauty of Broadway; there is enough greatness to go around.
Tickets are hard to come by, and New York may be too far for you to travel. But a national tour has been announced, beginning in 2018. For now, however, watch the Tony Awards on June 11th, because Dear Evan Hansen is going to win.

Linking up with Kristi for Finish the Sentence Friday, "I don't want to write about…" I don't want to write about very much these days; my motivation has waned immensely. But this show…I had to write something.