There's a phenomenon that I've witnessed at co-ed social functions. The women tend to cluster together, and the men hang out in their own testosterone-filled group.

If I can do it politely, I try to slip into the XY circle. I love my girlfriends, but I enjoy the easy and witty banter of a bunch of middle-aged men too.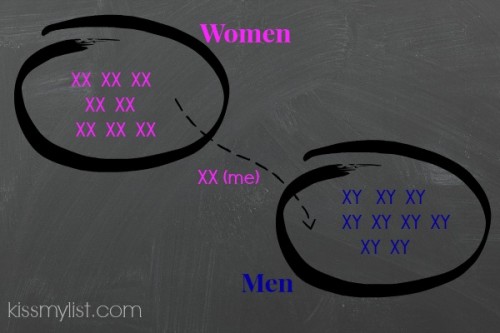 It's the same in the blogosphere. Ninety-nine percent of my peeps are female, but it's fun to hang with a dude sometimes. A dude like Eli.
Have you met Eli? He's
Coach Daddy
, and you may have visited him last week when I
guest posted
at his place. Or you may already know and love him. But probably not as much as he loves Jennifer Lawrence.
Dude, it's never gonna happen. I'm just saying.

If you don't know Eli, you are in for a treat. His Go Ask Daddy posts are a brilliant combination of humor, wit, and random facts.  He has this rare ability to take all these seemingly disconnected thoughts or things and tie them together. At the end of a post or even a paragraph, I often nod and say "Aha – I knew he would finish strong." He always does.
________________________________________________________

Between hipster and curmudgeon:
Welcome to midlife!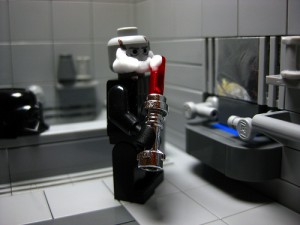 leg0fenris via photopin cc
I'm too young to be a curmudgeon.
I'm 42: Too old to hang with the hipsters at work; too young to wear plaid. I play disc golf like the young guys, but I moan and groan when I get in and out of bed. Like an old guy.
I just picked out some cool frames for my new glasses. But I need bifocals, too.
When you're stuck in the middle like this, it's hard to define yourself beyond, coach, writer, dad.
I'm father of a teenager in driver's ed. I also have a baby. She's 9. Yes, still a baby.
I make fun of smartphone users, so I'd feel hypocritical to buy one for myself. I'll stick to my flip phone, even though the screen hasn't worked for a while. (It isn't yogurt-proof, apparently.)
I still shave with a regular razor and will never use a stand mixer, either.
Am I old school?
I love to take my girls on daddy/daughter dates.
Ever since my daughters – they're now 9, 13 and 16 – were 3, I'd take them for an occasional day out. It began just as errands with dad, maybe a stop at a park or out for an ice cream.
It evolved into dollar movies, minor-league baseball games, and wings. To native American festivals, organ recitals, and tours of a rose garden. We've grabbed burgers on the way, snuck snacks in my cargo pants, and bought ice cream in baseball caps.
More than once.
I want to show the girls how they should be treated.
They get my full attention. No checking my phone. No checking my watch. No sideways glances at the waitress. They get no judgment. What's said on a daddy/daughter date stays on a daddy/daughter date.
Doors are opened, conversation is made. I come in with a plan, but I'm always open for change.
By the time these girls go on dates with silly boys, I want to set the standard so high, dudes with saggy pants, bad attitudes, fragile egos, roving eyes, and no backbone to take initiative won't stand a chance.
Am I new school?
I'm all about giving up my seat in the conference room or airport shuttle the moment a woman walks in. Some might take offense to it. I won't make a big deal of it. But the seat has been surrendered. It's up to her to take it or leave it.
I believe my daughters should be treated this way, too. But I also believe they can do anything.
I work for a company in which so many brilliant, driven and creative women work with me, and give me hope for my girls' futures. I read inspirational writers and admire chefs and comediennes and thinkers and musicians and meteorologists and survivors and friends who give my girls such lofty examples.
I want them to be like their mom: strong, loving.
I want them to be like me: creative, unorthodox.
Mostly, I want them to be who they are meant to be , and I'll help them find that. Whether that means they go to my alma mater or a school three time zones away or don't go to college at all. If they play soccer, or coach it, or give it up completely. If they marry a boy, or a girl, or no one.
They'll be my girls, and I'll be their dad. But in the journey to help them find themselves, a dad can sometimes lose himself.
Who am I?
Grace, the 9-year-old, finds herself in soccer, art, and a fashion sense that includes tuxedo T-shirts, brightly colored pants, and boys' shirts, plaid and dressy. She asked me Sunday to teach her to tie a tie.
I felt I'd someday teach a son this. But, I'll take it.
As I showed her the steps with my blue and green tie around my own neck, she giggled, and said it looked complicated. She laughed when I messed up. I got it right, and looped the tie around her neck.
As I adjusted it, I could feel her eyes on me, a close-up of dad. I sensed the wheels turning in her head.
Did she notice my gray hair? New wrinkles? My aftershave?
My smile because of what I was doing?
"I want to work where you work," she said.
"I'd love that, lovey," I said. "We could have lunch together."
She looked at herself in the mirror and smiled. "I'm a man!" she exclaimed, then lowered her voice and repeated, "I mean, I'm a man."
As she bound up the stairs behind me, I hoped she'd remember my aftershave, too.
Because that's just it. I'm a man.
I mean, I'm a man.
When he's not fighting the boys off his turf or appeasing his kids' need for cheese, Eli is a coach and father to three daughters. He writes about the experience on his blog, Coach Daddy. Follow him on Google Plus and Twitter.