My first book review post of the year is usually in February, and after reading eleven books so far in 2017, it's time to share a few with you!
As I was writing, I noticed a theme in these books: family drama. More specifically, there are two marriages that are not what they seem, three mothers leaving, four mysteries from the past, and six daughters (and one son) seeking answers. Yet each of these six novels is different in tone, pace, and writing style. Read on and decide which appeal to you.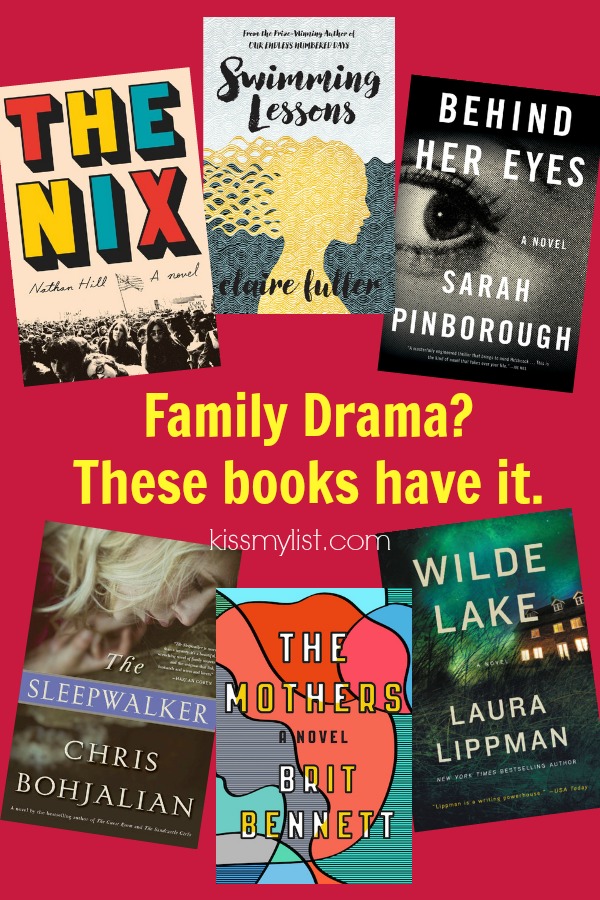 Disclosure: There are affiliate links in this post, which help me fund my subscriptions to Audible and Book of the Month Club. And by "help me fund," I mean I may earn enough to pay for one chapter in one book.
This was my Feburary Book of the Month pick, and I was intrigued by the tease of the judge who picked it:  "You think you know how it ends? You're wrong. I promise." It seems like a typical domestic thriller, and I wanted a book that was a fast-paced page turner. I got one.
Louise is a single mom who has a flirty encounter with a man in bar. That man is David, and he turns out to be her new boss. Uh oh. Then Louise literally bumps into a stunning woman who is new in town, and the two become friends. The woman is Adele, and she's David's wife.
Of course she is. And of course Louise continues her relationship with both spouses without cluing them in, but who is really in control? The marriage is picture perfect to outsiders, but as Louise discovers, appearances can be deceiving. 
That's all I'll give away; you don't want to know more. I read this book in less than two days – I just had to find out how it ended! While I found the writing a bit choppy, the plot was so intriguing that it didn't bother me. As soon as I finished the book, I skimmed the first half of the book again, looking for clues that I missed the first time around.
While Behind Her Eyes was all about the plot, The Mothers is filled with gorgeous prose. Nadia is a high school senior, and still reeling from her mother's recent suicide. Luke is a twenty-one year old ex-football star, and the two begin a relationship that results in a pregnancy.
That pregnancy and its ramifications echo through the novel, as it follows Luke, Nadia, and her best friend Aubrey through the next decade in this small California town. The titular mothers are the group of church elders; they are the women who have seen it all and lived through it all. They serve as a sort of Greek chorus as lives unfold and the characters wrestle with their choices and what-ifs.
This is a thought-provoking book that doesn't tie everything up in a pretty bow. It's a wonderful debut novel and a worthwhile read.
I've read most of Bohjalian's novels, and I love that he has no formula. Every book is different, and The Sleepwalker is a family drama and mystery that I found hard to put down.
Annalee sleepwalks, and on a night when her husband is out of town, she disappears. Her older daughter Lianna has previously rescued her from danger, but this time all that remains is a piece of Annalee's nightshirt on a tree branch. As Lianna becomes close to Gavin, the detective investigating, she continues to search for clues of her mother's disappearance. How did Gavin know her mother? What is he and her father hiding from her?
I knew little about parasomnia before reading this book, but Bohjalian weaves this mysterious phenomenon into his novel to create a fascinating story.
My very first Book of the Month pick was a winner. While it isn't a page turner like some of the other books in this post, I loved Fuller's writing, and I was wistful when I turned the last page. 
The novel centers around Ingrid and Gil, from their meeting until the day she disappears. In the current day, their daughters care for their aging father and try to uncover what truly happened to their mother. Alternating between the present and the past as told through Ingrid's letters, Swimming Lessons is a real and heartbreaking glimpse into a marriage of two complex and flawed individuals. 
This is my second Lippman novel, and I enjoyed this mystery as much as the first. Lu is the state's attorney, following in the footsteps of her famous father. The upcoming trial she is preparing for reminds her of a mysterious night from her childhood, when her older brother saved a friend's life at the cost of another man's. The reader flashes back to Lu's childhood as the drama unfolds and the mystery is uncovered. What was kept from Lu that night? Are her father and brother the heroes she grew up thinking they were?
You have to read to find out! While not a piece of award-winning literature, Wilde Lake was an enjoyable and quick read.
The Nix by Nathan Hill (audio)
Smartly written with lots of lines I would have bookmarked had I been reading, The Nix is tough to describe; I tried to tell a friend what it was about, and I ended up blabbering like an idiot. 
Let me try again. The Nix follows Samuel, a writer who isn't writing. His mother, Faye, left him when he was a child, and now she has been arrested for throwing rocks at a presidential candidate. In order to honor the contract with his publisher, Samuel agrees to write a scandalous tell-all about Faye, but first he has to see her.
It sounds simple, but Hill goes off on tangents that are sharp, witty, and full of snarky social commentary. The format reminded me a bit of A Prayer for Owen Meaney –  it is meandering, pulling each thread until they weave together into a sprawling story.
At 640 pages, it's a honker…a little too long, in my opinion. Listening at 1.5 speed helped, but I'm not sure I could have read it. It has received rave reviews, however, and I can see why many people loved it (It has an average 4.17 stars on Goodreads). Will you love it? Maybe, maybe not – but give it a shot. 
Happy reading!