I inherited my first Christmas cactus from my grandmother, and it never had a blossom. I didn't even know the green plant was supposed to bloom around the holidays. I'm sure if my grandmother had known she would have called it a Hanukkah cactus, seeing as the Jews wandered the desert for all those years. 
Unable to keep the plant alive while also caring for my two young children, I didn't risk killing another Christmas cactus until years later, when a more botanically-inclined friend educated me on its name and flowering patterns. I was thrilled to see tiny fuchsia buds form on the plant's tips that December, and when the buds blossomed, I imagined my grandmother was smiling down at my plant and me. "Finally!" she said in my mind. "I've been waiting years for those flowers; hot pink was always my color."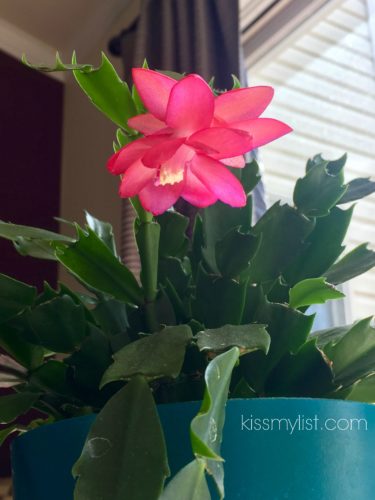 My plant blossomed every December. This past December, I saw the beginnings of the new buds just as our sweet dog Nellie was experiencing inexplicable and severe pain. As she was tested and prodded, I struggled with the reality that she would soon be leaving us. Every morning I stared at the buds, musing that perhaps they would bloom when Nellie was gone. It comforted me to imagine that her puppy soul would go from her body to my plant, transforming into a new life.
We said goodbye to Nellie on December 22nd, and the buds blossomed a few days later. Rationally, the two incidents are unrelated. Emotionally, I needed them to be related, and so they were.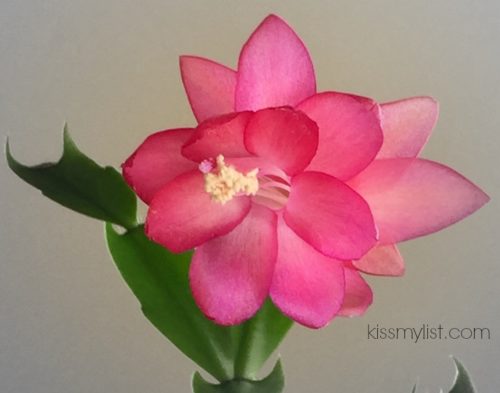 I knew we would get another dog at some point, but I was not ready. In January, we fostered the cutest puppies ever, and their presence soothed the ache that all of us felt without our Nellie. Yet I nixed the pleas of Matt and the kids; I would not adopt a ten-week old puppy. Both foster pups were adopted by other families, and we settled into our canine-free life.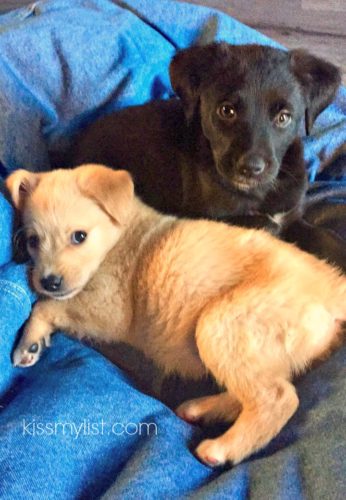 I was not prepared to want another dog so soon, but my family was relentless. They sent me links to rescue dogs listed on Petfinder and at various local shelters, and I took the bait. I started browsing on my own, and came across a pup whose description sucked me right in. DeeDee was described as a sweet one-year old lab mix, who would probably make a great therapy dog given her even temperament. I sent the link to her web page to Matt and the kids; two weeks later we met her transport when it arrived from Georgia, and brought her home.
It was love at first sight.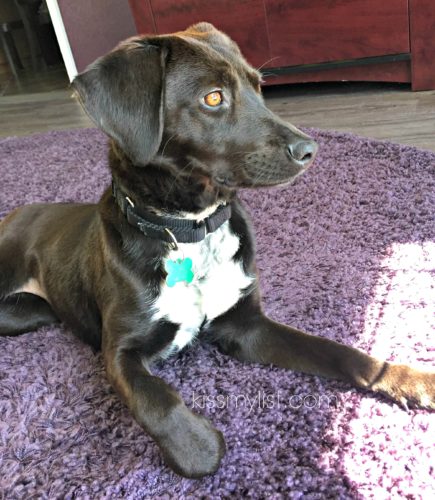 DeeDee was renamed Hazel, and she is settling in beautifully. She's housebroken, sweet, relatively calm, and full of unconditional love. She adores the kids, and they adore her. At thirty pounds, she is probably fully grown but looks like a six-month-old lab pup. I swabbed her cheek and sent it to a lab because I want to know her breeds; her DNA panel is being analyzed as we speak. We are beginning obedience training next month, and I'd love to be able to take her into nursing homes or schools as a therapy dog.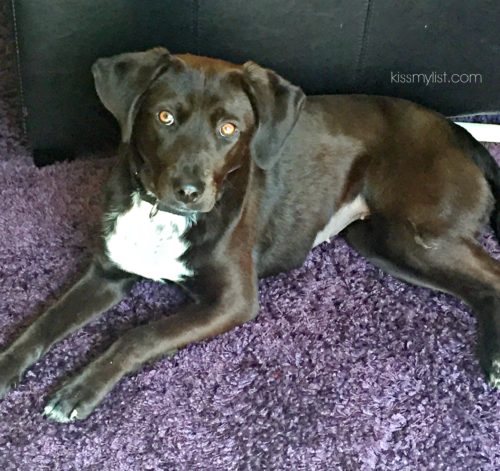 We had Hazel for a little over a week when I noticed tiny fuchsia buds on my Christmas cactus. My plant has never bloomed in March; it's never had a blossom any other time but December. Yet each morning the bud was a little bigger than it was the day before.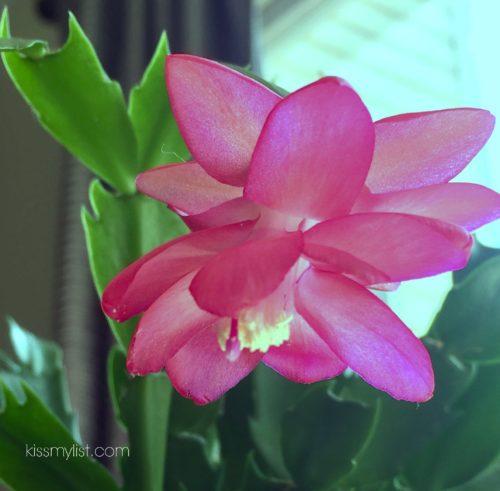 Today, the bud has become a flower, blooming eight months earlier than it ever has before. In the way that I entertain fantastical thoughts because they provide me comfort, I imagine that it's Nellie wagging her tail and telling us she approves. I know my cactus isn't actually a link to the doggie beyond, but to me, that early bloom is a celebration of Hazel joining our family. Welcome, sweet girl – we love you already.