Good things about spring: warmer temperatures, fewer layers of clothing, and no more snow.

Bad things about spring: thoughts of swimsuits, allergies, and spring cleaning.

I can't do much about the impending swimsuit season or allergies, but I can avoid spring cleaning. I'm actually quite good at it. Take the word "cleaning," replace the "cl" with an "r," and the first "n" with a "d." Spring READING.

Much better.
It's been six weeks since my last round of book reviews, and I've read eight books since then. One is
Suburban Haiku
by Peyton Price, which I reviewed with my excellent haiku skills
HERE
.  I have five other recommendations for you; I hope you find one that interests you!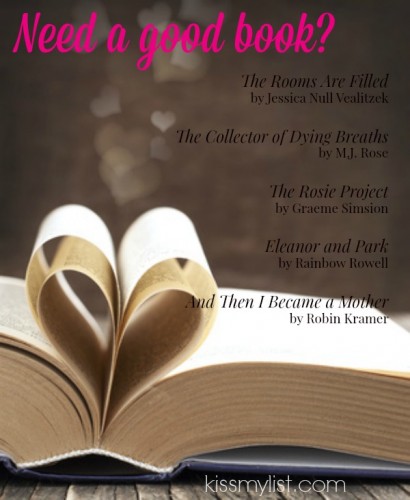 Disclosure: I received free digital review copies of 
And Then I Became A Mother
 (from the author), 
The Rooms Are Filled
, and 
The Collector of Dying Breaths
 (both from NetGalley). I was not obligated to review these books, and the opinions, as always, are purely my own.

The Rooms Are Filled by Jessica Null Vealitzek
Expected publication date: April 22nd

It's quiet and strong, and its layers peel back effortlessly. The characters are ordinary people, but even ordinary people have stories to tell. Michael is the new kid in town after his father's death forced him and his mother to sell the farm and move. Julia is his teacher, and she is in a new town for her own private reasons. Their stories intertwine to create a novel that continued to seep into my thoughts long after I finished reading it.
This book is the first novel of one of my HerStories co-contributors,
Jessica Vealitzek
. When I found out she was publishing a novel, I immediately requested a copy. I'm so excited for Jessica, and more than a little impressed.

The Collector of Dying Breaths by M.J. Rose
Expected publication date: April 8th
Rene is an Italian orphan who becomes Catherine de Medici's perfumer in 1533. His life's goal is to find a formula that will reanimate a person's soul by pairing it with their dying breath. In present day, Jac assumes this quest in an effort to ease her own grief. The novel tells the story of both perfumers, alternating until their stories intertwine.

This book is an odd combination of historical fiction, mystery, and fantasy. I like all three genres, but I found the fantastic parts too far-fetched in the framework of the novel. Rene's storyline was much more interesting than Jac's; I almost felt like they were two separate novels. It was still an enjoyable read, albeit predictable.

The Rosie Project by Graeme Simsion
Genetics professor Don Tillman designs the Wife Project in an effort to find his perfect partner. Rosie is not a candidate, but Don begins to help her with her own project of finding her biological father. Don is brilliant but socially challenged, and Rosie throws a kink into his carefully planned and predictable life. This novel was cute – an odd way to describe a book, but I think it fits. Don is such a unique narrator, and the story reads like a witty screenplay. A quick, light, feel-good read.

Eleanor and Park by Rainbow Rowell
This is one of my book club picks, and I'm glad it was. I don't think I would have picked it up otherwise. Eleanor and Park are teenagers in 1980s Omaha. Park feels like a misfit as the child of an Asian mom, and Eleanor endures living in a two room house with her four siblings, mother, and mean, alcoholic stepfather. The two find one another and fall in love. This is a YA (Young Adult) novel, and you would think that I would be rolling my eyes at the teenage angst. Instead I found myself remembering what it was like to be an adolescent in love. It's all encompassing, life altering, and heartbreaking. I was pleasantly surprised by how much I enjoyed this novel.

And Then I Became a Mother by Robin Kramer
This book is part memoir, part parenting, and all real. Presented as nine pieces of parenting advice for a new mother, Robin weaves her personal experiences and anecdotes into every page. While I am not the intended audience for this book (I need ibuprofen more than I need advice), it brought back memories of the early years of being a mother. If you are a new parent, or even the parent of a toddler or preschooler, you will find this book encouraging. Robin touches on the universal fears, worries, and goals of motherhood in an honest and candid manner. The number one piece of parenting advice? Just love them. 
*****
I am currently reading What Alice Forgot by Liane Moriarity and The Word Exchange by Alena Graedon. Time will tell if they are good enough to include in my next round of book reviews – stay tuned!
What are you reading? And do you hate spring cleaning as much as I do?

Before you go…Facebook is changing its rules so that bloggers have to pay to have their fan page posts reach readers. I won't be paying to promote my Facebook posts unless I win the lottery. So if you'd like to receive updates when I post on Kiss my List, please subscribe to my blog via email. Just type your email address in the box below and click the subscribe button. Thanks!