How do you celebrate the milestone birthday of your wife, mother, mother-in-law or grandmother? You go on an Alaska cruise! We've cruised as a family of four three other times, but this is the first time with a larger group, and to a location not in the Caribbean. The Ruby Princess is a lovely ship, and aside from very rough waters on our first day at sea, it is smooth sailing.
Whether you've cruised before or not, you don't need to read about the ins and outs of life on the ship. Suffice it to say that there is trivia (we lose), bingo (we lose), games of cards in quiet lounges, and brisk walks around the Promenade deck. The food is fine but not amazing, with the exception of the cafe lattes. Those are amazing.
We arrive in Seattle the night before the cruise, with just enough time for a little walk on the waterfront and to Pike Place Market. The four of us visited Seattle last summer, so we serve as underpaid tour guides.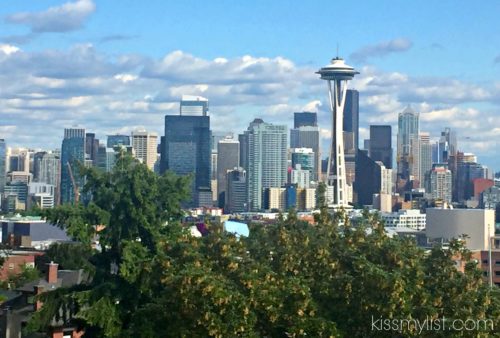 Once on the ship, we have a terrific view of the distant Seattle skyline from our balcony.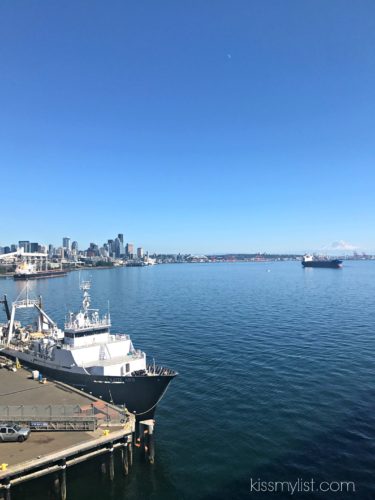 Mount Rainier is clearly visible as we set sail and head north. Last summer, we could not see Mount Rainier from Seattle at all because of the clouds. These clearer skies are indicative of the fabulous weather we will have the entire cruise.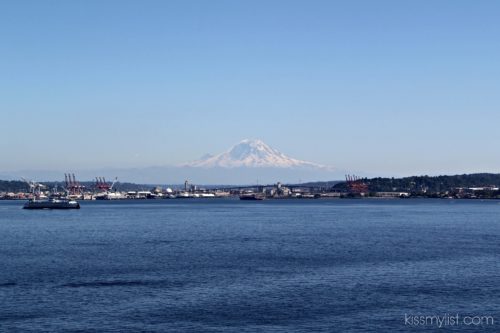 After a relaxing day at sea (for those of use who do not experience seasickness), we arrive at our first port.
Juneau
The views from our balcony as we approach Juneau are pretty incredible.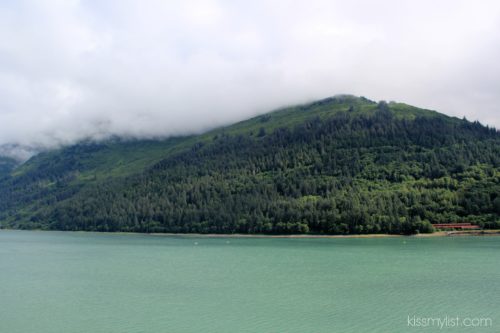 I booked a combination Mendenhall Glacier/whale watching tour through Juneau Whale Watch, for much less than the price Princess was charging for an excursion booked through the ship. The short bus ride through Juneau is both scenic and educational, and we even glimpse some salmon running in the creeks as we drive by. As we board the boat, we glimpse our first bald eagle on the shoreline.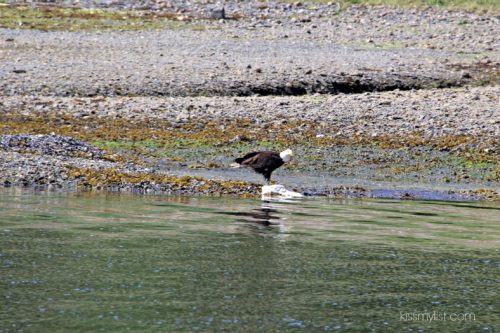 We see tons of bald eagles; they love to perch on the tops of street lights.
On the boat, Captain Ed and our guide John are cautiously optimistic about seeing whales, and we head out.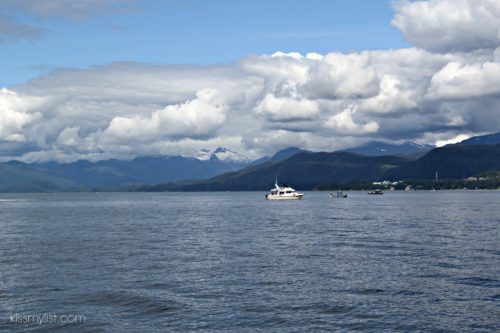 There were quite a few other boats on the water, and when a whale is spotted by one boat, the captain radios the other boats and they all take off. That's how Ed knows there is a solo orca trolling about.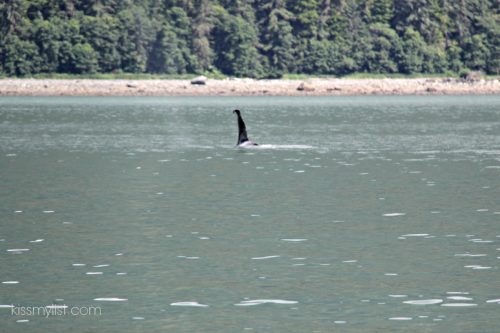 Apparently seeing orcas is a relatively rare occurrence, and they typically travel alone. After this guy swims off, we go in search of humpbacks. We find one.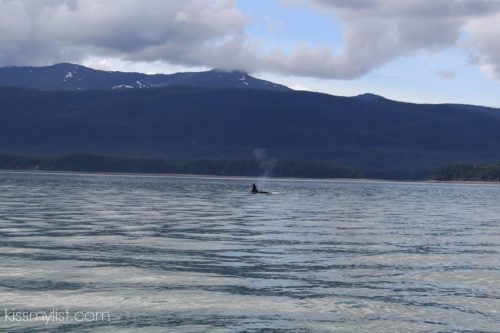 It's easy to forget how big they are when you just see the dorsal fin. When you glimpse part of its back and see the water spraying from its spout, you realize how massive that whale is.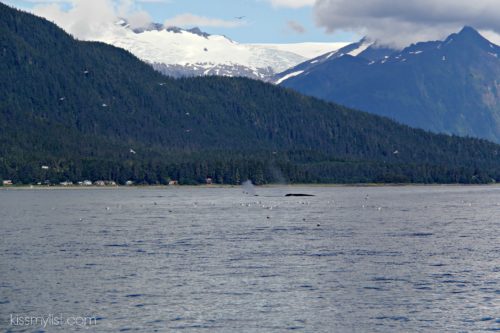 He brought friends! I count three spouts…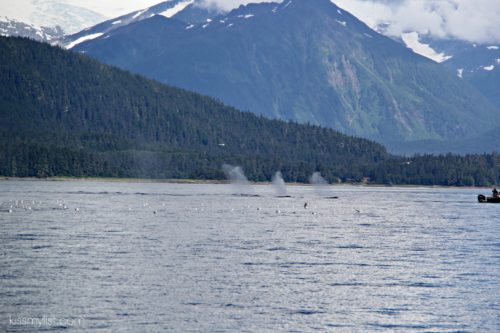 …and a bunch of backs and a tail. This is a group of seven humpbacks, diving and surfacing together like no one was watching.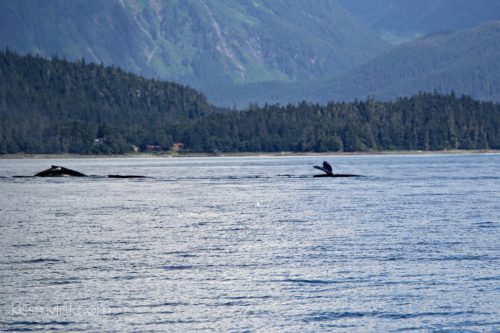 Ah, here's the money shot.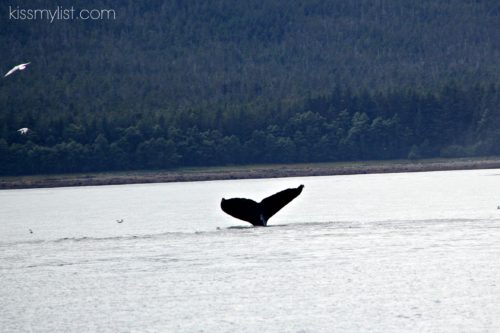 I'm using my zoom, but it's not a huge zoom. These whales are close.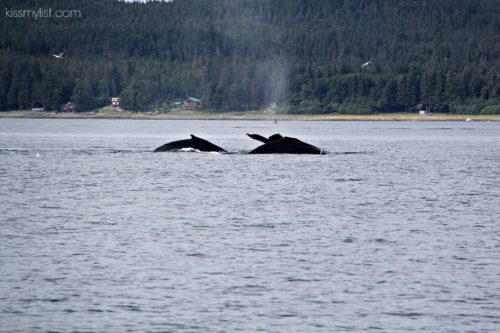 Look how close that other boat is – the one that looks like it's about to sink from the weight of all the passengers crowding on the back.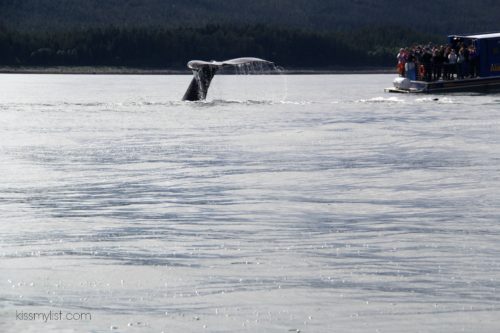 We aren't quite that close, until the whales dive and resurface within spitting distance.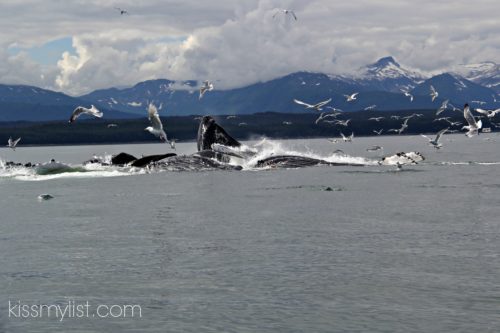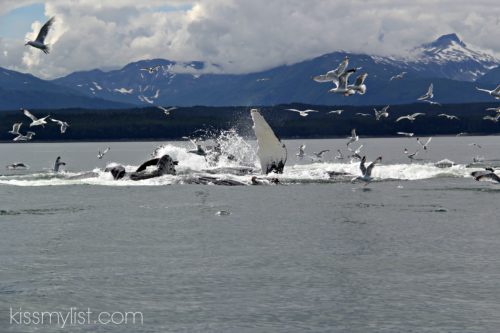 Don't they look like a sea monster rising from the depths, or maybe Ursula from The Little Mermaid? Notice the birds – they sit on the water until the whales surface, so as soon as they took flight we all rushed over to that side of the boat to watch.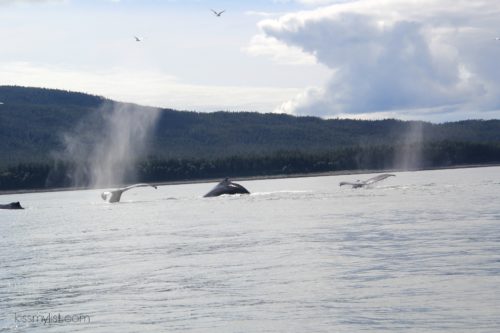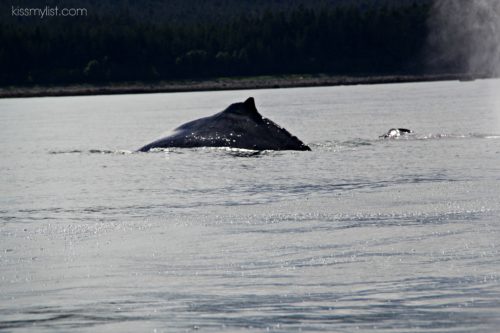 The whales dive down and resurface every few minutes. While we wait, I say hello to my sister in the front of the boat.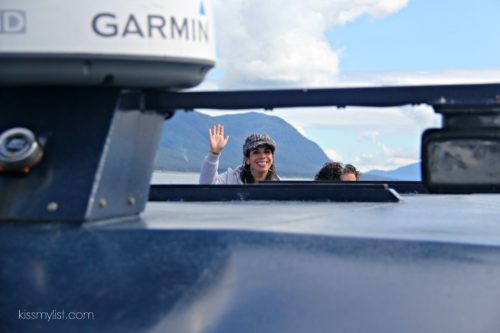 After about two hours on the water, we head back to shore. As we approach, John points out our next destination in the distance – Mendenhall Glacier.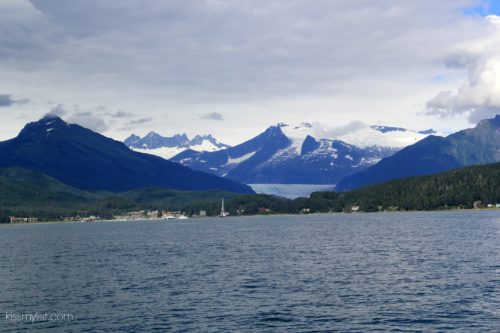 It's that massive block of ice at the base of the center mountain, between the right and left mountains. Want a closer look?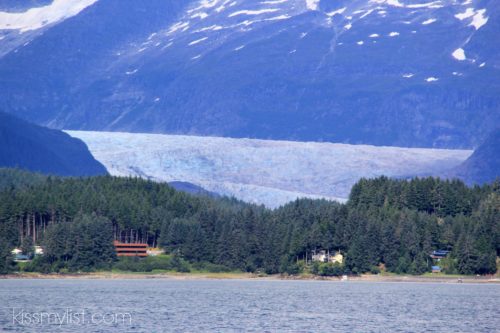 When you see blue in a glacier, you are seeing ice so dense that there are no air bubbles. There is a more scientific explanation involving wavelengths; you can read up on it here.
We hop on the bus for the brief ride to Mendenhall Glacier, and take our first group photo of the trip.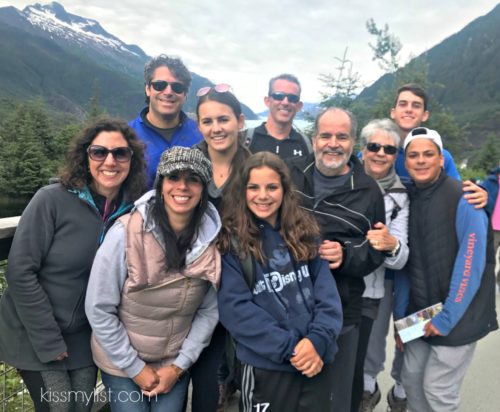 Most of us set off on the two-mile round trip hike to Nugget Falls. And by hike, I mean a walk on a paved trail.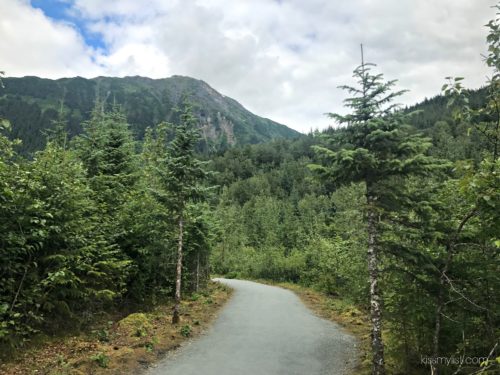 That glacier we saw at a distance is now up close, but at first it is dwarfed by this incredible waterfall.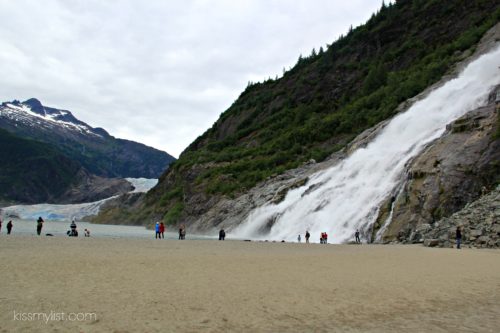 Nugget Falls is enormous; it wouldn't all fit in the photo, but it drops over 350 feet. The tiny people at the bottom provide some scale. And it is LOUD – I can't hear what anyone says unless they are standing right next to me.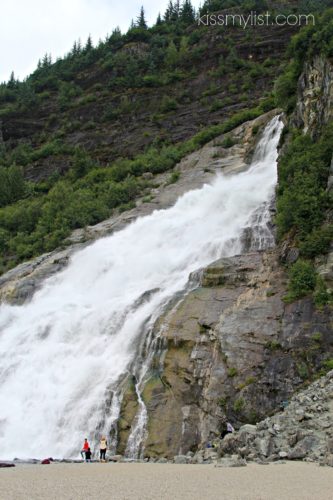 Waterfalls and glaciers – this is Alaska.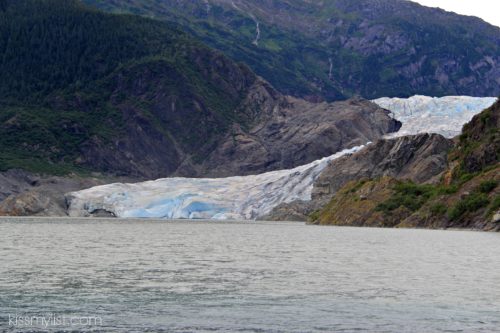 Here's that glacier we saw from the water – it goes on and on for twelve miles, and ends here.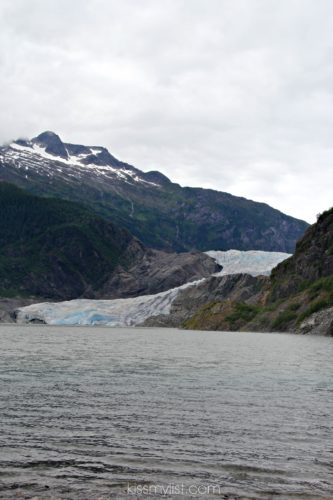 Sometimes pieces break off and float in the lake.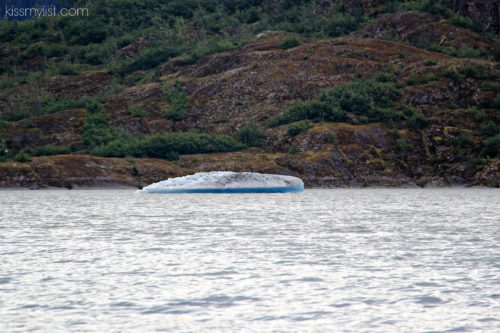 This lake. The glacier is to the right, the waterfall is behind the sandbar.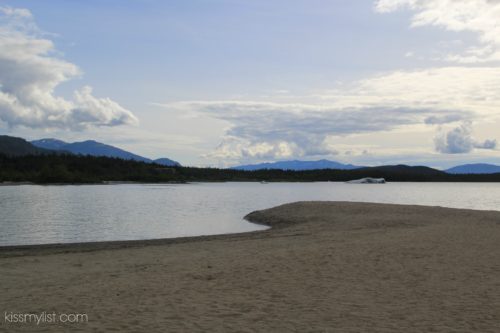 My mother and brother-in-law do not take the walk to the glacier, opting to stay back at the visitor center and do a shorter walk. They see a bear, but it would not be the last one we see, or even the best one. But that's for the next post, as twenty-nine photos is plenty for this one. Okay, thirty.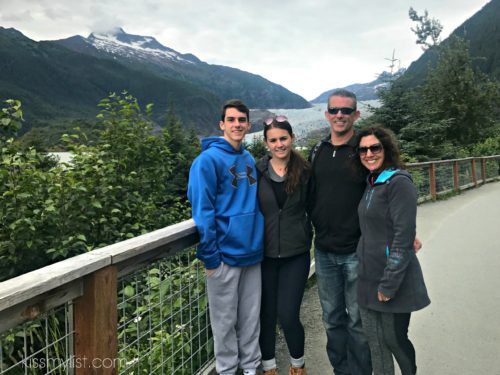 This was Juneau; come back for Alaska Cruise part two (and maybe three?) – Skagway, Glacier Bay and Ketchikan. See you then!