How do you top a day in Juneau packed with wildlife sightings, waterfalls, and glaciers? You cruise to Skagway, to ride with Alaskan sled dogs, travel the Klondike Highway, and find out why the bear crossed the road.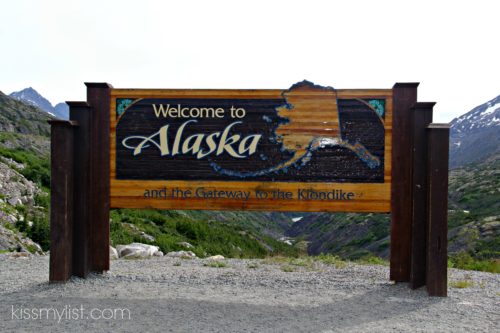 If you missed the first post about our Alaska cruise, you can read that here. If you're caught up, I have plenty more photos and adventures to share.
Skagway was the port I was most excited for, because we had two great excursions booked. The day starts off sunny and clear, so any worries about weather canceling our plans disappear.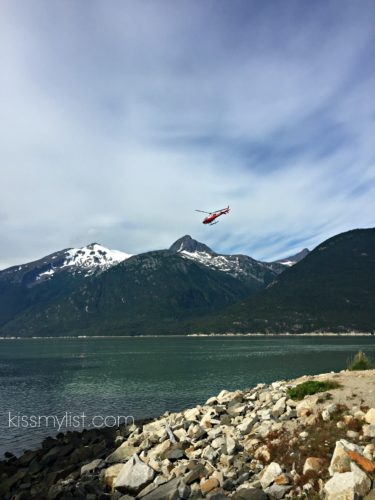 That is the view from my balcony, and we watch helicopters take off and land from 7:00 a.m. until it's our turn at 9:30. A few of us are nervous about the ride, and a few of us are not excited about having to disclose our weight prior to boarding. But it's crucial so that each helicopter is evenly balanced, so we suck it up. Before we get our safety briefing, we pause for a group shot in front of the mountains we will be flying over.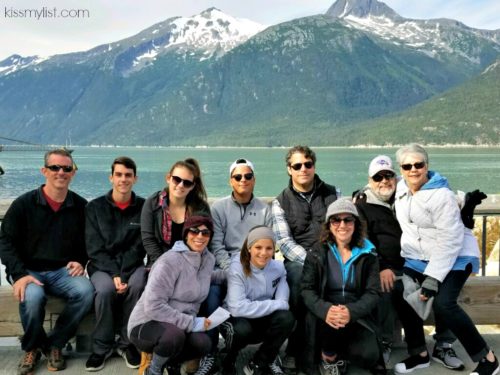 My family of four and my parents end up in one helicopter, with Gwen and me in the front seat next to the pilot. We don our headphones, buckle up, and we're off!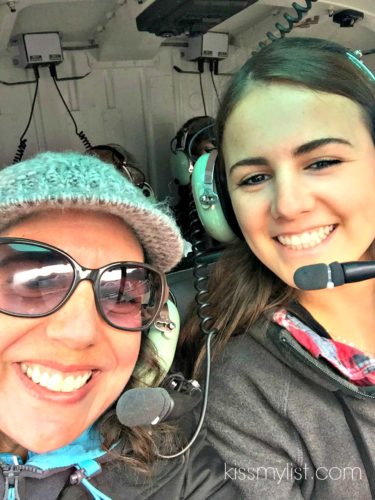 The ride is smooth; the worriers needn't have worried. The views are incredible, as we fly over the mountains and glaciers towards the dog camp.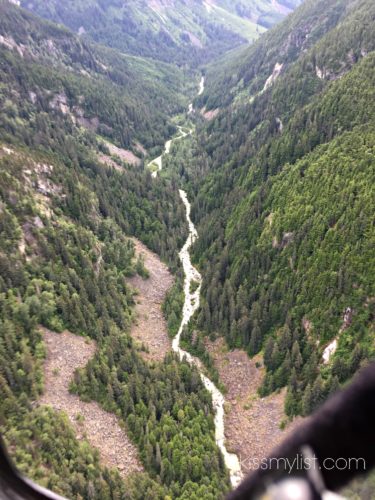 At lower altitudes the water is flowing through the evergreens. As we get higher, the water becomes ice and snow.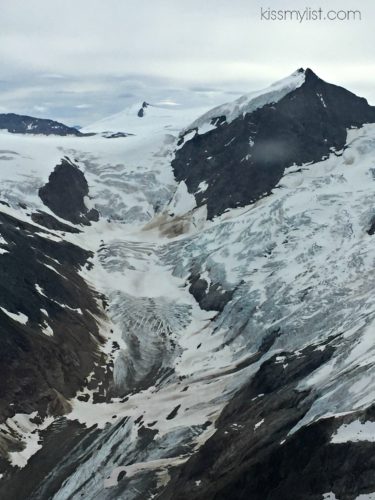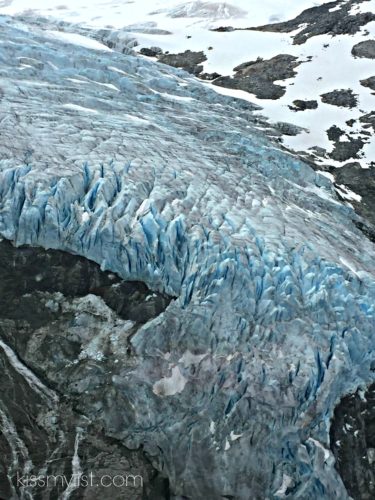 We fly over the crest of this glacier and get our first glimpse of the camp. The dog houses are on the left, and the round white buildings are where the humans live. Dogs and humans spend the entire summer on the glacier.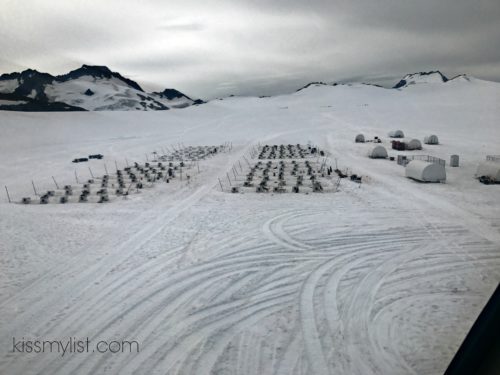 We land and disembark, then wait for the helicopters to fly off again before we meet our guides.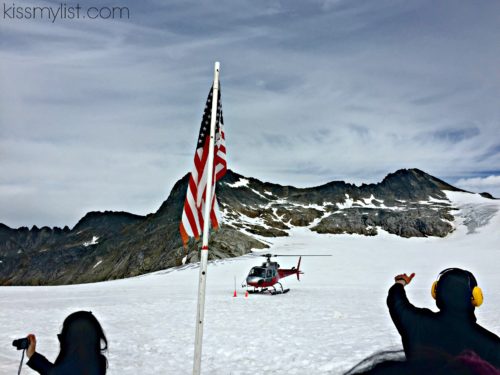 This is the second location for the camp this summer; boots, sleds, and paws eventually wear down the snow until there is just ice. At that point, the camp moves to a new spot with untouched snow. They will move one more time before the end of summer.
We divide up and Matt, the kids and I meet our musher, Matt Hall. He and his team were the Yukon Quest 2017 champions, and it's clear that he loves his dogs and his vocation. He introduces us to the dogs on his team who are already hitched up and ready to run. The rest of his dogs are lounging around in or outside of their houses. Some, like Freya, prefer to hang out on the roof.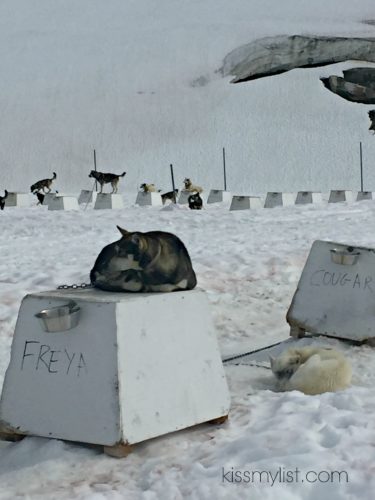 I am struck by the size and variety of dogs; I assumed they were bigger and more uniform in appearance. Matt explains that Alaskan husky is not actually a pure breed, but a class of dogs bred to excel in sled racing. If you can trace a dog's lineage back ten generations of sled dogs, then it's an Alaskan husky. It's a mix of many Northern breeds, weighing between 35 and 60 pounds. Matt's strongest dogs race closest to the sled, since they carry the bulk of the weight.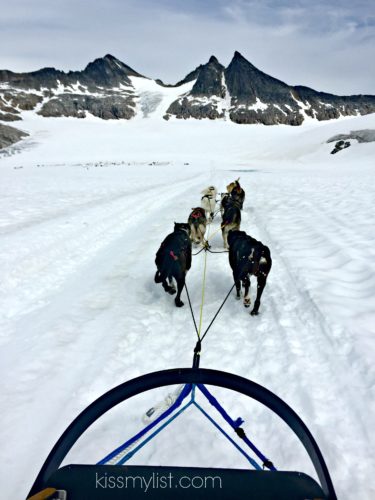 I'm sitting in the front spot as I take this photo. The four of us rotated spots throughout the ride, each of us having a turn standing in the back. Matt Hall stands as well, giving his team directions and answering our questions as we glide over the snow.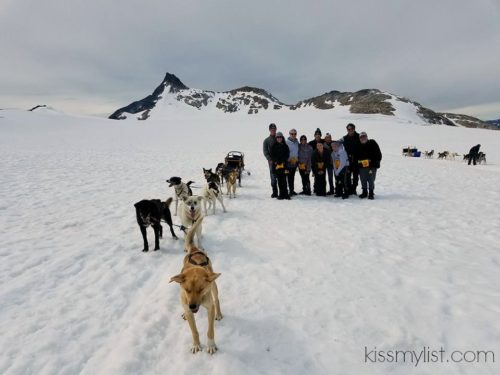 The ride is exhilarating, and I keep looking around and thinking, "I am on a dog sled on the Denver glacier in Alaska." It's similar to my feelings in the Swiss Alps, and I am grateful to be fortunate enough to have these "Holy shit!" moments. I try to stay in that moment and limit my picture taking, but I have to take a video when I am in the front of the sled. 
I do not purchase a single photo on the cruise ship, but I purchase the one taken while we were on the sled. Because how cool is it that I have this framed on my end table? I took a pic of the pic to share here: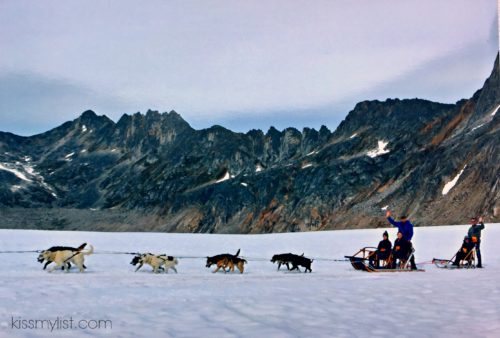 My kids are sitting in the front sled, Matt Hall is standing behind them. I'm sitting in the back sled with Husband Matt standing behind me.
After the ride, we get to do something that almost made my cynophile daughter pee her pants in excitement. We meet the puppies. This is Eclipse.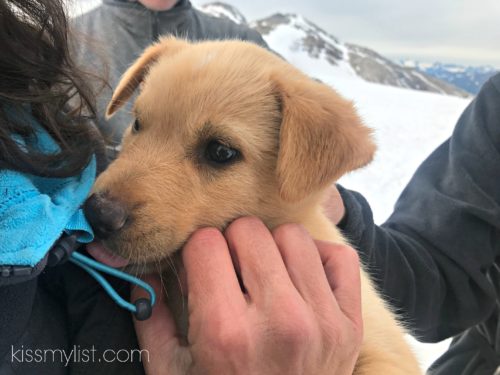 Matt has four pups, and they are about six weeks old. We snuggle for a few minutes, and one of us contemplates hiding one in her pocket to take home. This is Emmylou.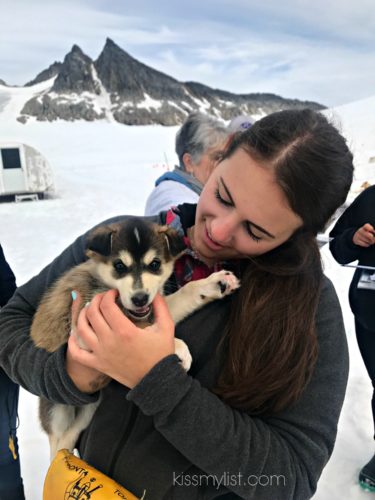 We say our goodbyes to Matt Hall, and once we have landed back by the ship, my daughter follows his kennels on Instagram for more puppy love. If you're interested in learning more about dog sled racing and raising Alaskan huskies, I encourage you to check out Matt's website at Smokin' Ace Kennels.
Back at sea level, we head into the very small town of Skagway for lunch. At Skagway Brewing Company, I have a yummy flight of beers and the best fish and chips I have ever eaten. It's a once in a lifetime meal, because the fish and beer are caught/brewed locally. There's no shipping to the lower 48 – I checked.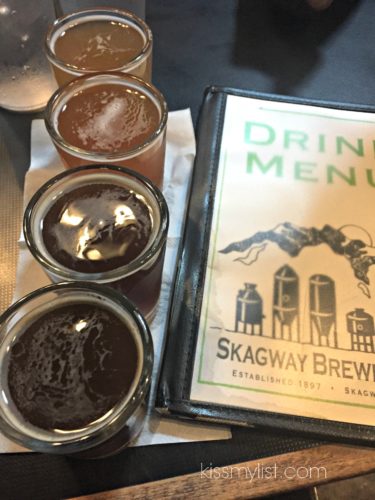 I would have been content to end my Skagway adventure there, but we have more fun planned. While we booked the helicopter/dog sled excursion through the ship, I booked our afternoon excursion with a private company, Beyond Skagway Tours. Right on time, our driver and tour guide Sam picks us up at the dock and we load into the van. It's just the ten of us, so Sam tailors his drive and tour to whatever we want to see.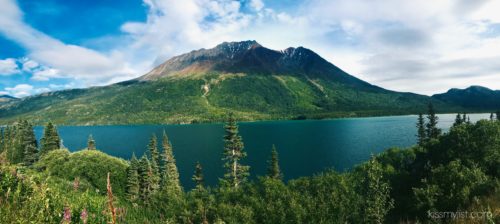 In less than ten minutes we are out of Skagway and heading north on the Klondike Highway, just like the thousands of men searching for gold. But not really.
We stop along the way, taking in the vastness of nature in this land that is still wild.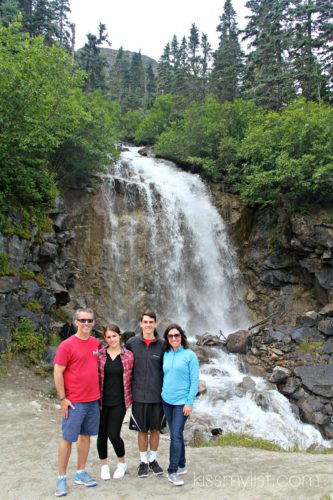 We cross over the Canadian border and climb out of the van for the classic photo opp in front of the Alaska sign. One teenager is napping and won't be roused to participate.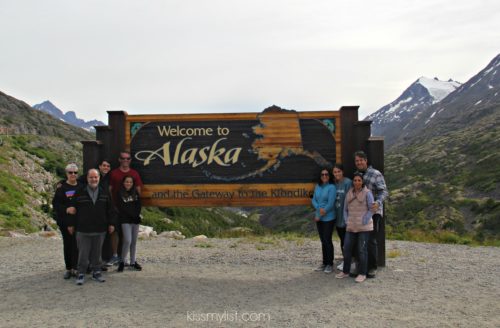 As we continue on, we see an animal cross the road – from a distance, I think it's a fox. Sam quickly pulls to the side of the road to investigate, and we see that the animal is a bear cub, catching up to his mama and sibling.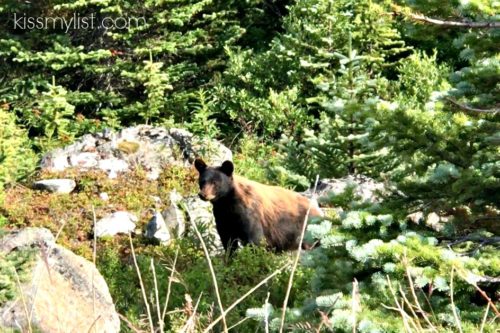 We are all standing inside the van, snapping photos and ooohing and aahing at every glimpse. These are black bears, and I can tell by Sam's excited reaction that this sighting is a good one. The bear family lumbers off into the woods, and we go in search of more wildlife sightings.
We get one, as Sam pulls over again and points to a tiny white speck high up on the rocks. See it? It's dead center.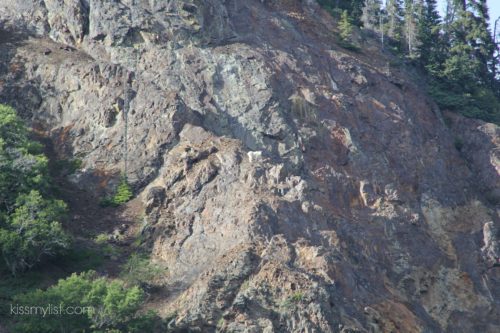 It is a mountain goat, and it's the same mountain goat Sam saw on his morning tour, in the same spot. He's so high up, but using Sam's telescope to take a photo works fairly well.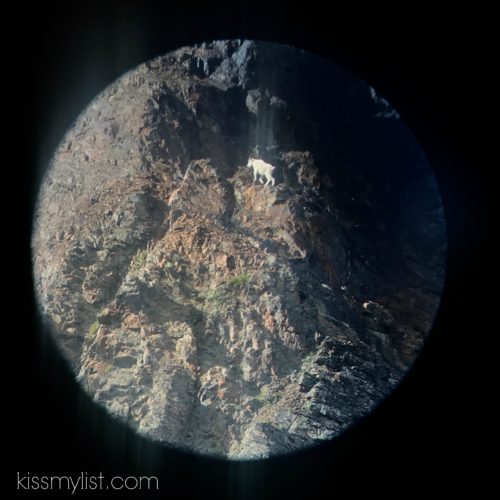 We watch the goat watching us, and then we are on our way. We head back into Alaska, listening to Sam tell stories about life in Skagway. He came for a summer job in 2013, and hasn't left. In the summer, Skagway's population swells, as almost a million visitors come to explore the town. In the winter, less than 1,000 residents remain, and much of the season sees only five or six hours of daylight a day. Sam loves it there, and I enjoy his stories almost as much as the scenery.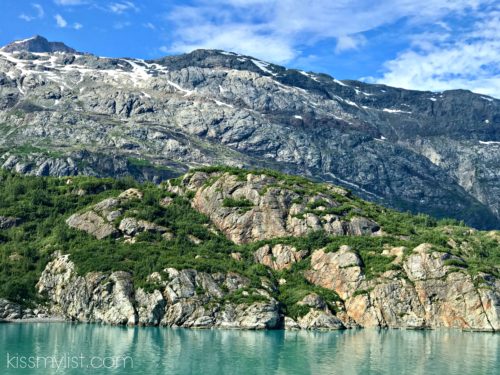 If you ever cruise to Alaska and have the opportunity to ride with the sled dogs on a glacier, DO IT. It's expensive, but it was worth every penny. Not only did we have an amazing time, but these tours allow mushers like Matt Hall to spend their summers on the snow with their dogs.
But wait, there's more…I have one more Alaska cruise post coming. See you then!