A few weeks ago, I was listening to the Seventies station on Sirius radio. It's a preset button on my dashboard, along with the Eighties and Love Songs and Broadway channels, cementing my place in the Music Dork Hall of Fame.
The Seventies station often plays songs I remember from my childhood; they are songs my parents listened to before I was old enough to sit in the front seat and take control of the radio. On this day, I switched to the station right as Afternoon Delight came on. 
It is a song you probably know even if you don't know the name or the artist (Starland Vocal Band). The group was a one-hit wonder in 1976, and I inexplicably had the album in elementary school. The lyrics were conveniently written on the paper sleeve that held the album, and I belted them out with gusto.
I did a lot of belting out songs in my bedroom as a kid. I totally got away with singing at the top of my lungs into my toy microphone; in retrospect I can't imagine how my mother put up with the noise.
Afternoon Delight was one of my favorites. I can't remember that my sunglasses are on the top of my head, but I can remember the words to a song I learned over thirty-five years ago, so I cheerily sing along with the Seventies station. As I'm singing, I am both horrified and amused at the lyrics, which I now fully understand.
Gonna find my baby, gonna hold her tight
Gonna grab some afternoon delight
My motto's always been "When it's right, it's right"
Why wait until the middle of a cold dark night
Hmm.

Thinkin' of you's workin' up my appetite
Looking forward to a little afternoon delight
Rubbin' sticks and stones together make the sparks ignite
And the thought of loving you is getting so exciting
I remember Little Dana in her knee highs and corduroy knickers, singing about rubbing things together and getting excited. I can't get through the second verse because I am laughing too hard.
Started out this morning feeling so polite
I always thought a fish could not be caught who didn't bite
But you've got some bait a waitin' and I think
Like nibblin' in a little afternoon delight
Oh, Dana. I thought I was singing about fishing at the pond on a delightful afternoon. 
*****
Last week, I got away with my family for our biennial beach Thanksgiving vacation, combining outlet shopping with lots of relaxing. It was the first time Gwen was home from college for more than two days, and I was basking in the glow of having both my kiddos under the same roof. The basking ended when I tried to wrangle them for our holiday photo. Wouldn't a family picture on the beach be lovely? It wasn't, and we will not be sending out holiday photos this year.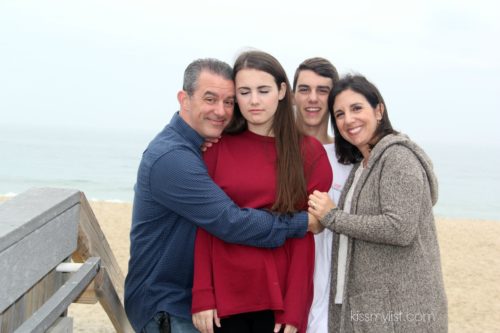 *****
I've got a way with online shopping; I take pride in being able to find the best deal. Cyber Monday is my main event, although I'm finding that many online stores continue the savings into December. If you still have shopping to do, I have a few tips:
1. Use Ebates. I've mentioned it before, but it takes time to get into the habit of using it. You're missing out if you don't, though. You'll be surprised by how many sites participate (Groupon and Etsy, for example). Sign up with my referral link here and we both get $10 cash back.
2. As an alternative to Ebates, try Giving Assistant (thanks for introducing me, Bev!). It works the same, but you can opt to donate a percentage of your choosing to charity. Comparison shop the two sites, since the cash back percentage sometimes differs. Sign up with my referral link here and we both get $5 cash back.
3. Sign up for Amazon Smile. You designate the charity of your choice, and when you shop through the smile link, Amazon will donate 0.5% to that charity every time you make a purchase. I never remember to shop through the link, so when Catherine mentioned Amazon Smile in her post earlier this week, I set mine up and added a bookmark to my toolbar.

4. Even if you ignore my first three tips, do this: Google the item you plan to purchase before you click "buy." It takes a few seconds, and you may find the same item for a lower price on another website. There are all sorts of fancy apps and sites that claim to find you the best deals, but just sticking with an old-fashioned search is the simplest way to make sure you're getting the lowest price.
*****
While this appears to be a random, rambling post, it is actually my way of tackling the Finish the Sentence Friday prompt. I'm co-hosting this week, and I came up with the sentence, but then I couldn't think of a way to finish it. Instead, I took the prompt "I totally got away with…" and approached it from three different ways: got away with (escape punishment), got away with (traveled), and got a way with (good at something). 
So what did you totally get away (or a way) with? Feel free to link up with us, or tell me in the comments.

Loading InLinkz ...