Before my college freshman heads back to school for her second semester (yes, she is still home), I asked her the hard-hitting questions that every high school senior wants to ask. Or should be asking but doesn't know to ask. Or doesn't want to ask, but their parents do.
I was a bit nervous for winter break; I had been warned by those who came before me that the first extended period back home can be challenging for both the college freshman and parent.
We had our moments, but for the most part it was wonderful to have my baby home. I did my part by giving her space and independence, and she did hers by respecting our house rules and behaving like a contributing family member instead of a house guest. 
The college freshman was game to answer my questions, which served the dual purpose of providing information for this post and giving me a peek into her life at school. I've paraphrased her answers with the exception of the portions in quotations marks; those were too good not to quote directly. My comments are in italics.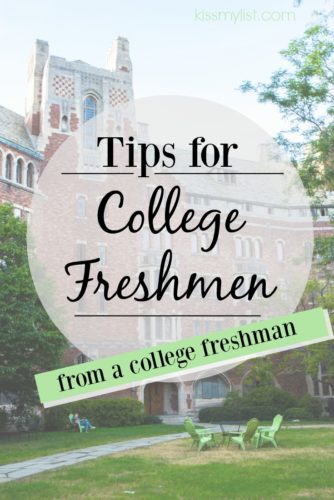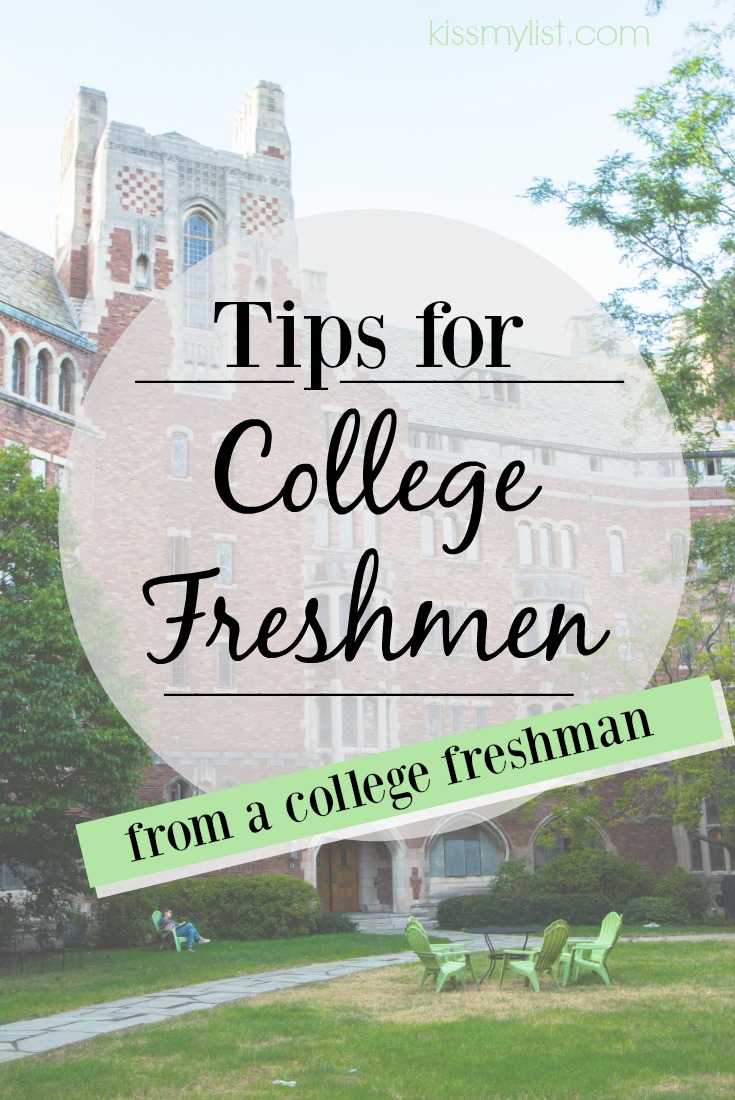 Q: What surprised you about college in a good way? In a bad way?
A: Homesickness. I was surprised that I would be homesick and have to adjust, and it lasted on and off for a month. "I didn't think I would be homesick, no offense." None taken, I guess? 
I was pleasantly surprised that I had so much free time. I'm in class for fewer hours than I was in high school, so that gives me more time. Also, by living on campus I could see my friends a lot.
Another surprise was how much walking I do. Some days I walk nine miles, but on Sundays I barely walk a half mile – to the dining hall and back.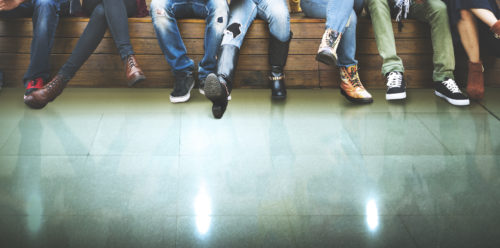 Q: What didn't you bring that you should have?
A: Here's my list:
More ziploc bags, sandwich and gallon sizes, for organizing my stuff and for food storage

A fabric bag hamper instead of a two-handled one. I can put it over my shoulder and still have a free hand to open doors.

Amazing pens

More printer paper

Enough decorations for the walls

Puffy coat

More dishes and dish soap
Rest assured that we have purchased all of these items, although I have no doubt that there will be more Amazon packages heading her way this semester. 
Q: What did you bring that you didn't use or need?
A: I brought five of my favorite books that took up "a copious amount of space," but I brought tons of photos, which was good. I ended up hanging up all of them.
I brought so many t-shirts, but I just wore my favorites over and over.
Other things I shouldn't have packed:
Plastic utensils (one set is plenty)

My new white comforter 

A robe, because I just walk down the hall in my towel

Wedge sandals, because I wear Converse sneakers when I go out
I was thrilled to know the new robe is not being worn, and equally thrilled to buy a navy comforter a month into the school year. A white comforter in a college dorm is like a white sofa in your family room – not a good idea. I warned her, but apparently she had to learn this on her own. She will be purchasing any subsequent comforters with her own money.
Q:  What were some stress relievers, or things you did to relieve stress?
A: I wasn't really stressed, because I keep a planner and a list of things I have to do. But during finals, I did lots of organizing and clothes folding. That calms me, and gives me a break from studying. Cleaning my room helps too.
If you had any doubt that this is my kid, wonder no more.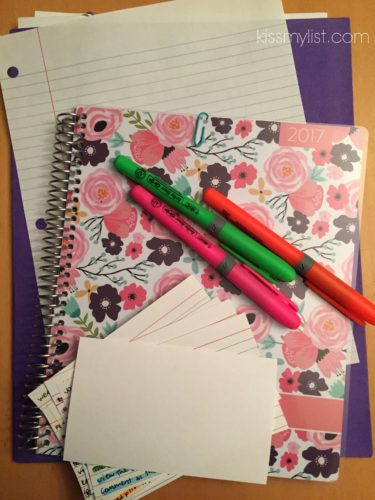 Q: Do you have any study tips to share? 
A: "One word: FLASHCARDS"
I use flashcards to help me memorize things, and I also write out a study guide, and teach it back to myself. Sometimes I use different colored pens (see amazing pens in answer above).
Q: Did what you did in high school work?
A: I had to study a lot more; I don't remember studying in high school. 
I remember her studying in high school; how quickly she forgets! But it certainly wasn't close to how much she studies in college. . 
Q: What was harder than you thought? Easier?
A: It's hard to not have enough space, especially when I'm sharing a room. The food is not great either – get the minimum dining plan!
At this point, the 15-year-old boy chimed in and said, "I will be getting the maximum dining plan."
Sleeping in my new bed was easier than I expected; my mattress topper makes it very comfortable.  Finally! A purchase worth every penny.
Q: What changes are you making next semester?
A: I'm using my new planner, and I'm going to try to eat in the dining hall more.  I'm renting all of my books instead of buying them, because I got pennies when I sold back my books last semester. I'm also going through rush as soon as I go back, and hopefully join a sorority.
*****
The repacking is underway, and we've gone on Target and Costco runs to stock up for spring semester. As we were driving home the other day, Gwen told me that she was excited about going back to school.
That excitement, that sense of anticipation…THAT is what I want for my child. 
Those who came before me warned me that saying goodbye to the college freshman for the second semester is even harder than it is the first time. That may be true for me, but I don't think it will be for her.
And that's how it should be. 

Joining Kristi and crew with Finish the Sentence Friday – "When it comes to self-care…" I think my kiddo is doing a pretty decent job taking care of her self in college! These are turbulent times, people – clean your room and fold your clothes, and you may just feel better.