The chair thunks unceremoniously into the dumpster, landing on its back with its cushions exposed like a soft belly. After almost forty years of nestling bodies, it is time to say goodbye.
My little sister and I sat in the chair together as children, when all three of us were young. There was plenty of room for two little bottoms and the flowered pants that covered them.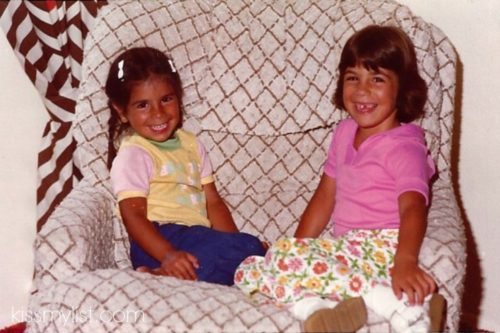 The chair came to live with me when my parents downsized, a castoff searching for a new forever home. It was the perfect reading chair for a not-so-little bottom. When our dog Nellie joined our family, it became her chair.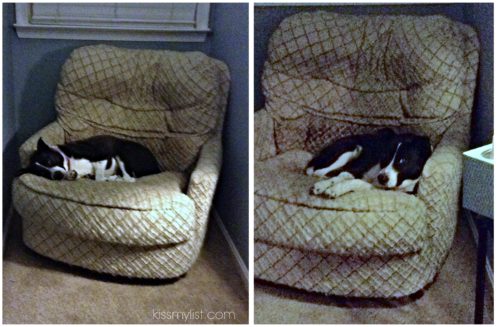 The photos are grainy, taken surreptitiously on my iPad so Nellie wouldn't run away when she saw me photographing her. She wasn't supposed to get on any furniture, but at some point during her rebellious teenage years she decided the chair would be hers. I indulged her and let her stay, and the chair was loved once more.
Nellie found her way to us via the SPCA, after being rescued as a stray. The staff named her Princess, but six-year-old Gwen renamed her Nellie, after a character in the American Girl book series she was into at the time. Our Nellie-belly was eight months old, and the kids loved her. 
They were also terrified of her. A mix of border collie and probably a dozen other breeds (I guess Boston terrier and pitbull are two), Nellie herded the kids around the house for the first few months. She followed at their heels whenever she could, until they figured out how to divert her attention. Gwen remembers watching cartoons on the sofa with her brother, and asking him to distract Nellie so that she could sprint to the bathroom without being nipped. 
The kids and the dog mellowed, and settled into a typical companionship. The trio grew up together, and neither kid remembers a time when Nellie wasn't a part of our family.
While I would not equate my dog to my children, I was Nellie's mama. I knew when we adopted her that I would be the primary caregiver, and I was okay with that. I took Nellie to the dog park for the first few months, until an attack by another dog ended those outings. Instead, she and I walked almost every day. When we were both younger, she even ran with me a few times. Pacing was not her strong suit; she strained at her leash to get ahead, and then realized that I was actually going to keep going for awhile. But walking was our favorite – sniffing for her, reading for me.
By my estimation, Nellie and I walked over 2,400 miles together. That's over ninety marathons.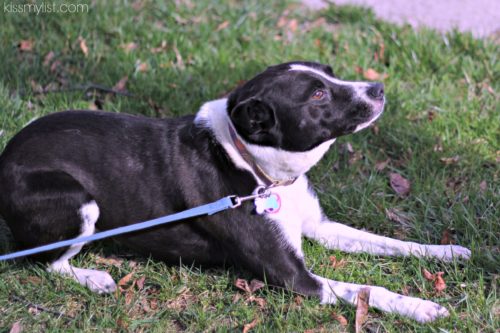 As Nellie grew into adulthood and middle age, she continued to love her walks, her chair, and her food. The second we returned from a walk, she ran to the pantry and made her "I want a treat" sound. It was also her "I want attention" voice – not a bark or a growl, but a kind of deep warble. 
The two of us spent the weekdays together, as she often plopped herself down in whatever room I was in. I am comfortable being alone, but I haven't ever really been alone. Nellie has always been home with me.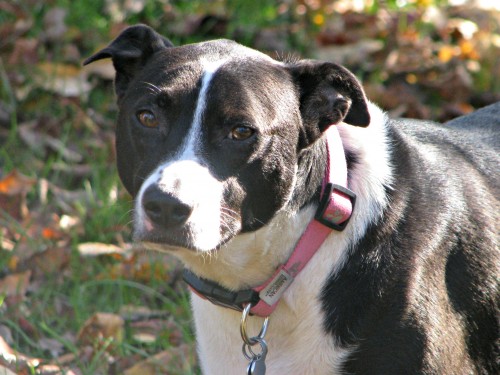 That realization hit me on December 21st, the winter solstice. It's the one day of the year with the least amount of sunlight, which is symbolism that does not escape me. Some families lose their pet suddenly, and have little or no time to say goodbye. Some families, like ours, spend weeks searching for the source of their pet's pain and a way to relieve it. When we found that there was no way, we brought twelve-year-old Nellie home so that she could leave this world surrounded by the people who loved her. 
That night, Matt and the kids had plans. I encouraged them to go, but I was unprepared for the silence. That's ridiculous, I know; for all of Nellie's "talking," she was usually quiet. Yet there was silence in the emptiness – the empty space on the floor next to my desk, the empty space on the rug in front of my reading corner. Her empty chair.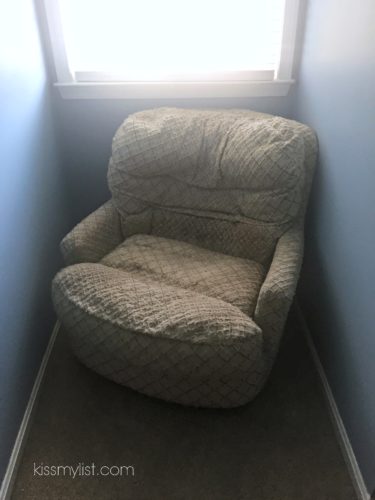 It has been three weeks, and I still expect to see her when I walk in the house. I still groan a bit when it rains, before I remember that I have no dog to walk in the wet weather. I still come downstairs in the morning and head to the sliding door, ready to let Nellie out. I suppose it will take awhile to get used to our smaller family.
I glance one final time at the chair in the dumpster, but I walk away without a tear. Those already came, and more will come later. I always knew we would trash the chair after Nellie was gone; there were short black hairs embedded deep within every fiber. I could never get it clean, but that just made it officially Nellie's Chair. We may adopt another dog one day, but he or she will have to create memories on a different piece of furniture. 
Goodbye, my sweet Nellie. You left paw prints on our hearts.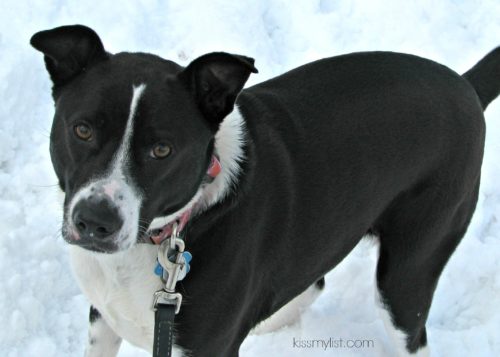 I'm linking up with Kristi for Finish the Sentence Friday this week: "When I can't sleep…I think about my puppy." A stretch, yes, but I love the FTSF community and I wanted to join in.